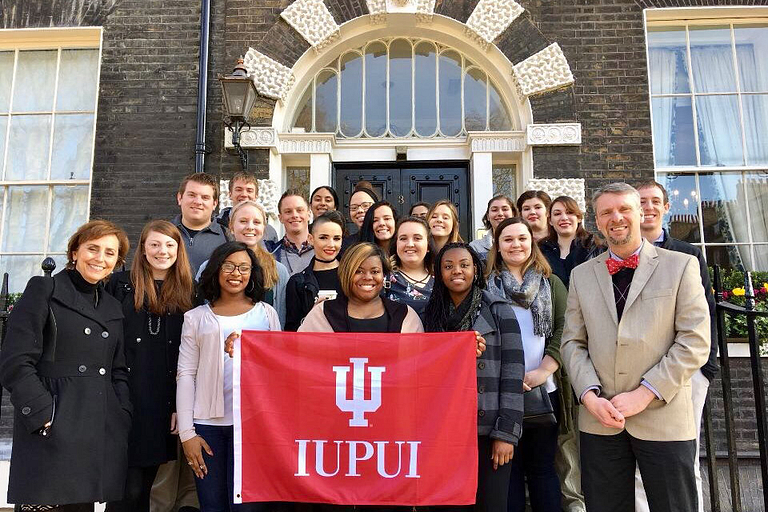 Most students around the IUPUI campus have probably met Jazmin Jones.
At orientation, she was a welcoming, smiling face. During JagBlast, she was giving encouraging hugs. Jones could have been their guide through the Tunnel of Oppression. They could have met her when she presented to their freshman seminar. Maybe they joined a Freedom Ride and met her there. Or she might have been their resident assistant. Many probably see her on campus and think, "I know her."
That's because Jones is committed to increasing awareness of health and wellness for her fellow students at IUPUI. A senior in health services management at the Richard M. Fairbanks School of Public Health, Jones has been an RA, volunteered at orientation and JagBlast, run a health-focused coffeehouse series, worked as a health and wellness peer educator for the last three years, and interned in Health and Wellness Promotion, a unit within the Division of Student Affairs.
Jones is now a lead peer educator. This role requires a commitment to volunteering at two events and leading two presentations per semester. Last semester, Jones volunteered or presented more than 25 times.
"I want to work in college health," she said. "With the public health knowledge I have, I know I can make a difference in the classroom."
Jones credits her mentor, Shawnté Elbert, director of Health and Wellness Promotion at IUPUI, with helping her find her passion for health promotion: "I thought about going into higher education, but when I met Shawnté, I knew I could do this for the rest of my life."
That passion for public health and health education has driven her to take on new challenges. Last year, she began planning events for the Office of Health and Wellness Promotion. She created sexual-health kits for RAs to distribute to their residents. The kits contained male and female condoms, dental dams, lubricant, resources for testing, and information on how to get involved in a condom club. Students could refill the kits at Health and Wellness Promotion.
Jones was pleased with the success of the kits: "One RA made a wreath with condoms on it. Another made a bulletin board, 'Wrap Your Willy.'"
Even though she's graduating in May, Jones hasn't stopped working to educate her fellow students. "During the spring semester, I have been involved in many programs about sexual responsibility and sexual health," she said. "I was also able to interact with first-year students in residence halls and even did a mental health tabling event with the medical students."
Next year, Jones will be pursuing her Master of Public Health in behavioral, social and community health at the School of Public Health in Bloomington.