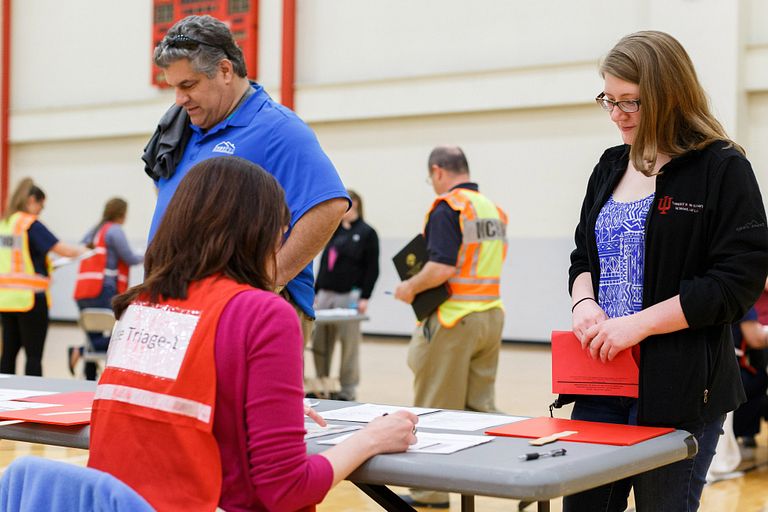 Quiz and giveaway
Public health students learn about many different health issues affecting Indiana residents. Student volunteers in the Public Health Corps in the Fairbanks School of Public Health don't just learn about these issues; they actually work on them. Here are three of their stories.
Lead poisoning
Lead poisoning is a preventable – yet still fairly common – condition of children in the United States. When pediatricians in the Evansville area began noticing a lot of cases of elevated lead levels in children's blood, action needed to be taken. The Vanderburgh County Health Department needed to update its lead ordinances to be more in line with the Centers for Disease Control's recommendations.
To do this, the agency brought in the Public Health Corps, a student organization in the Richard M. Fairbanks School of Public Health. Help came specifically in the form of Emily Sargent, a dual-degree IUPUI student who volunteers for the Public Health Corps while earning both a law degree and a master's in public health.
"The wonderful thing about the corps is that we are doing real things," said Sargent, who's often asked to help with law-related projects due to her dual degree. "We're not talking about hypotheticals in class. We're talking about work that can affect real legislation, and that has the ability to have a real impact on the citizens of Indiana, while we're still in school."
The Public Health Corps, operated out of the Center for Public Health Practice, enlists bachelor's, master's and Ph.D. students in public health who have completed their core courses and are interested in working on short-term projects – some they can even do at home.
"We solicit opportunities for them through local and state health departments, public health groups and organizations, flu clinics, homeless shelters, and the like," said Joan Duwve, assistant dean for practice at the Fairbanks School and the corps' faculty director. "It allows us to very rapidly increase our capacity to do public health work that we need to do urgently. It's really helpful for the students as well, as they get to work with public health professionals."
HIV outbreak
Joe Amlung has been in the Public Health Corps since November 2015. Around that time, Scott County in Indiana was gaining national attention for the number of HIV cases growing daily. Amlung went to Scott County, and the group conducted face-to-face interviews with about 200 people, half of whom tested positive for HIV.
"In our training, we got a lot of information about what was going on there," Amlung said. "But before that, I would have been surprised. I had no idea how serious the situation was down there. Despite the desperate need for resources, it took forever to get that information out there."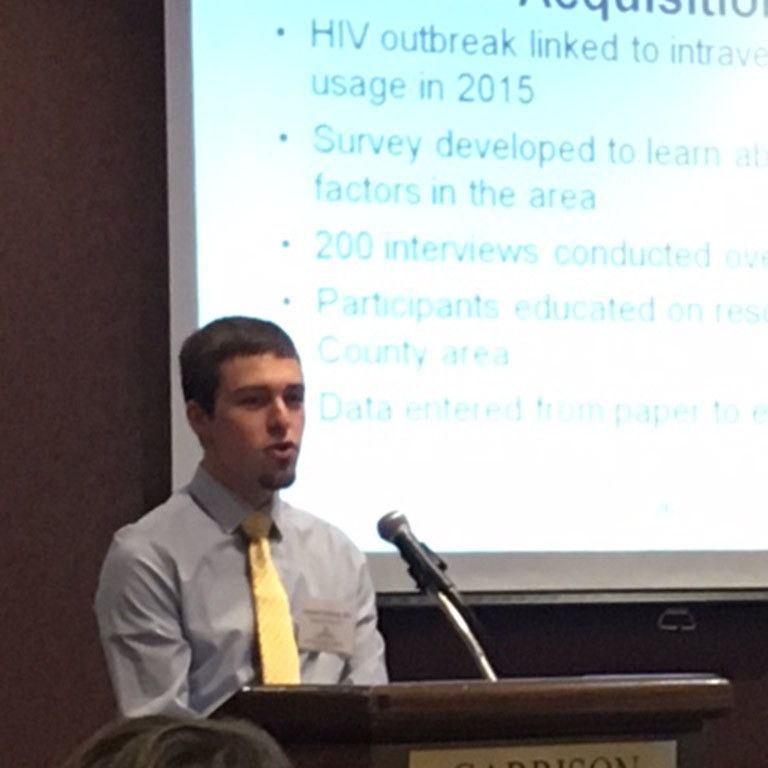 The interviews produced a vast amount of data on social demographics, needle-sharing habits, sexual behaviors and hepatitis C status, confirming that the brunt of the infections stemmed from sharing needles during drug use. And because of the data that was collected, affected people eventually got access to more services.
"As far as we can see, it really slowed down the spread of the virus. And that's what we need to do," Amlung said.
The Scott County project has led to many offshoot projects for Amlung. In March 2016, he was asked to speak at the Local Public Health Leadership Symposium about his experiences in the corps as a student and how there is an enthusiastic population of students ready to jump in and offer help to departments and organizations often in sore need of it.
Amlung graduates in May and already feels like the experience has put him leagues ahead of where he would have been without the corps. "Right now I have three internships starting from the Scott County project," he said. "One of the internships is recommending me for a job there."
Indiana county profiles
When Gov. Eric Holcomb named Fairbanks School of Public Health Dean Paul Halverson as an advisor, the Public Health Corps jumped into the action by beginning a large project to collect data on Indiana's counties. The data includes information on social, economic and environmental factors; health indicators; access to care; infectious diseases; and other public health indicators.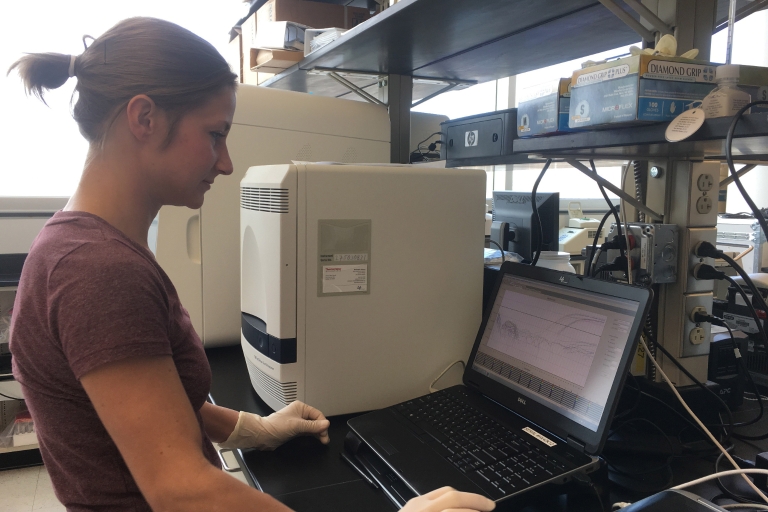 Haleigh Kampman is a part-time Master of Public Health student, with a concentration in epidemiology. She also currently works full-time in a lab for the Indiana State Department of Health. She sees the information being collected in the county profiles as directly relevant to the legislation that Indiana will pass in the coming years.
"I've learned that reliable data is basically essential for public health, and one of the important things to improve public health is being able to document what we are actually seeing," Kampman said. "In order to explain trends, public health authorities must be able to identify a trend quickly so that we can initiate a response and put policy in place to prevent future events."
The county profiles will allow legislators to identify the biggest public health crises facing Indiana and where they occur.
Projects in the Public Health Corps are short-term – though, as public health issues are rarely solved in a brief span of time, the subsequent offshoots and ramifications can last for months or even years. They range from Amlung's two years of offshoot projects stemming from one project to a one-day practice run as test subjects for the Marion County Health Department, acting as vaccine recipients in a test scenario of an epidemic outbreak.
And as for Evansville children with elevated lead levels in their blood? Vanderburgh County health ordinances will soon be in line with the CDC's recommendations. As Sargent put it, "Public health is there to take care of everyone, including those who might not be in the best situation to help themselves. By making the ordinance, we have the potential to help everybody."
Learn more about the Public Health Corps