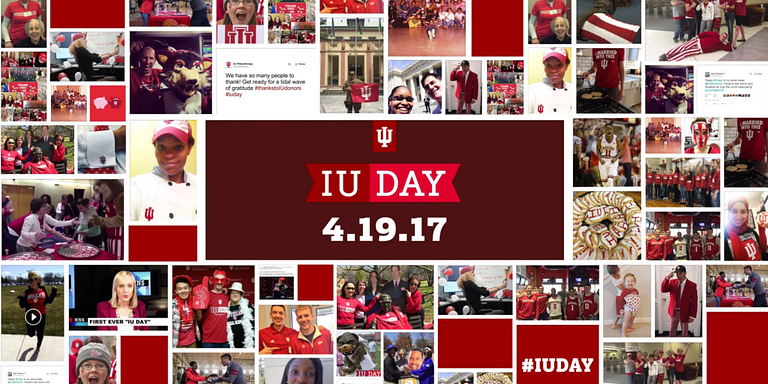 IU Day festivities coming up
The IU Day party starts at midnight on Wednesday, April 19! How will you and your fellow Jaguars participate?
Visit iuday.iu.edu for exclusive videos, games and more.
Share your pride on social media using the hashtag #IUDay.
Wear your best IUPUI and Jags gear.
Plan an IU Day celebration – big or small – then share it.
Decorate your dorm room, apartment, home or office with IU gear.
Participate in social media or giving challenges throughout the day.
Locate and take part in a variety of activities on campus.
Give any amount to your favorite IU campus, school or program.
April 19 will be here before you know it, so be sure to take the time to ask questions and learn all the details before the big day arrives.
Honors College Showcase
Faculty, staff and students from across campus are invited to the seventh annual Honors College Student Showcase Friday, April 14, from 3 to 5 p.m. in the lower lobby of University Library.
Honors scholars will share their contributions and innovation in the areas of undergraduate research, art, design, visual communication, business solutions, service learning and community engagement, and international experiences. Join the Honors College as it highlights its scholars' accomplishments from the last year, achieved on campus and around the world.
Student Employee Appreciation Week
Every April, National Student Employee Month comes to IUPUI in coordination with the National Student Employment Association. This week, be sure to help the campus in celebrating IUPUI students working on- and off-campus. A variety of events are planned throughout the week to honor and empower both student employees and their supervisors.
Students, staff and faculty are invited to enjoy snacks and prizes, an internship and part-time job fair presented by JagJobs, Appreciation Days, and much more. Keep an eye out around campus for IUPUI department and community organizers and join the fun!
Translating Research into Practice keynote: When Cancer Calls
The IUPUI Center for Translating Research into Practice is pleased to announce Wayne A. Beach as its 2017 keynote speaker. In his address, he will discuss his unique journey of translating research on family cancer telephone calls into a multidisciplinary and professional theatrical production, "When Cancer Calls." Beach is widely known for his foundational work exploring the first natural history of a family's cancer communication journey from diagnosis to end-of-life.
Beach is currently a professor in the San Diego State University School of Communication, an adjunct professor in the Department of Surgery at University of California San Diego School of Medicine, and a member of the Moores Cancer Center at the University of California San Diego Health.
The event will take place in the IUPUI Campus Center Theater on Thursday, April 20, from 4:30 to 5:30 p.m., followed immediately by a short reception. Parking is available in the Vermont Street parking garage. RSVP to the event either online or by emailing ctrtrip@iupui.edu.
Brown named Academic Advising Advisor of the Year
Terrel Brown, an academic advisor in IUPUI's Division of Undergraduate Education, was named the staff/professional Jaguar Academic Advising Association Advisor of the Year for his work with the division's offices of academic and career development and 21st Century Scholars.
"Receiving the Advisor of the Year Award is an absolute honor, and I truly appreciate the recognition of this award," said Brown, who has been an advisor with the division for two years. "I wouldn't be able to help our students in such a way if it were not for all of the support and shared knowledge of my colleagues."
The purpose of the Advisor of the Year Award is to honor academic advisors who demonstrate a deep commitment to providing an exemplary educational experience for IUPUI students.
Tap Into Indiana's Talent
Indiana's economy is increasingly dependent on college graduates having the skills to succeed in the workplace. The Education-to-Employment Convergence is a statewide forum focused on ensuring a smooth education-to-employment transition for Indiana college students. At the annual lunchtime forum hosted by Indiana University, representatives from higher education, state government, workforce development and various other industries are invited to learn, network and share best practices for producing more career-ready talent in Indiana.
The Education-to-Employment Convergence will take place Thursday, April 20, from 11:30 a.m. to 2 p.m. in Campus Center Room 450. The event will include time for networking; lunch; a keynote address from Jason Kloth, president and CEO of Ascend Indiana; and a panel discussion.