One hundred people from 39 countries will become citizens of the United States during a naturalization ceremony that will take place at Indiana University-Purdue University Indianapolis at 10 a.m. on April 27.
IUPUI Chancellor Nasser H. Paydar, who asked federal officials to hold the naturalization ceremony on campus, will welcome them. "I wanted to demonstrate the university's long-standing commitment to welcoming people from around the world and creating an environment for them to succeed," said Paydar. "This is also important to me personally, because 25 years ago, I took the same oath of allegiance right here in Indianapolis."
This is the first naturalization ceremony ever to be held at a  college or university in Indianapolis.
More than 250 people – including immigrants, their families and friends, and local officials – are expected to attend the ceremony at Hine Hall Auditorium, 875 W. North St. A live broadcast of the ceremonies will be available via streaming video at broadcast.iu.edu.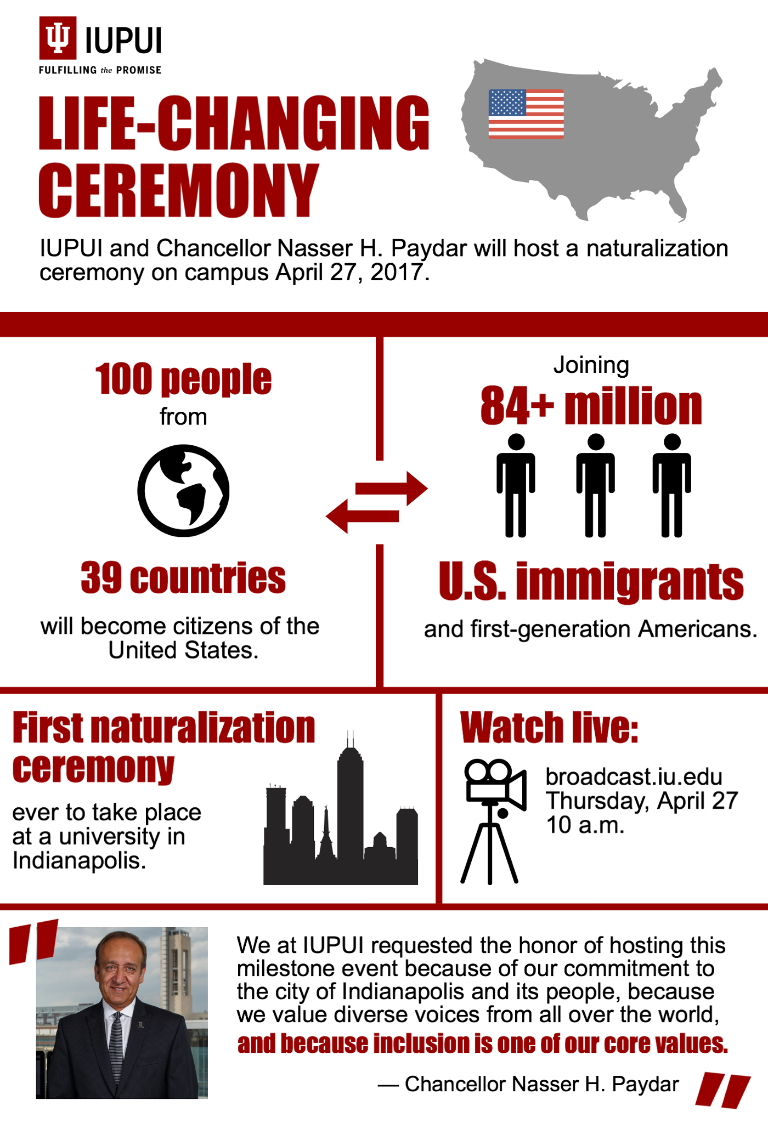 The naturalization ceremony will take about 45 minutes. In addition to the administration of the oath of allegiance and welcoming remarks from Paydar and from representatives of federal and state elected officials and organizations, a receiving line will be formed for the naturalized citizens to pass through and receive gifts.
IUPUI will present the new citizens with an IUPUI/American flag pin.
Those taking the oath of allegiance swear to:
Support the Constitution and obey the laws of the U.S.
Renounce any foreign allegiance and/or foreign title.
Bear arms for the armed forces of the U.S. or perform services for the government of the U.S. when required.
Taking the oath completes the process of naturalization, which is how immigrants become citizens of the U.S.
Among the requirements for citizenship are a demonstrated knowledge and understanding of the fundamentals of United States history and government and reading, writing, and speaking knowledge of the English language.