IUPUI Day of Remembrance
Join IUPUI students, faculty and staff Monday, May 1, for the spring IUPUI Day of Remembrance. This is a time for the entire IUPUI family to come together and remember students, faculty, staff and alumni who have passed away. It is a modest yet very important statement to all that everyone in the IUPUI family matters. During the ceremony, from 11 a.m. to noon, those who want to do so will be invited to share a memory of those being honored. The ceremony will take place in Campus Center 305.
Stand against sexual assault with Denim Day
Denim Day, when IUPUI faculty, staff and students take a stand against sexual assault by wearing denim, is Wednesday, April 26. Through this national campaign, members of the campus community demonstrate their support for sexual assault survivors and protest inaccurate and harmful attitudes about sexual assault.
Denim Day is an annual sexual violence prevention and education campaign that stems from a 1998 controversial Italian Supreme Court decision. The court overturned a rape conviction because the victim was wearing tight jeans. The court argued the victim had to take the tight jeans off herself and that implied consent. The women of the Italian parliament protested the decision by wearing jeans.
Be sure to share your Denim Day photos on social media and use #DenimDay to show your support.
Drug Take Back Day
Now is the time to clean out your medicine cabinet. Protect our waterways and reduce drug abuse in our area by taking advantage of this on-campus collection event Thursday, April 27, from 10 a.m. to 2 p.m. in the Campus Center.
Feel free to bring pills, pill bottles, powders, patches, contraband – no questions asked. Needles, however, will not be accepted during the event. For information regarding safe "sharps" collection in Marion County, visit the Marion County health department website.
All collections will be conducted by IUPD officers and incinerated according to EPA recommendations. Contact Eric Teske in Health and Wellness Promotion with any questions: erictesk@iupui.edu.
Find additional take-back locations from the DEA National Take-Back Initiative.
Home-buying and improvement assistance program
IUPUI is offering a benefit to full-time employees who earn up to certain income levels that can assist in the purchase of or improvements to a home in targeted neighborhoods adjacent to the IUPUI campus. The program will be offered through April 30, 2018, and the funds are limited. For more information about the program and to see if you qualify, visit the Indianapolis Neighborhood Housing Partnership website or attend the last information session on Thursday, April 27, from noon to 1 p.m. in UL 1126.
Direct any questions to Ken Hall at INHP at 317-610-4641 or email at khall@inhp.org.
The CrimsonCard has arrived!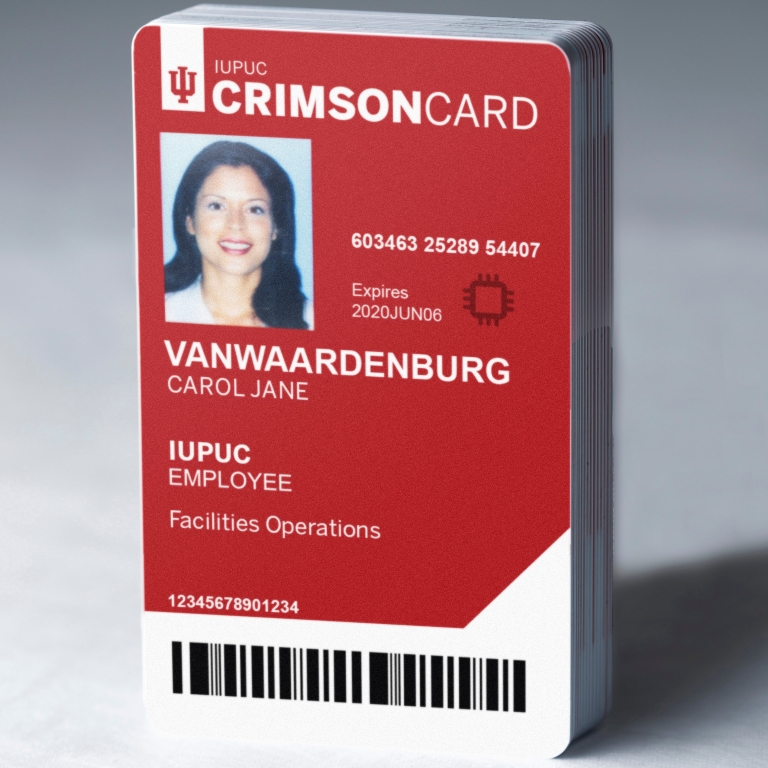 The new official photo ID for IU campuses is now available for students and staff. Are you wondering how that applies to you? Check out a few commonly asked questions about the CrimsonCard, courtesy of IUPUI Jagtag:
Do I need to get the CrimsonCard immediately?
No. For current employees and students, your Jagtag will continue to work until June 30, 2018, so there is no rush to upgrade.
New employees and students who are in need of their initial CrimsonCard should head to the card office, located in Room 217 of the Campus Center. Simply bring a government-issued photo ID and come prepared to have your photo taken.
IU School of Medicine employees and students who currently have an IUSOM Jagtag are being asked to wait until at least August before upgrading to the CrimsonCard.
Will my Jagtag continue to work?
Yes, the IUPUI Jagtag will continue to work in all capacities until June 30, 2018.
Is there a cost to upgrade to the CrimsonCard?
The CrimsonCard will be provided at no cost to the cardholder as long as you bring your current ID.
With any additional questions or for more details, visit the CrimsonCard or JagTag website.
Paw's Pantry's new Fundly page
No matter where you are, donating to Paw's Pantry is easier than ever with the organization's new donation option. Hunger doesn't take a break over the summer, so Paw's Pantry needs your help to make sure the campus is taken care of. By using the crowdfunding page, you can help Paw's Pantry's shelves stay stocked throughout the warmer months. Help the organization reach its goal of $2,500 so that no Jag goes hungry over break!
Paw's Pantry is a food pantry that provides food assistance to all IUPUI staff, students and faculty. It connects with the campus and community to advocate for those who experience food insecurity. It was created by students, run by students, and sustained through passionate involvement and volunteering.
The pantry is open every Wednesday (students only) and Thursday (faculty, staff and students) from 10 a.m. to 6 p.m. Contact jagsfood@iupui.edu with any questions.