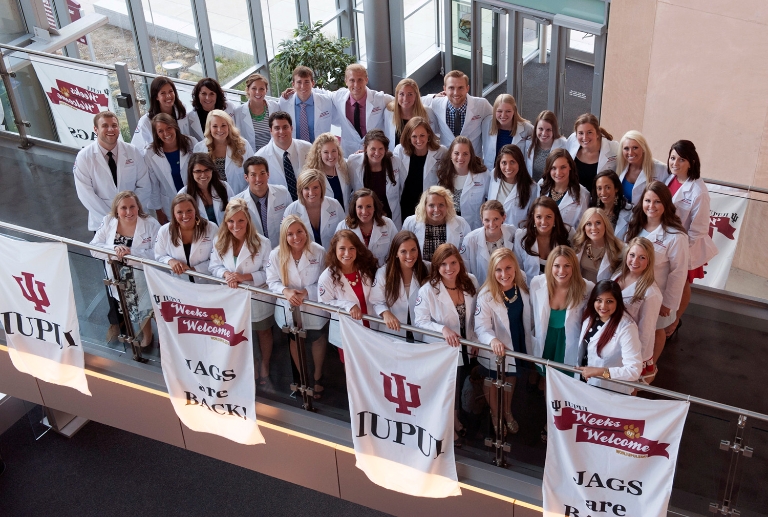 INDIANAPOLIS – The Master of Physician Assistant Studies Program at Indiana University-Purdue University Indianapolis has passed another milestone: The Accreditation Review Commission on Education for the Physician Assistant has granted it Accreditation-Continued status.
The program, housed in the School of Health and Rehabilitation Sciences, enrolled its first students in 2013 and graduated its first cohort in 2015.
"IU's physician assistant graduates fill a desperate need in Indiana's health care landscape," said Rebecca Porter, School of Health and Rehabilitation Sciences interim dean. "We are educating outstanding practitioners who are now working in medically underserved areas within the state.
The 27-month program trains physician assistant students to work as part of a highly skilled medical team under the supervision of a physician or surgeon to address patient needs. Physician assistants have the ability to work autonomously to examine, diagnose and treat patients and to prescribe medicine.
The program won't face its next validation review for another 10 years – in March 2027, said Rebecca L. Rebman, director of the Master of Physician Assistant Studies Program.
The commission examines whether the program is in compliance with 115 standards.
"It was a very arduous process," Rebman said. "The standards are a framework for programs to determine best practices in alignment with their institution's and their program's goals and missions."
Two key standards are offering students a sufficient number of clinical rotation sites and having an adequate number of faculty who are not only skilled clinicians but trained to teach as well, Rebman said: "Having faculty who have the skills to be both clinicians and academicians is really important. We welcome new preceptors to help train our learners.
"Although the next accreditation review will not take place for a decade, the accreditation process never stops," Rebman said. "It's an ongoing process. We have to constantly make sure we are in compliance and providing the best education possible to our students."