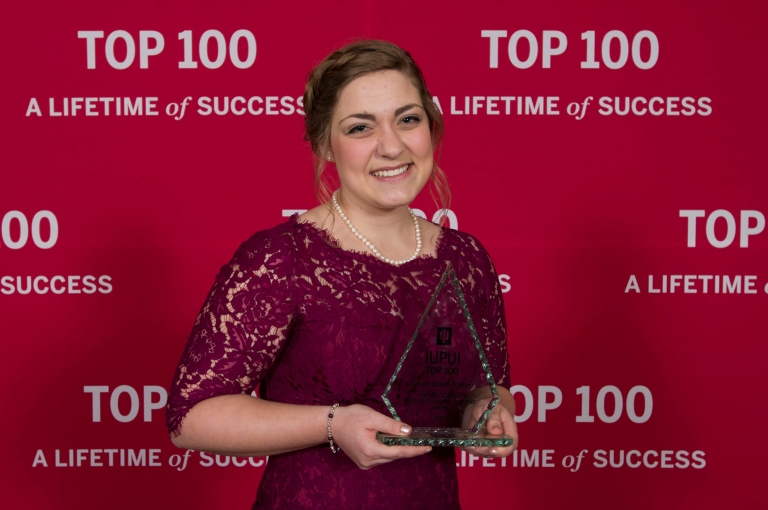 INDIANAPOLIS – Sarah Grace Fraser, a School of Liberal Arts senior from Knightstown, was named the Nelle Godio Most Outstanding Student at Indiana University-Purdue University Indianapolis for 2017.
Her selection as the IUPUI most outstanding student was announced at the Top 100 Outstanding Students Recognition Dinner, which took place March 31.
More than 1,600 students were nominated. From the top 100 students, the "most outstanding" as well as the top 10 students were chosen by a panel of judges including IUPUI alumni, faculty and staff. Students are selected in recognition of their scholastic achievement, cocurricular activities on campus, and civic and community service.
The IUPUI Alumni Council and the Student Organization for Alumni Relations sponsor the event. To be named a top student, students had to meet several criteria, including being a degree-seeking junior or senior at IUPUI, completing a minimum of 56 credit hours applicable to their degree program, and achieving a minimum cumulative GPA of at least 3.2.
The top 10 students are:
Maranda Buha, School of Nursing, senior; Novi, Michigan.
Mark Daiuto, Richard M. Fairbanks School of Public Health and School of Science, senior; Greenwood.
Elyse Feder, School of Science, junior; Crown Point.
Lindsey Gray, Kelley School of Business, senior; Seymour.
David Kane, School of Engineering and Technology and School of Science, senior; New Albany.
Ariba Khalid, School of Science, senior; Indianapolis.
Nicole Lindsay, School of Science, senior; Brownsburg.
Kyle McElyea, School of Engineering and Technology, senior; Indianapolis.
Casey Sieferman, School of Science, senior; Avon.
Jenny Yang, School of Science and School of Liberal Arts, junior; Westfield.
This year marks the first time that siblings have been recognized as most outstanding student at IUPUI: Fraser's brother Andrew received the recognition in 2012 while in his junior year studying biomedical engineering.