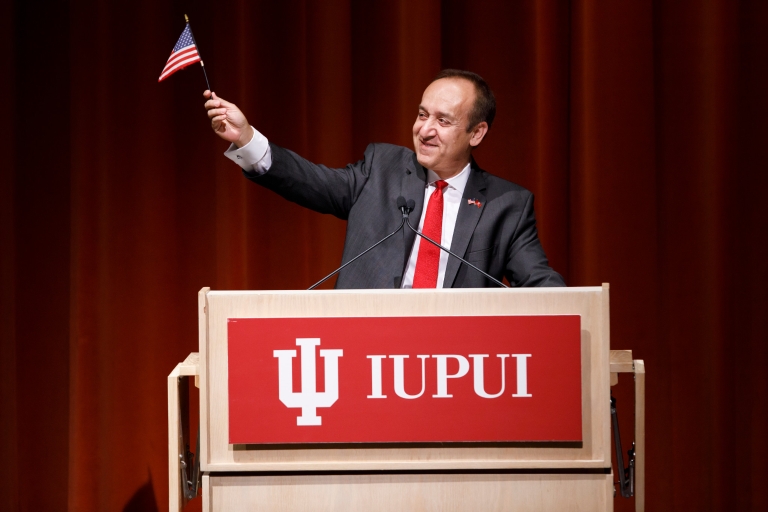 INDIANAPOLIS – Ninety-eight people from 38 countries became citizens of the United States during a naturalization ceremony at Indiana University-Purdue University Indianapolis on April 27, the first naturalization ceremony ever to be held at a university or college in Indianapolis.
Among the first to address the new citizens was IUPUI Chancellor Nasser H. Paydar, who asked that the ceremony be held at IUPUI.
"We requested the honor of hosting this milestone event because of our commitment to this city and its people, because we value diverse voices on this campus, and because we want to build bridges of opportunity and tear down walls of exclusion," Paydar said.
The ceremony was also important to him personally, Paydar said: "Twenty-five years ago, I was in the same position that you are in today. I took the same oath of allegiance here in Indianapolis, and I dedicated myself to the qualities that – for me – define this country: freedom and fairness, justice and equality, tolerance and civility, openness and opportunity."
Chief Judge of the U.S. District Court for the Southern District of Indiana Jane Magnus-Stinson presided at the ceremony, which took place in the auditorium of Hine Hall and was attended by more than 200 people.
Representatives of Indiana's congressional delegation also welcomed the new Americans, along with representatives from the governor's office, Indiana and Indianapolis bar associations, the International Center, and the Daughters of the American Revolution.
Each new citizen received several gifts, including an American flag and an IUPUI/American flag pin.
"It was very fitting and timely that we hold this event on a university campus," said Magnus-Stinson, who is a graduate of the Robert H. McKinney School of Law and serves on the school's board of visitors. "Across America, colleges and universities have been standing up for the value of a robust policy of inclusion of students and faculty from diverse nations."
Paydar recounted his path to citizenship, which started with leaving Iran after graduating from high school, at the urging of his father, to pursue a college education in America. He followed his father's advice, earning his bachelor's, master's and doctoral degrees.
"Like my father so long ago, you want your children to have better lives than you had. You have sacrificed for them so that you can give them the priceless gift of freedom that comes with our democracy," Paydar said. "In this, you are not only making their lives better; you are also helping to build a better America."