Indiana University President Michael A. McRobbie joined Indiana Gov. Eric J. Holcomb for a panel discussion in Silicon Valley today.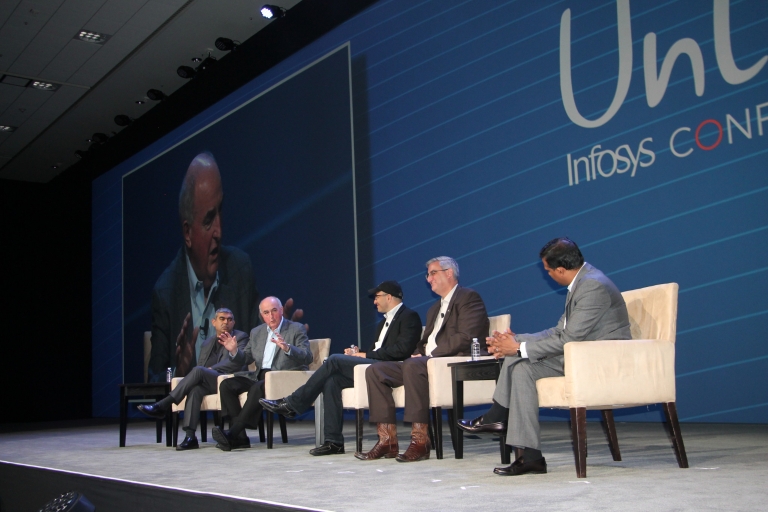 The panel, "Preparing America for Tomorrow," was part of the Infosys Confluence in San Francisco, an annual conference on innovation, education and workforce development. The conference is hosted by Infosys, a global tech firm that has announced plans to open training facilities in Indiana that would bring 2,000 jobs to the state.
The session focused on the technological transformation of today's economy and opportunities for government, business and academia to collaborate to advance innovation and to cultivate, attract and retain talent that is prepared to lead the industries of tomorrow.
Other panelists joining McRobbie and Holcomb included Vishal Sikka, Infosys CEO; Vandana Sikka, Infosys Foundation chair; and Bob Rosetta, managing director and global head of resource and location strategy of Citigroup.
McRobbie and Holcomb met previously at IU's second annual "America's Role in the World" conference in March, where McRobbie conducted a Q&A with Holcomb focused on "Indiana's Role in the World."
IU first lady Laurie Burns McRobbie took part in a separate panel titled "Decoding Diversity" for Infosys Foundation USA as part of the CrossRoads 2017 conference in San Francisco today. She was joined by three other panelists to discuss how introducing children to computer science can increase equity and inclusion.
Watch the panel discussion