Mina Samaan has faced loss, poverty and persecution.
A determination to improve his life and give back to others propelled this graduate to succeed. to complete his bachelor's degree in nursing from the Indiana University East School of Nursing and Health Sciences this month.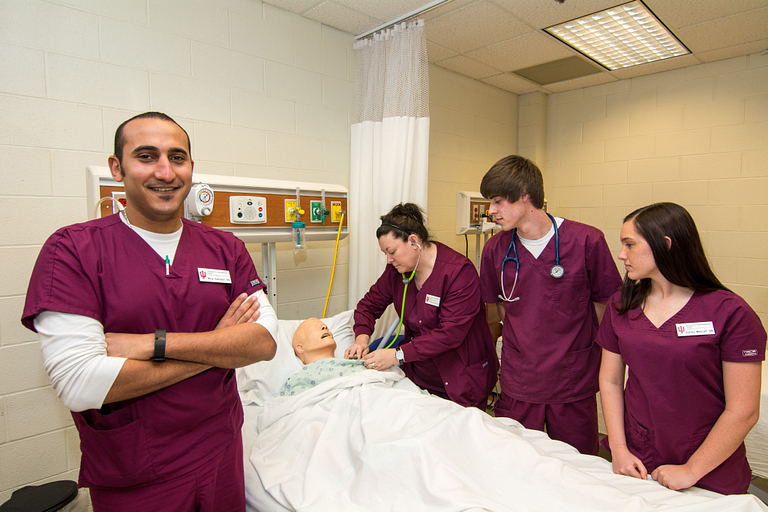 Born and raised four hours south of Cairo, Egypt, Samaan dreamed of a better life. He lived with his family of five in a small apartment that did not have hot water, air conditioning or a furnace, though temperatures can dip into the upper 40s during the winter. The family didn't own a television. He slept on the couch in the main living area. His parents, both engineers, made a combined salary of about $4,000 per year.
"We struggled," Samaan said. "I come from a place where poverty is just awful. No matter how highly educated you are, you can still live in poverty."
The family, who are Christians, also faced persecution for their religion.
"Growing up in Egypt as a Christian, you face a lot of persecution," Samaan said. "You're identified by your name, by your birth certificate, your ID, it's mentioned everywhere."
Before moving to the United States, he followed in his parents' footsteps and studied as an engineer at the Thebes Higher Institute for Engineering in Cairo, where as a student he again faced oppression. An instructor refused to pass him solely because he had a Christian name.
Three years before applying for his visa, a tragic bus accident claimed the lives of friends and family. "Then 10 months to the day, my mother passed away. At that time my sister was in the States, my brother was in Australia. I felt that I had lost everything, so I took the steps and applied for my visa."
After his application was accepted, Samaan moved to New Jersey in 2011. While there, he met college students from Ball State University who were living there for the summer.
"My friend invited me to move to Muncie so that I could be around friends and have a good church to go to," he said. So, the following summer, he moved to the Midwest and got a job at Ball Memorial Hospital.
"Working at Ball Memorial is where I met a lot of nurses who graduated from (IU East), and they told me about the school," Samaan said.
Seeing the differences in health care in the United States versus the impoverished health care system in Egypt opened Samaan's eyes to the possibility of what he could do for others. In fall 2014, he enrolled at IU East.
He is interested in two fields of nursing: medical missions and ER. As a nurse in the missions field, he would have the opportunity to travel worldwide to provide medical care to those in need. A few years ago, he went on a mission trip to the Ivory Coast in West Africa. The mission group traveled with four U.S. doctors to provide medical care, vitamins, antibiotics and malaria medications.
"It was hands-down the best experience of my life," Samaan said. "You travel halfway across the world to help a people that have nothing. And to be there, to tell them that we care about you and that you matter, it's just absolutely rewarding."
As a nursing student at IU East, he traveled on the annual mission trip to Chinle, Arizona, as well as the New York and Washington, D.C., trips in 2016. The trips immerses students in poverty, cultural diversity and community medicine to serve patients and gain nursing skills and real-world knowledge.
He's also completed the process to become a naturalized citizen.
"I became a happy American citizen in February 2017," Samaan said. "I always dreamed of living in the states. Always."
Dean of the School of Nursing and Health Sciences Karen Clark said Samaan has been a great addition to the BSN program and the community.
"Mina pursued his dream for a better life and, in the process, bettered the lives of so many others by being here," Clark said. "As a student on our Chinle trip this year, he enhanced our learning about culture and compassion. I so appreciate his calm and caring approach to his peers and patients. I know he will continue to make positive contributions to the nursing profession."
After graduation, Samaan has been offered a full-time position as a nurse in the emergency room at Reid Health. In the future, he hopes to pursue medical missions.
"I came from a part of the world that is so poor. People don't have access to anything, not because of their choice but because of their circumstances," he said. "I came from a similar area, so if I don't start to give back, I feel that would be just a shame."
Hali Cartee is a media relations manager at IU East.