When Hugo Sanchez Juan was 6 years old, his parents left behind their family, friends and careers as doctors in Cuba in order to offer their children a better life in the United States.
A decade and a half later, Sanchez Juan will walk across the stage at IU Southeast's commencement ceremony with a biology degree in May and a spot in the University of Kentucky's dental school this fall.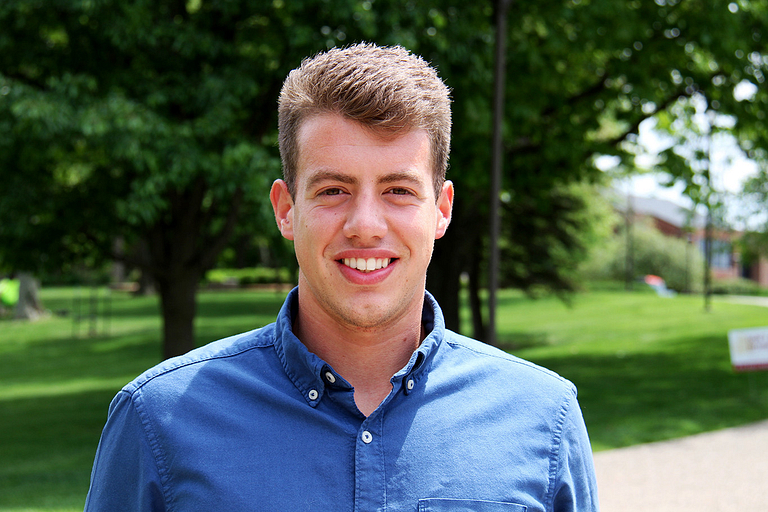 His goal to become a dentist revolves around being able to help people, beginning with his own parents. His sister, Ada, a junior optometry student at IU Bloomington, has similar goals.
"It was a huge sacrifice to leave everything they know, their families, their occupations and come here just for us," he said.
Originally tempted to follow in the footsteps of his physician parents, Sanchez Juan shifted his plans after job shadowing a dentist. He enjoyed watching the dentist's hands-on interaction with patients and the tools used in oral procedures.
That personal connection is important to Sanchez Juan. After dental school, he hopes to be something of a nomad, offering dental care to people in impoverished areas of the world before settling down to open his own practice.
"There are people in my country, in Cuba, who have probably never had proper dental care just because there aren't materials for that," he said. "I feel like it would be good for me to go out and help them."
On campus, Sanchez Juan was an active member of the Pre-Dental Society, an intimate network of IU Southeast students interested in the field of dentistry. He would recruit interested students during Week of Welcome events and assist them with their dental school applications.
In an effort to make the most of his time in college, Sanchez Juan joined the Honors Program because he saw value in expanding his education beyond biology and science courses. He recognized that learning about the fall of communist monuments or the existential examination of the meaning of life would make him a more rounded student.
Studying the humanities, history and the arts opened doors to new conversations and cultures and helped Sanchez Juan understand better the diverse backgrounds of people around the world.
"I felt the need to get involved with something that was a little more academically challenging for me," he said. "I'm not used to English classes or courses on art in terrorism. I've learned a lot."
Sanchez Juan has never forgotten his parents' sacrifice. He intends for his dentistry career to afford him the means to pay his mother and father back for their sacrifice.
"I feel like I owe them something, and I feel like this is the way I can do it," he said. "I can help them once I become a dentist."
Rachel Terlep is a communication specialist in the Office of Marketing and Communications at IU Southeast.