When Rashida Gregory realized she was having trouble in college, she didn't give up. She got serious and joined the Navy.
Next week when she graduates from the Vera Z. Dwyer College of Health Sciences at Indiana University South Bend with a bachelor's degree in nursing, she will know she's earned it.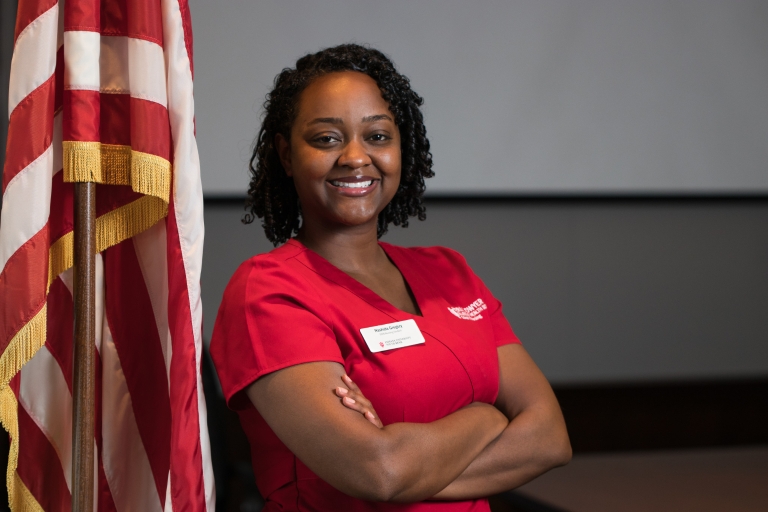 After an unsuccessful try at college in Wisconsin, Gregory decided she needed discipline in her life and joined the U.S. Navy. She spent seven years as an air traffic controller and traveled the world on two deployments.
"I found where I belonged," Gregory said of her time in the Navy. "I got to travel, meet new people, mature as a person, and I had a sense of purpose in serving my county."
But through it all, she always wanted to be a nurse. As a child, she took care of her grandfather during an illness, and he called her "my little nurse." That nickname stuck with her.
"I felt good about that," she said, and committed herself to studying nursing.
The Navy provided her path forward. Following her service, Gregory returned to school full time to achieve her dream of becoming a nurse.
But she left the Navy with the intention to return. She used the G.I. Bill to pay for her education at IU South Bend and, following her graduation in May, she will get the year of experience necessary to return to the Navy as a nursing officer.
Gregory said she hopes to focus her work on mental health issues for people in military service, especially African-Americans.
"Many men and women in the service do not want to ask for help, and they ignore mental health issues," she said. "I want to help them identify those issues early and get the help they need."
She loved her experience at IU South Bend. "I had excellent instructors who cared about me," she said. "They saw my potential. I needed that."
Her advice to young people? Believe in yourself, follow through and focus on your end goal.
And Gregory knows that formula works because, at 36 years old, she's achieved her goal of becoming a nurse.
"My hard work paid off," she said with a smile, knowing there more accomplishments on her horizon.
Ken Baierl is director of communications and marketing at IU South Bend.