New eligibility date for staff paid parental leave announced
The start date for a new paid parental leave policy available to eligible staff members has been changed.
Announced by President Michael A. McRobbie at the April 14, 2017, meeting of the IU Board of Trustees, the new policy was originally effective for births or adoptions that took place on or after July 1, 2017. However, Human Resources announced today that the university will instead make the new policy effective for births or adoptions on or after April 14, the day the new policy was formally announced.
A list of frequently asked questions, information about eligibility and a form to request paid parental leave are available on the Human Resources website.
Questions? Contact recben@iu.edu or 812-856-1234.
Campus Commute shuttle taking summer hiatus
Heads up, road warriors: The Campus Commute shuttle that travels between the IU Bloomington and IUPUI campuses will be discontinued for summer on May 5, 2017.
Additional details about the shuttle service are available from Campus Commute.
University revisits overtime status after legal proceedings face ongoing delay
Nearly 500 Indiana University employees were converted from exempt status to non-exempt (PAS classification) status in November 2016 to prepare for an overtime rule change to the U.S. Department of Labor's Fair Labor Standards Act. However, a federal injunction put the change on hold days before the Dec. 1 effective date. At that time, university officials decided to keep the affected employees in their new non-exempt status until more could be learned regarding the outcome of the rule change.
In the months since IU's decision, changes in Washington, D.C., and the extension of legislative proceedings surrounding the rule change indicate it is unlikely the salary test threshold for exemption will remain at $47,476 or that a final answer will be determined quickly.
Therefore, $23,660 remains the Fair Labor Standards Act salary test for exemption. Non-exempt PAS employees earning more than that amount were transitioned back to exempt status on April 9, 2017. These employees are no longer eligible for overtime and have returned to the monthly payroll.
Second annual IU Day taps nostalgia, spirit, generosity of global IU family
Although final numbers are still being tabulated, Indiana University's second annual IU Day celebration exceeded its expectations for 2017, seeing exceptional stats for social media engagement, crowdfunding initiatives, and total donations raised and announced on IU Day.
For more information on the success of IU Day 2017, visit the IU Day results page.
Employees encouraged to familiarize themselves with university's surplus items policies
Did you know the university has specific policies on how, why and when employees can get rid of unneeded items, ranging from old power cords to a high-end scientific microscope?
Two policies govern this type of activity: Disposal and Redistribution of University Property and Sale of Computing Equipment.
Here's the gist: University Procurement Services will first attempt to redistribute an unneeded item within the university. If it's not needed by another department, school or unit within the system, it may then be able to be sold or traded outside the university through the appropriate processes. Departments do not have the authority to sell, trade or donate items purchased with university funds, including research funds.
But sometimes things can get complicated. That's why you should call the Office of Procurement Services to ensure you're handling the process properly.
Got questions? Contact the Office of Procurement Services at 812-855-5646 or purhelp@iu.edu.
IUPUI becomes first university in Indianapolis to hold naturalization ceremony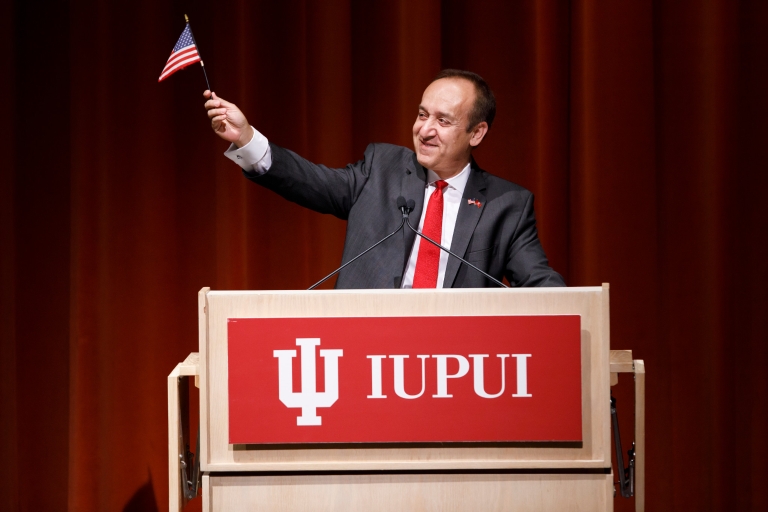 Ninety-eight people from 38 countries became citizens of the United States during a naturalization ceremony at IUPUI on April 27, the first naturalization ceremony ever to be held at a university or college in Indianapolis.
Chief Judge of the U.S. District Court for the Southern District of Indiana Jane Magnus-Stinson presided at the ceremony, which took place in the auditorium of Hine Hall and was attended by more than 200 people.
Representatives of Indiana's congressional delegation also welcomed the new Americans, along with representatives from the governor's office, Indiana and Indianapolis bar associations, the International Center, and the Daughters of the American Revolution. Each new citizen received several gifts, including an American flag and an IUPUI/American flag pin.
Proposals sought from staff, faculty for IU Online Education Conference
The Office of Online Education, in collaboration with the Office of Collaborative Academic Programs and eLearning Design and Services, is hosting the second annual statewide IU Online Education Conference on Nov. 10 at the IUPUI campus in Indianapolis.
The office is seeking proposals from IU faculty and staff from across the state who are innovators and collaborators in the online space. The office will consider proposals that address empirical research, showcase best practices, and/or describe lessons learned related to one or more of the following areas:
Designing and developing online courses or programs
Promoting student success in online courses or programs
Providing support services for online students
Improving the quality of online courses or programs
Showcasing digital educational innovation
Of special interest are presentations describing intercampus and/or interdisciplinary collaborations, and proposals that have application to multiple disciplines.
Proposals are due by 11:59 pm. June 1. Presenters will be notified by Aug. 7.
IU East recognizes outstanding faculty
IU East recognized several faculty members during a recent Honors Convocation ceremony:
Josh Tolbert, assistant professor of special education, received the Progress Award for New Faculty. This award is given to faculty to acknowledge their contributions to teaching, research and service.
Shelly Burns, lecturer of nursing, received the Teaching Award for New Faculty. This award recognizes excellence in teaching by an untenured faculty member throughout their first four years at IU East.
Denise Bullock, associate professor of sociology, received the Helen Lees Award for Excellence in Teaching. The award was established in 1991.Professor Emeritus Lees passed away in 1992, but her spirit continues in this annual award to honor a full-time faculty member who has taught at least 10 semesters at IU East.
Duane Emerson Lundy, associate professor of psychology, received this year's Excellence in Research Award. This award recognizes excellence in research and/or creative work by a full-time faculty member over a sustained period of time.
Natalia Rybas, associate dean of the School of Humanities and Social Sciences and associate professor of communication studies, is the recipient of the Distinguished Faculty Service Award. This award recognizes distinguished service – campus, community or professional, either one-time or sustained, by a full-time faculty member above and beyond the standard expectations of any compensation or release time provided for the service.
The Boschmann Award for the Scholarship of Teaching and Learning, provided by Erwin and Priscilla Boschmann, recognizes faculty with a grant to support research in the Scholarship of Teaching and Learning. The award was presented in summer 2016 and recipients were Yu Kay Law, assistant professor of chemistry; Roberta Roswell, senior lecturer of mathematics; and Lee Zhong, assistant professor of economics and finance.
Annual Chuckstrong Tailgate Gala raises more than $1 million for research at IU Simon Cancer Center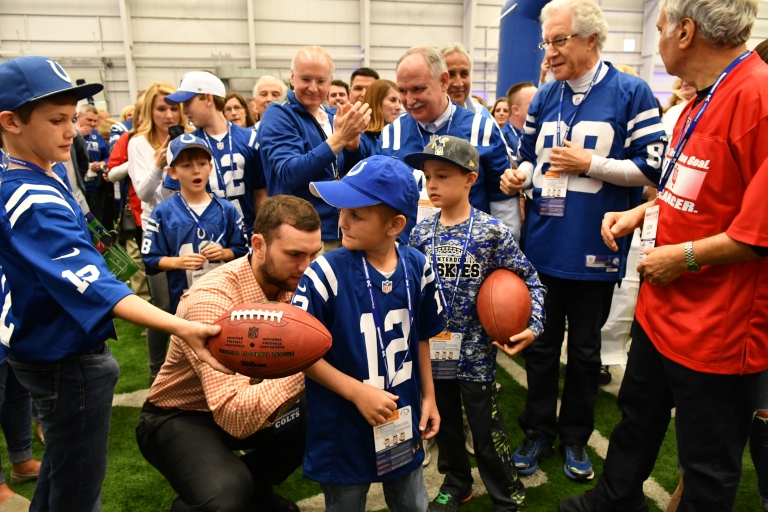 For the second consecutive year, more than $1 million was raised for cancer research at the IU Melvin and Bren Simon Cancer Center during the fifth annual Chuckstrong Tailgate Gala on April 21.
Hosted by the Indianapolis Colts and head coach Chuck Pagano at the Indiana Farm Bureau Football Center and presented by Indianapolis-based mechanical and electrical contractor DEEM, the tailgate gala netted $1.1 million through corporate sponsorships and live and silent auctions as well as $100,000 that was given by the Jim Irsay family and $100,000 from the coach and his wife, Tina.
Full details are available from the IU School of Medicine Newsroom.
Top IUPUI teachers, researchers, others recognized at Chancellor's Honors Convocation
The outstanding achievement of IUPUI teachers, researchers, mentors and students were recently recognized at the annual Chancellor's Academic Honors Convocation.
Gabriel Filippelli, a professor of earth sciences in the School of Science, received the Charles R. Bantz Chancellor's Community Fellowship award of $50,000 for his project titled "Building healthy cities through community-engaged science and action: Getting the lead out." He is seeking to understand the context and causation of lead poisoning in Indianapolis. His research will engage youth leadership fellows and other community partners as citizen-scientists to take action in their neighborhoods to identify and eliminate environmental risks.
The Charles R. Bantz Chancellor's Community Scholar Award of $25,000 was awarded to Carolyn Gentle-Genitty, director of the Bachelor of Social Work program and associate professor of social work in the School of Social Work, for her research titled "Pathways to school success: Evaluation and support program (ESP) partnership with community partner Warren Township schools." She is passionate about the number of K-12 students who are suspended or expelled for disruptive behaviors, often without recourse or interventions, and her research focuses on working with schools to create systems that re-engage students in a supportive environment so they can return to school better prepared to succeed.
A full list of award recipients is available.
Retiring IU Kokomo faculty honored for lasting contributions
IU Kokomo honored two of its longtime educators as they prepare to retire at the end of the academic year.
Linda Wallace, dean of the School of Nursing, and Dianne Roden, professor of finance, were recognized for their campus contributions, spanning 25 years each.
Wallace founded IU Kokomo's thriving international study program, first by participating in a faculty exchange with the Margaret Pritchard College of Nursing (now called Jesus University) in Jeonju, Korea. She grew the program by leading IU Kokomo students to visit Korea and by hosting Korean nursing students on campus. She also co-led efforts to start the Master of Science in Nursing and the Family Nurse Practitioner programs. Roden joined the IU Kokomo faculty in 1992 as an assistant professor of finance and was promoted to professor of finance in 2004.