Streams, plants, a barn, forests, walking paths, sinkholes and more are sprinkled throughout the 94-acre property that was recently donated to Indiana University Southeast.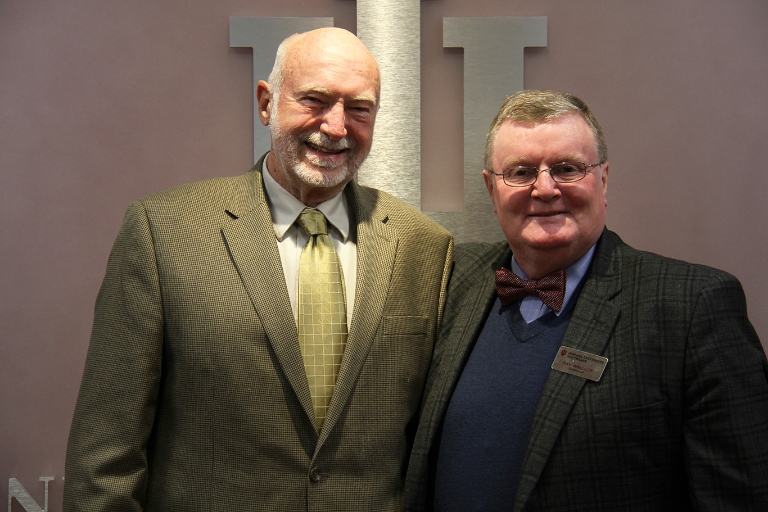 Carl deGraaf, a retired professor of educational psychology has committed his farm and home in Elizabeth, Indiana, for future use by the university.
Elaine K. Haub, the dean of the School of Natural Sciences at IU Southeast and one of the faculty members in charge of assessing the property, said the land has many uses for students, faculty and staff.
"We are very thankful for Dr. deGraaf's donation, and we are very excited for the opportunities the land will provide our students," Haub said. "When the other faculty members and myself went to view the property for the first time, we were inspired by all of the real-world uses for our students."
The land will be useful to a breadth of departments across campus, from biology to art, Haub said. Possible educational uses include water quality studies on the streams, sustainability research projects, an on-site pottery studio, geoscience studies of the sinkholes and more.
Having taught at IU Southeast for 25 years, this educational usage was exactly deGraaf's intention when he decided to donate the land.
"I hope that students and teachers can use it as their private laboratory for practical learning experiences," deGraaf said.
After coming across this saying several years ago, deGraaf said he made it his life motto: Think deeply. Act justly. Live wholeheartedly. This is why he and his late wife bought the property with the intent to eventually donate it.
"Life has been good to me. Others have given to me and allowed me to achieve things, and now it's my turn to give back," he said.
"IU was a great place for me to learn and grow in my career, so giving the property to the university just made sense. It's another way for me to give back to the students there."
DeGraaf, who retired in 2007, has been a generous and consistent donor at IU Southeast for more than 25 years. In 2015, he established an endowment for the Karen R. deGraaf Memorial Scholarship for nursing students in honor of his late wife. He also supports the Carl A. deGraaf Scholarship for students pursuing careers in elementary education.
DeGraaf will continue to reside on the now IU-owned 10 acres of land where the house is located, and the remaining 84 acres of wooded land will come to IU Southeast over the next several years. However, the university has permission from deGraaf to begin using the space immediately.
This gift counts toward the university's $2.5 billion bicentennial campaign.