IU East receives 2016 Tree Campus USA designation
The Arbor Day Foundation recently announced IU East has been designated as a 2016 Tree Campus USA for its commitment to effective urban forest management.
The national program was created in 2008 by the Arbor Day Foundation to honor colleges and universities for effective campus forest management and for engaging staff and students in conservation goals.
IU East achieved the title by meeting Tree Campus USA's five standards, which include maintaining a tree advisory committee, a campus tree-care plan, dedicated annual expenditures for its campus tree program, an Arbor Day observance and student service-learning project. Currently there are 296 campus across the United States with this recognition.
IU president to lead delegation to Spain, France
Indiana University is celebrating the golden anniversary of one of its most successful overseas study programs and globally focused collaborations. This program has made an important contribution to IU's effort to increase the number of its students studying abroad and heighten its overall international engagement.
Today in Madrid, IU President Michael A. McRobbie and other members of a university delegation marked 50 years of the Madrid Program and recognize the consortium of U.S. universities, known as the Universidades Reunidas, that has enabled thousands of students to study abroad in Spain's capital and largest city.
The anniversary celebration is the centerpiece of a 10-day trip to Spain and France that began May 15. McRobbie's visits to the two countries are his first official visit to each since becoming IU's president in 2007.
Simon Atkinson appointed IUPUI vice chancellor for research
Simon Atkinson has been appointed IUPUI vice chancellor for research, effective July 1.
Atkinson, Chancellor's Professor and professor of biology in the School of Science at IUPUI since 2010, has served as IUPUI's interim vice chancellor for research since August 2015. He also holds adjunct appointments in the Indiana University School of Medicine Division of Nephrology and Department of Biochemistry and Molecular Biology.
New IU Grand Challenge initiative to tackle major environmental threats to Hoosier health, economy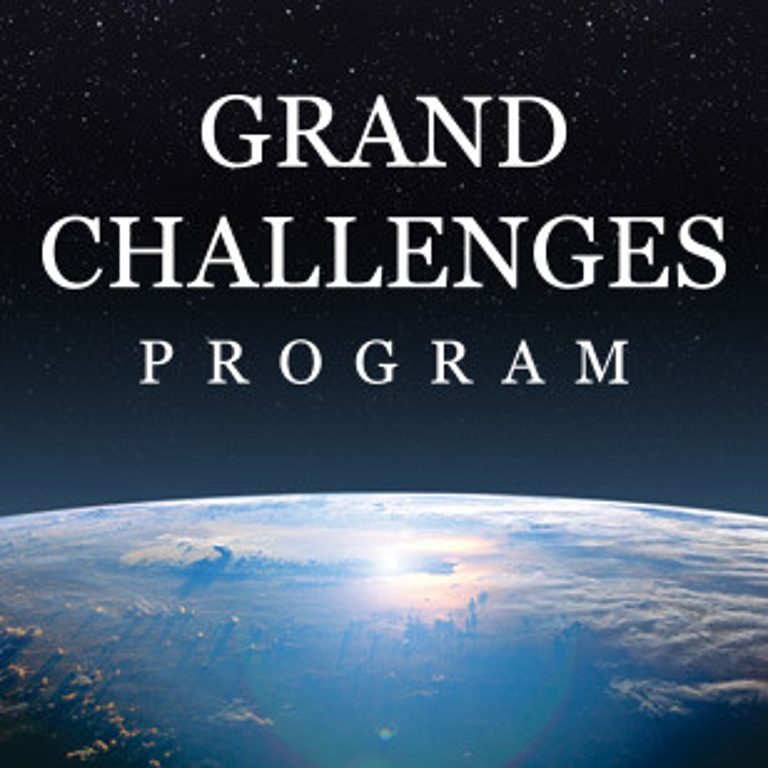 IU President Michael A. McRobbie has announced that IU will invest $55 million to help Indiana develop actionable solutions that prepare businesses, farmers, communities and individual Hoosiers for the effects of ongoing environmental change.
The initiative – Prepared for Environmental Change – is the second project funded through IU's $300 million Grand Challenges Program, which launched in 2015.
The initiative will create an Environmental Resilience Institute to better predict the impact of threats and facilitate collaboration between IU's world-class faculty and Indiana residents, businesses, nonprofits and the public sector. Some of the partners include Cummins Inc., Citizens Energy Group, the Nature Conservancy and government officials from across Indiana. As soon as this summer, researchers will begin putting in place the infrastructure to collect data about the challenges Indiana faces from environmental change and to organize research activities to address them.
IU School of Medicine Northwest faculty to collaborate with Swedish scientists
Scientists at the prestigious Karolinska Institute in Stockholm, the home of the Nobel Prize committee, recently made a discovery that, upon further inquiry, led them to research performed by professors at IU School of Medicine-Northwest-Gary.
The Karolinska Institute then invited Roman Dziarski and Dipika Gupta, the two School of Medicine professors who are considered authorities on microbiome, peptidoglycan recognition and brain development, for an April symposium on "Microbiome, Bacterial Peptidoglycan and the Central Nervous System."
Dziarski, the only scientist to represent the U.S., was the first speaker and kicked off the symposium by introducing peptidoglycan recognition proteins and their effects on bacteria, microbiome and inflammation.
New workshop focused on working with LGBTQ patients available at IU School of Medicine
A new training workshop highlighting practical information about working with LGBTQ patients is now available from the IU School of Medicine Office of Diversity Affairs. Designed for health care providers, the training covers topics such as terminology and definitions, culturally sensitive interviewing skills, best practice methods for collecting gender identity and sexual orientation data and for obtaining necessary health information, and other unique health care considerations when working with this population.
This 90-minute workshop, available to departments and residency programs, is part of a series of cultural competence education sessions created and sponsored by the Office of Diversity Affairs. This workshop provides an opportunity for participants to learn in a collegial environment. To schedule a workshop, contact the Office of Diversity Affairs at 317-274-1939 or IUSMdiv@iupui.edu.
IU South Bend's Center for a Sustainable Future presents awards
IU South Bend's Center for a Sustainable Future presented four awards at its annual Earth Day reception. The awards are given to organizations or individuals who are helping create a sustainable future in the community.
The Student Sustainability Award was given to Kyle White for embracing the sustainability cause, both in the classroom and in the field. The Campus Staff Sustainability Award was presented to Paul Sharpe for his on-campus sustainability work reducing paper use and promoting electronics recycling. The Community Individual Award recognized Evie Kirkwood, director of St. Joseph County Parks.
The Bowman Creek Educational Ecosystem received the Community Organization Award. Founded to support neighborhood-based efforts that are centered around a nearly forgotten body of water in the city, the organization is a partnership that pilots community-engaged, sustainable projects to address real world challenges in the Southeast neighborhood.
IUPUI signs agreement with Malaysian university UTeM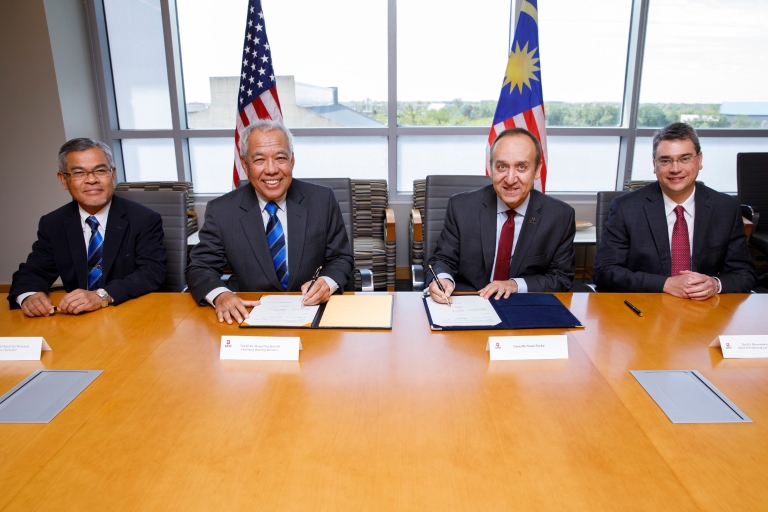 At a recent signing ceremony, IUPUI Chancellor Nasser H. Paydar formalized a new partnership agreement with Universiti Teknikal Malaysia Melaka. The agreement establishes a framework in which students, faculty and researchers at UTeM and at IUPUI's School of Engineering and Technology will participate in academic exchanges and research.
Under the agreement, the universities plan to share curricula and develop opportunities for undergraduate students in mechanical engineering, mechanical engineering technology, computer engineering, computer engineering technology, electrical engineering and electrical engineering technology. Students will then be able to participate in short-term exchanges or in "2+2" degree programs, in which they complete two years of coursework at each university. The universities also agree to collaborate on future research.
'Alton Brown Live: Eat Your Science' coming to IU Auditorium this fall
Television personality, author and Food Network star Alton Brown will present "Alton Brown Live: Eat Your Science" at 7 p.m. Nov. 14 at IU Auditorium. Tickets are now on sale.
"Alton Brown Live: Eat Your Science" started touring the country this year as the follow-up to the "Edible Inevitable" tour. Fans can expect "all-new everything, including songs, new comedy, new puppets, and bigger and better potentially dangerous food demonstrations," Brown said. He has designed the event to mix science, music and food into two hours of entertainment.
IU researcher's, alumni's high-tech companies recognized as best in the state
Two high-tech companies founded by IU researchers and alumni were recognized as the best in the state during the TechPoint Mira Awards event April 29.
Arrhythmotech, based on research by Dr. Peng-Sheng Chen of the IU School of Medicine, was named Innovation of the Year. DoubleMap, founded by IU alumni Ilya Rekhter, Eric Jiang and Peter SerVaas, received the Scale-up Company of the Year award.
Arrhythmotech's patent-pending technology platform is able to detect sympathetic nerve signaling noninvasively on the skin with greater accuracy than traditional methods. Its platform is the only product capable of detecting a digital biomarker that will have an impact on the health care, clinical research and wearable-technology markets.
DoubleMap provides transit software for universities, municipalities, corporations and airports worldwide. The company's products, such as mobile apps for catching the bus and automated voice annunciation for visually impaired riders, have proven to be key differentiators and have allowed DoubleMap to experience exponential year-over-year growth.
Inside IU announces summer publication schedule
Inside IU's summer publication schedule has been announced: Inside IU will publish June 7 and July 19, and Inside IU Bloomington will publish June 21 and July 12. A special Inside IU edition focused on the IU Board of Trustees meeting will publish June 16.
Inside IU and Inside IU Bloomington will resume a regular publishing schedule Aug. 8. Happy summer!