An HGTV talent recruiter came across Indianapolis-based home renovation team Karen E Laine and Mina Starsiak Hawk on Facebook in 2013, when transforming "fixer-uppers" in the Fountain Square neighborhood was their side gig.
Now, their hit show "Good Bones" is beginning its second season, and the business of home renovation is their "all day, every day."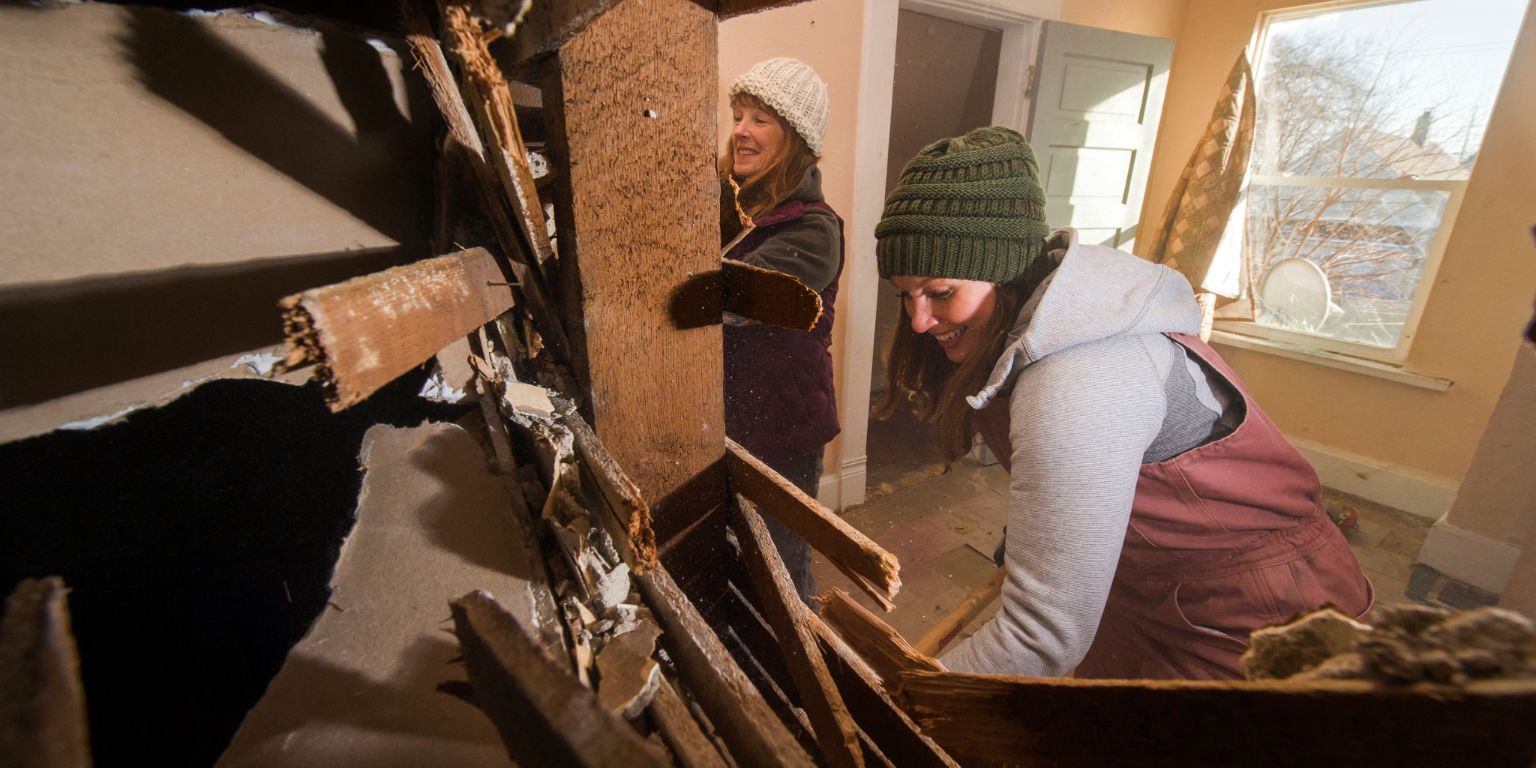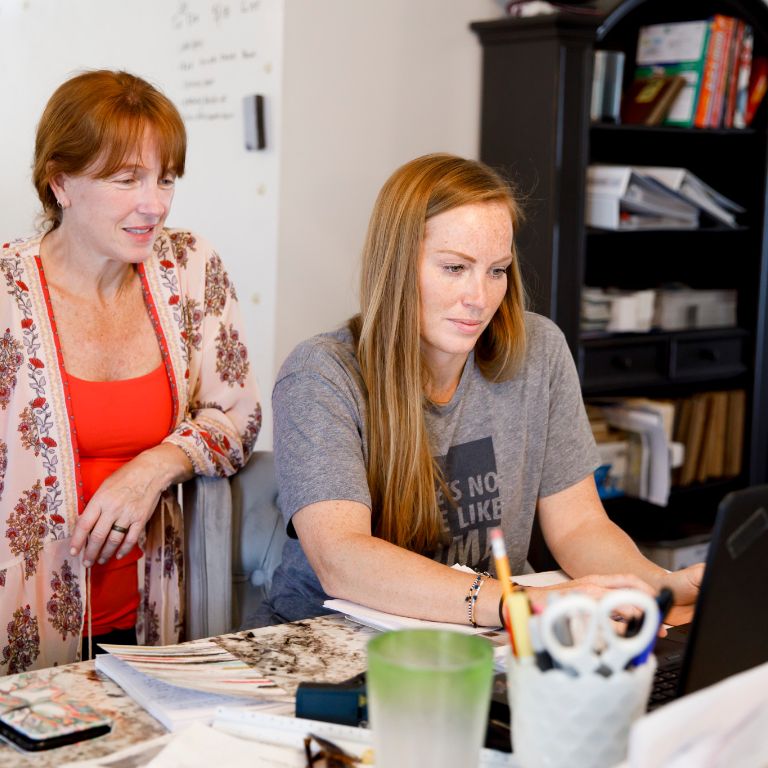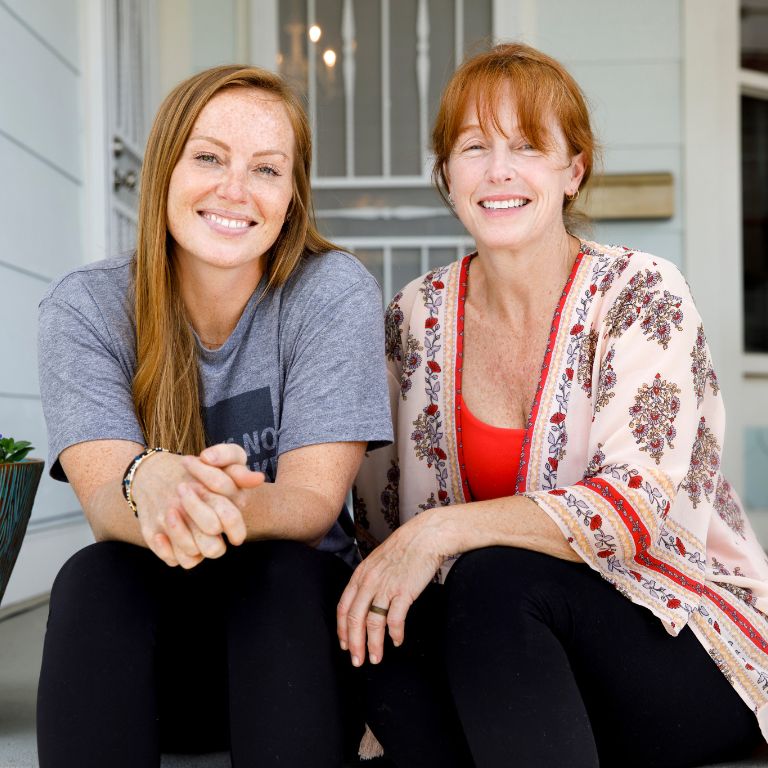 Photos by Indiana University Alumni Association and James Brosher, IU Communications
But the mother-daughter duo, who are both IU alumni, aren't house flippers.
"We've never flipped a house. That's not what we do," Laine said. "We are rehabilitating a neighborhood one house at a time. We buy the worst house on a block that no one else is interested in, and we make it the best house on the block. If we can do that to a couple of houses on a block, we've really made a difference."
This practice is important for the two women, and not only is it good ethics but it's also good business, she said.
"We eventually create our own comps," Starsiak Hawk said. "Even though people are willing to pay $200,000 for a house, there aren't comps in some of these neighborhoods to support that."
The makings of an HGTV hit
While their TV show didn't come about until 2013, Laine and Starsiak Hawk have been making Fountain Square a prettier neighborhood one house at a time for the past 10 years.
In 2007, Starsiak Hawk graduated from IU Bloomington and moved back to Indianapolis. While she wasn't sure what career path she wanted to take, she knew she loved the city and wanted to take a permanent step into the adult world.
So with her mother as a co-signer, she bought a house at 23rd Street and Carrollton Avenue for $37,000. About the same time, Laine, who is a graduate of the Indiana University Robert H. McKinney School of Law, opened her own private practice and bought a house to use as her office. Together, by watching YouTube videos and reading books, they taught themselves how to do the work that was needed to fix up the two properties. And they didn't stop there.
Under the name Two Chicks and a Hammer, the mother-daughter pair were in business together. They rehabbed about two houses per year while keeping their day jobs.
Until the show found them.
Lights, camera, action
Now the women transform eight to 10 houses per season, working sun up to sun down for 10 months.
And instead of working on a house until it's finished and then starting another, they work on all of their properties simultaneously.
With both the show and their business to concentrate on, it's a good thing the pair each bring their own expertise to the job.
Starsiak Hawk is the planner and project organizer; she plans out all of their houses for the upcoming season, complete with plans for layout, fixtures and order sheets. She also has her real estate license and focuses on growing the business.
Laine slows things down and pays attention to the back end of the business: accounting and bookkeeping.
"She's the 'how do we move the business forward,' and I'm more of the 'how do we keep the business on the rails,'" Laine said.
But the two admit that working alongside family everyday isn't always a walk in the park.
"We are mother and daughter, and we see each other way more than a normal mother-daughter pair would," Starsiak Hawk said. "We work together and live next to each other. Some days it's great, and other days it's hard."
The mother-daughter duo both have business backgrounds, and as they sat in the kitchen of one of their renovated properties – complete with an Airbnb upstairs and an office for their five employees downstairs – they both agreed that is a plus that has helped them with their success.
"I took a lot of classes through the Kelley School of Business, and those classes are the reason I have a retirement account today. I started an IRA that year, so it definitely made an impact," Starsiak Hawk said. "But I think a degree is about so much more. It shows that you survived college and learned people skills."
Her mother points out that Starsiak Hawk also has honed talents that can't be taught.
"Most of our work is creative, and Mina's ability to see a space and envision a floorplan is not something you can train into someone," Laine said.
Managing expectations
Over 13 million viewers tuned in to watch the hilarious mother-daughter demolition duo in their first season, and they are hoping to increase that number this season. But that doesn't mean they are guaranteed a third season.
"Our production team has done a great job of managing our expectations," Laine said. "There is no expectation that this will continue. And if a third season doesn't come, we will still do what we were going to do, we'll just do it a little bit slower."
"This is home, and we want our home to be the best place it can possibly be," Laine said as Starsiak Hawk nodded in agreement, pointing to her shirt that featured an outline of Indiana with the words, "This is home" printed on it.
Tune in as Starsiak Hawk and Laine return for a second season of "Good Bones" at 10 p.m. May 30 on HGTV.