There are only a dozen of them, but their collective knowledge of planning, development and strategic decision-making for Indiana University is likely more extensive than that of their peers. They are members of the 2016-17 Board of Aeons, an organization that advises President Michael A. McRobbie and his administration.
Each year, they work on projects to further the best interests of the university. To get their hard work ready to be formally presented to the president and his administration, they work closely with past Aeons, administrators and faculty throughout the academic year. The experience offers them a glimpse of IU that few students have the opportunity to see.
"Viewing the university through the Office of the President fundamentally transformed my relationship to IU," said Joseph Laughlin, a senior who has served on the Board of Aeons for three years and is in his second year as president. "It made me realize that I, as a student here, am a part of something much bigger than myself."
Jennifer Huang, a senior who has been a member of the Board of Aeons for the last two years and is now the board's vice president, gained a new appreciation for the work of IU's administrators.
"Working on the board has helped me develop a strong sense of the university ecosystem – its organization, management and decision-making processes," Huang said. "This has given me an appreciation of the difficult work that goes into running a university and developing a forward-facing vision for it." 
Past projects Aeons have worked on since the organization was formed in 1921 have resulted in campus improvements such as a renovated technology center in the Indiana Memorial Union, restoration of Old Crescent buildings, creation of a student resource now known as the LGBTQ+ Culture Center and development of a university honors program. Consistent with a strict sense of purpose that has been a hallmark of the board for almost a century, Aeons choose to work in a discreet, behind-the-scenes manner, aspiring to contribute to the betterment of the university while not seeking public acknowledgement.
In a message on the Aeons official website, McRobbie says, "Over its 95-year existence, the Board of Aeons has an enviable record of accomplishments which stems directly from the caliber of its members. It has been my pleasure to work with the Aeons, and I look forward to welcoming new members."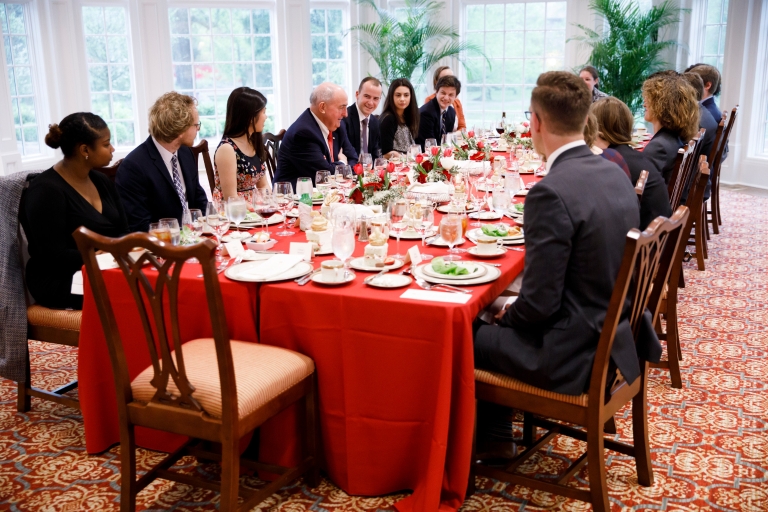 For senior Claire Repsholdt, her interactions with McRobbie and members of his administration as a Board of Aeons member have given her a deeper appreciation of what it takes to carry out IU's mission.
"I have been excited to get the opportunity to learn about how he develops and maintains a grand vision for the university," she said. "Through studying his leadership, interacting with him and crafting projects to serve his mission as the president, I have started to get a picture of what it takes to lead at the high level that he does, and it is very inspiring. It is thrilling to see a visionary at work."
The Board of Aeons marked its 95th anniversary this year, and the Aeons who make up the current board hope their recommendations to the university's administration will have a lasting impact like the work of over 650 members who have come before them.
"I hope that I can return to this campus in five, 10, 20 or 50 years and be able to point out small or big institutional developments that have sprung out of my group's report and recommendations, and the many months of groundwork that went into them," Huang said.
"I love being asked to take seriously a project of this scale," Repsholdt said. "Researching something like our projects, which will have real consequences for the community we've loved, is some of the most important and biggest work I have ever been trusted with."
When they take home their diplomas this week, the Aeons will leave IU with more than the potential of having made lasting change to their alma mater. Their experience serving on the board has created friendships and helped hone skills that will help them in the future.
"The best part of serving the board is developing close friendships with unique, passionate and inspiring people from across the university," Laughlin said. "Each board member I worked with impacted who I am today in some way; they made me more curious, more dedicated and more compassionate. And, of course, they remind me why I love IU."
"I've loved being able to work with and befriend fellow students whose intelligence, passion, humor and hunger constantly fill me with amazement," Huang said. "The board's work has given me the opportunity to develop confidence and rapport when meeting with a wide range of people – from students to staff to faculty to higher-level administration to community stakeholders."
"I have gained a certainty about my own methods of working on problem solving," Repsholdt said. "I understand my strengths, weaknesses and capabilities to succeed. Now that I have done this, I feel confident that I can continue to solve more and more problems."
Their unique view of the university, its administration and the work it takes to make critical changes also instills a special love of IU in the Aeons.
"Investing myself in the university by serving on the board has solidified my love for IU Bloomington and my strong sense of being a Hoosier," Huang said.