Fleet Services making use of all-electric cars
IU Bloomington Fleet Services has acquired its first all-electric vehicles – four 2017 Nissan Leafs – and you're likely to see the white and red cars as IU employees drive them around campus.
"These cars will help cut down on greenhouse gas emissions, tailpipe pollution on campus, and fuel and maintenance costs," said Kevin Whited, transportation demand management coordinator with Fleet Services. "Another nice aspect of the Leaf is there are no more trips to the gas station. They can be charged at night while they are sitting in the garage."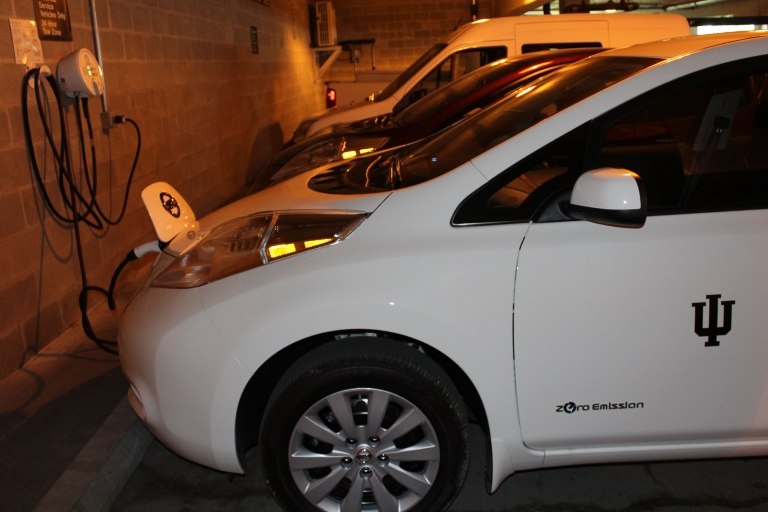 IU Campus Bus is using one of the Leafs to transport drivers to and from campus as their shifts start and end. The Office of Parking Operations is using two vehicles for parking enforcement officers and parking facility maintenance staff. The other is held by Fleet Services; IU departments may arrange for test usage to help determine whether an all-electric car would be a good replacement for a current fleet vehicle.
The Nissan Leaf can be driven 107 miles on a single battery charge, making it ideal for day-to-day use around campus and town but less useful for out-of-town trips. Fleet Services leased the Leafs at a discounted price – about the cost of a standard compact car – thanks to a rebate from Duke Energy and Nissan.
IU worked with the Greater Indiana Clean Cities Coalition to make the arrangements. The coalition helped arrange for a temporary loan of a Nissan Leaf to Fleet Services, letting officials determine whether the electric cars would work for campus transportation tasks.
Register now for annual IU Writers' Conference
The 77th annual IU Writers' Conference is June 3 to 7 on the IU Bloomington campus.
Workshops include fiction, science fiction and poetry, and there are classes in fiction, poetry and comics.
Have questions? A complete schedule, a list of faculty and information about scholarships and registration are available on the conference website.
WFIU, WTIU news teams win multiple awards
WFIU Public Radio, WTIU Public Television, and IU Radio and Television Services have earned a combined 75 awards in recent regional and national contests for their work in 2016. This is the largest number of awards WFIU and WTIU have received in their respective 67- and 48-year histories.
The WFIU-WTIU News team won six regional Edward R. Murrow Awards, including the prize for Overall Excellence for on-air and online reporting in 2016 for WFIU News.
Other awards were received from the Indiana Associated Press Broadcasters Association, the Indiana chapter of the Society of Professional Journalists, Telly Awards and the Lower Great Lakes Chapter Emmy Awards from the National Academy of Television Arts and Sciences.
IU Kelley students wrap up string of victories in case competitions
Each year, there are about 50 major business case competitions worldwide, where students apply their real-world grasp of business concepts under tremendous pressure. For those in IU's Kelley School of Business, it's been a remarkable year, bringing home 13 top-six finishes and seven victories.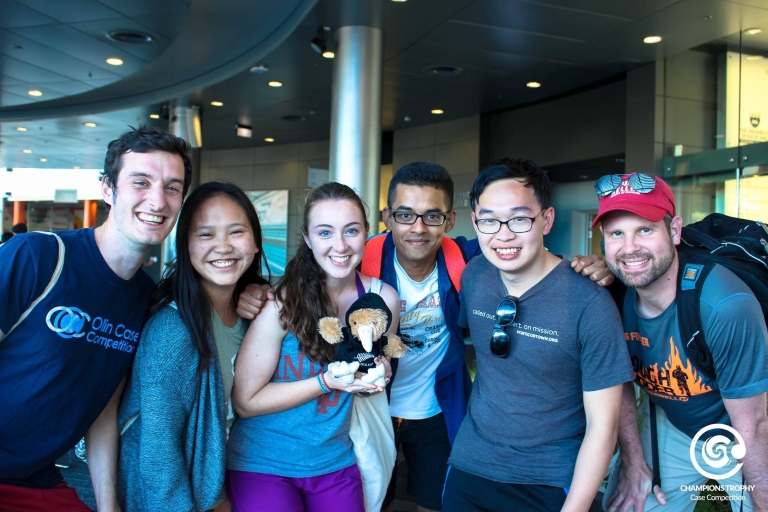 Case competitions are to business schools what moot court competitions are to law schools. They require teams of usually four students to review and analyze a business issue – under a tight deadline – and present their best solutions to judges in presentations.
In 18 competitions this year, Kelley School students placed among the top teams 13 times.
Read more about the students' competitive spirit in this IU Inc. story.
University to work with consulting firm for more 'big ticket' events at Assembly Hall
Following its recent renovation, IU's Simon Skjodt Assembly Hall has partnered with Venue Coalition to bring more great events to the university.
The 17,222‐seat venue's renovation included a new atrium, new seats, a new scoreboard, more restrooms and the opening of the Mark Cuban Center for Sports Media and Technology. In February, country music superstar Luke Bryan performed to a capacity crowd there.
"Since its opening in 1971, this venerable arena been home not only to Big Ten basketball but also to the best touring artists, from The Rolling Stones and Elvis to Neil Diamond and the Red Hot Chili Peppers," said Doug Booher, executive director of university events. "With the incredible renovation of IU's Simon Skjodt Assembly Hall now complete, we are proud to be partnering with Venue Coalition to re-establish a tradition of the best of touring entertainment in one of America's most iconic arenas."
Venue Coalition, a booking and operations consultant to more than 70 arenas and theaters throughout North America, supports agents, promoters and producers by expediting and simplifying the tour routing process.
Staff, faculty honored, promoted, hired
Read about recent IU staff and faculty honors, promotions, hires and grants, including: