The serene smile and steady gaze of Carolyn Prickett Gutman, an Indiana University alumna and one of the first women who served on the IU Board of Trustees, looks out among the female faces in the "Women of IU" exhibit in the east lounge of the Indiana Memorial Union.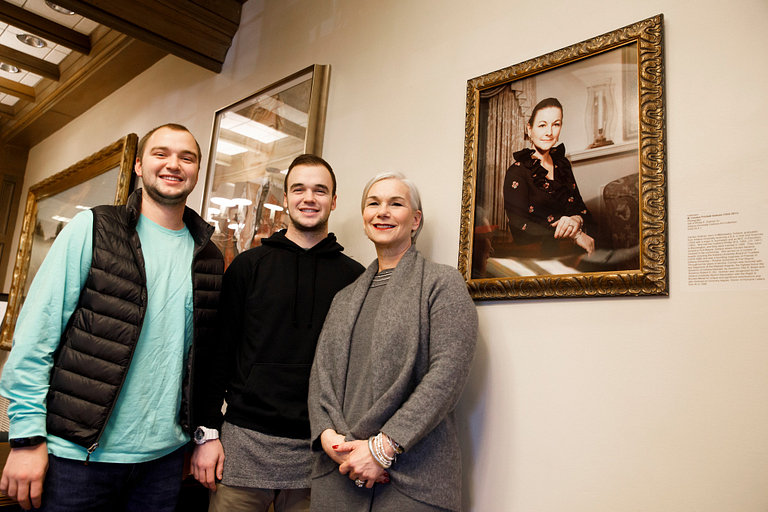 Gutman's portrait was hung in the IMU in 2016.  
"Carolyn's portrait is a flagship of that exhibit and will remain," said Sherry Rouse, campus art curator.  
A recent anonymous gift to the IU Foundation will ensure the special "Women of IU" art collection will continue.  
"We will have a real ongoing place to celebrate what women do at IU," Rouse said. "And the stories are nothing short of amazing."
Gutman's story begins in Mishawaka, Indiana, where she was born. She graduated from Mishawaka High School and was the first in her family to attend IU, but she wouldn't be the last.
Finding home at IU
Gutman met another first-generation Hoosier, Phillip Gutman Sr., at IU. He came from Fort Wayne to the Bloomington campus with the help of a football scholarship. Like many alumni, they started dating while at the university; they married on Sept. 3, 1955.
They had three children, Phillip Jr., Gretchen and Kurt, and have six grandchildren. All three children attended and graduated from IU, and two of their grandchildren, Phillip III and Andrew, are current IU students.
Carolyn earned a Bachelor of Arts in journalism in 1954 and a Master of Science in Education in 1962. She and Phillip Sr. had been married for 56 years when Carolyn passed away in 2011.
The whole family grew up wearing IU gear and attending events on campus. The passion Carolyn and Phillip Sr. came to feel about their alma mater was passed on through the generations. 
"IU feels like home," said Phillip III. "Everything about it, you come to love."
Phillip III will be graduating this spring from the Kelley School of Business in accounting. However, his IU experience is not over. He has been accepted into the graduate program in the Kelley School and will be pursuing his master's degree in information systems.
Andrew Gutman is a sophomore studying management and international business in the Kelley School and a defender on the IU men's soccer team. "IU is a way of life," he said.
Trailblazing trustee
Carolyn Gutman became a member of the IU Board of Trustees in 1974; she was the fifth woman to serve in the role.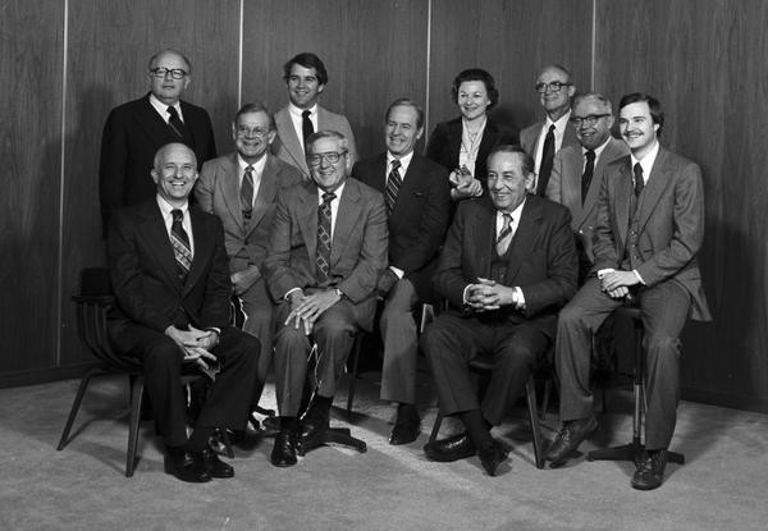 The significance of being the sole woman on the nine-member board was not lost on her.
"My perception was that the trustees initially wondered why they needed a woman on the board," Phillip Sr. said.
"The boys learned very quickly that she always did her homework."
Carolyn loved the art of adversarial conversation, and it was important to her, as a female trustee, that she make a significant and substantial contribution on the board.
"She was, for her day and age, a female voice that could be persuasive without being abrasive. She could be accommodating when she needed to be, and she could be immovable if she had to be," Phillip Sr. said.
"Mom never thought being the only women on the board was an end in itself," said her daughter, Gretchen Gutman. "Her focus was always on what she and the other members of the board could accomplish together to improve the educational opportunities for future students."
"Carolyn's zeal and love for the university was founded long before she was a trustee and continued after she was a trustee," Phillip Sr. said.
Carolyn also felt a calling to encourage and recruit prospective IU students.
"She had a talent for seeing the best in people. When she saw potential in a prospective student, she became an advocate for that person," Phillip Sr. said. "As a result of her efforts there are many IU graduates that are making significant contributions in their communities."
One of Carolyn Gutman's most significant contributions to IU during her 12 years as a trustee was her work to secure the acquisition of the McKay Farm on the Indiana-University-Purdue-University Fort Wayne campus, which enhanced IU's presence in northeastern Indiana.
"That perhaps is one of the best projects she was ever involved in," Phillip Sr. said. "It was just a fantastic thing for her to be able to lock up the land, find the people who believed it ought to be part of the campus and raise the money for it to be purchased."
The 152-acre McKay Farm was purchased in 1988 by four donors, and today it is used by IPFW athletics for soccer.
"She just loved Indiana University and not only loved the main campus; she also was very committed to the Fort Wayne campus as well," Gretchen Gutman said.
Carolyn also founded the Friends of IPFW, an organization that provides financial support to the Fort Wayne campus each year through giving campaigns.
Even after Carolyn's term as a trustee ended, she continued to be an active member of the IU community and was recognized through numerous honors, including an honorary Doctor of Humane Letters from IU in 1996.
The Indiana University Alumni Association awarded Carolyn with the Ralph E. Broyles Medal for unique and significant contributions to IU's Fort Wayne campus.
Gratitude and pride
Giving back to IU was a chance for Carolyn to show her gratitude for the experience she had as a student.
"Indiana gave her the opportunity to spread her wings," Phillip Sr. said. "As a result, it was only natural for her to want to give back to the institution that provided her with a number of opportunities."
When Carolyn's family sees her photographic portrait in an exhibition honoring women who have made their mark on IU, they are filled with pride.
"I'm glad to know she contributed and made a difference," Phillip III said. "I'm proud to be her grandson and to carry on her legacy."
"It's a tribute to a woman who worked very hard to improve life at IU," Phillip Sr. said. "I'm very proud of that. She was not a vain person in any sense of the word, but I think she would be very humbled to know people are recognizing her efforts."