Indiana University Bloomington has earned a STARS Gold rating from the Association for the Advancement of Sustainability in Higher Education. The Sustainability Tracking, Assessment and Rating System measures and encourages environmental, social and economic sustainability in all aspects of higher education.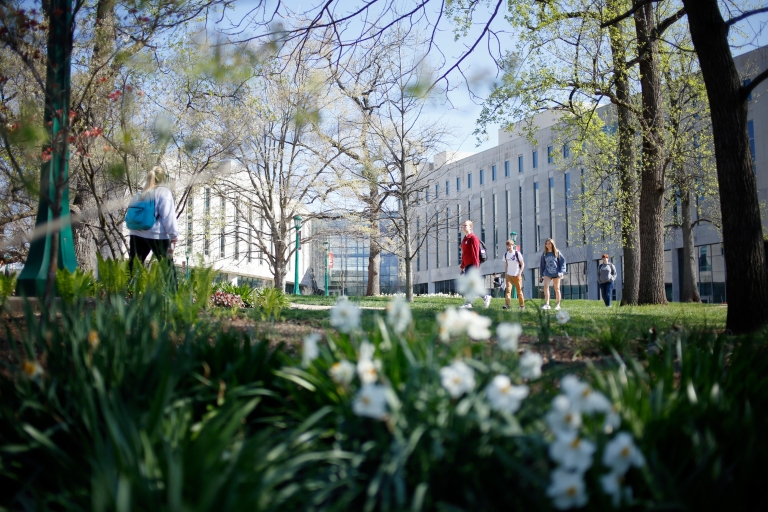 IU Bloomington has a long history of commitment to the environment. IU's first Task Force on Sustainability was formed in 2007, and the IU Office of Sustainability officially opened in 2009.
IU was one of the first participants in STARS when it was created in 2009. This is IU Bloomington's third STARS submission – IU Bloomington received a Silver rating in 2015 and 2011 – and its first Gold rating, a level attained by just 34 percent of participants. The IU Office of Sustainability is striving for a Platinum rating by 2020; to date, only one institution has received a Platinum rating.
"Sustainability, stewardship and accountability for the natural, human and economic resources and relationships entrusted to IU are core values of Indiana University," said Bill Brown, director of the IU Office of Sustainability. "Hundreds of faculty, staff and students work together every day to ensure excellence in sustainability in all of our endeavors, and we are pleased to have this metric to mark progress."
With more than 650 participants on six continents, the STARS program is the most widely recognized program in the world for publicly reporting comprehensive information related to a college or university's sustainability performance. Participants report achievements in operations, academics, engagement and planning, and administration.
"The Bloomington campus has emerged as a model of sustainable practices and integrated education," IU Bloomington Provost and Executive Vice President Lauren Robel said. "The Office of Sustainability's working groups are constantly moving our campus forward on issues of energy, IT, education and research, environmental quality, food and recycling. Their efforts have inspired students, faculty and staff all across campus to make sustainability central to everything we do at IU Bloomington."
"STARS was developed by the campus sustainability community to provide high standards for recognizing campus sustainability efforts," said Meghan Fay Zahniser, Association for the Advancement of Sustainability in Higher Education executive director. "Indiana University has demonstrated a substantial commitment to sustainability by achieving a STARS Gold rating and is to be congratulated for their efforts."
Notable campus gains reflected in this submission include the following:
Academics and research
IU Bloomington received full marks in the curriculum and research categories for offering undergraduate and graduate degree programs in sustainability; creating incentives to faculty for developing sustainability courses through the sustainability office's Sustainability Course Development Fellowship; conducting a Sustainability Literacy Survey; and using campus as a living laboratory. IU offers 836 courses with at least one module on sustainability, and 80 percent of IU departments offer at least one course that includes sustainability concepts.
IU Bloomington's Open Access to Research policy, approved by the IU Bloomington Faculty Council in February, was noted as a Best Practice example by STARS. The policy creates a mandatory open access system for all scholarly articles produced by IU faculty.
Operations
The campus was recognized for its commitment to sustainable procurement, electronics purchasing, green cleaning and janitorial purchasing, and recycled content paper purchases. Recycled content paper makes up 99.7 percent of IU Bloomington's paper purchasing.
One of the most dramatic improvements to campus sustainability since the campus's last STARS submission in 2015 was made in campus greenhouse gas emissions per weighted campus user. Since the Office of Sustainability began measuring greenhouse gas emissions in 2009, IU Bloomington has reduced its emissions by 39.21 percent.
"The Office of Sustainability has been a leader in coordinating with other campus units including Facility Operations, Landscape Services and the University Architect's Office to expand efforts for energy efficiency and sustainability," Vice President for Capital Planning and Facilities Thomas A. Morrison said. "Be it new initiatives such as metering and lighting upgrades or long-term projects such as the Campus Tree Inventory, green building practices and certification, and emissions tracking, the Bloomington campus has made great strides in awareness and use of sustainable practices. Achievement of the STARS Gold status exemplifies the hard work and commitment of our sustainability staff and students to model how to make a better world for our students, faculty, staff and visitors."
IU Bloomington also received "Innovation Credits" for campus sustainability programs that exceed what is reported in STARS. The following programs received recognition: The Campus Tree Inventory; the 2020 Sustainability Scholars Program, a partnership with the Integrated Program in the Environment that provides high-quality research experience to first- and second-year undergraduate students; the newly formed Sustainability Innovation Fund; and the Green Events Certification Program.
The IU Office of Sustainability plans to use the STARS report to guide campus initiatives over the next three years. IU Bloomington faculty, staff and students are invited to take part in campus sustainability by engaging in one of its seven campus working groups.
To learn more about the STARS rating or to join a working group, contact sustain@indiana.edu.