BLOOMINGTON, Ind. – As part of the new Indiana University Bloomington Public Humanities Project initiated by the Office of the Vice President for Research and the IU Bloomington Arts and Humanities Council, nine campus faculty members will address the significance and value of postmodern fiction by famed Hoosier author Kurt Vonnegut.
A new website, salo.iu.edu, will feature monthly blog posts by faculty, highlights from the IU Lilly Library's extensive collection of Vonnegut manuscripts and materials, student projects, news items and fan discussions. The site, which launched May 15, will be managed by Indiana University Press, which plans to collect and publish the monthly proceedings in a printed volume.
The site will also feature trading cards of each of the nine faculty contributors, designed by IU Bloomington School of Art and Design painter Caleb Weintraub, with comedic content provided by the University tWits sketch comedy team.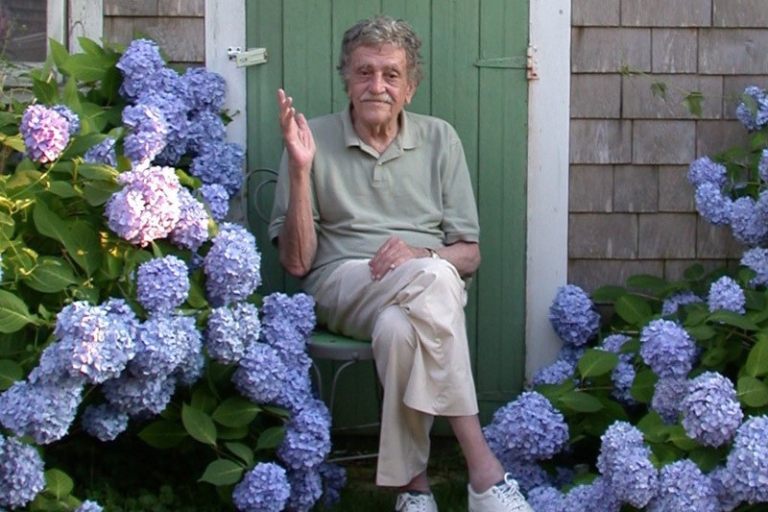 "This is a publicly spirited endeavor, one we think Kurt would have appreciated for its two guiding principles," IU Bloomington Arts and Humanities Council Director Ed Comentale said in his introduction for the new website. "For one, we think Hoosiers – and Americans in general – need better heroes, and we are proud to celebrate Kurt as a thinker, writer and citizen. For two, we want to promote the disciplines in the humanities – literature, philosophy, religious studies, etc. – as good tools for being a decent person and citizen."
The name of the site – "Salo University" – refers to a recurring character in Vonnegut's novels, a time-traveling alien from the planet Tralfamadore. In Vonnegut's 1959 novel "Sirens of Titan," Salo describes a university on his planet that resembles the cloud-like nature of the internet: "A kind of university – only nobody goes to it. There aren't any buildings, isn't any faculty. Everybody's in it and nobody's in it. It's like a cloud that everybody has given a little puff of mist to, and then the cloud does all the heavy thinking for everybody."
The nine professors assembled for the project – a "Justice League" of scholars – come from a range of disciplines in the College of Arts and Sciences. They are:
Ted Castronova, professor of media in The Media School.
Ed Comentale, professor of English and IU Bloomington associate vice provost for arts and humanities.
Jonathan Elmer, professor of English and director of the College Arts and Humanities Institute.
M. Cooper Harriss, assistant professor of religious studies.
Sarah Philips, professor of anthropology.
Eric Sandweiss, professor and Carmony Chair of History.
Sandra Shapshay, associate professor of philosophy and director of the Political and Civic Engagement Program.
Rebekah Sheldon, assistant professor of English.
Rick Van Kooten, professor of physics and IU Bloomington vice provost for research.
Faculty, students and community members are encouraged to read six of Vonnegut's novels this summer and fall. Blog posts on the novels will be published on the 15th of each month, according to the following schedule:
May 15 – "Player Piano" (1952)
June 15 – "Sirens of Titan" (1959)
July 15 – "Mother Night" (1961)
Aug. 15 – "Cat's Cradle" (1963)
Sept. 15 – "God Bless You, Mr. Rosewater" (1965)
Oct. 15 – "Slaughterhouse-Five" (1969)
The new salo.iu.edu website also inaugurates a series of additional Vonnegut-related activities over the next year, including a summer writing camp for teenagers and a cultural festival with local partners, including the city of Bloomington, Secretly Canadian record company and Upland Brewery.
About the IU Bloomington Public Humanities Project
The Vonnegut program is the first of several initiatives planned by the Public Humanities Project, supported by the Office of the Vice President for Research and run by the IU Bloomington Arts and Humanities Council. According to its mission statement, the Public Humanities Project is "dedicated to supporting public intellectualism and public-facing humanities research; mobilizing the vast knowledge and research methods of campus humanities scholars to address issues within the city of Bloomington and the state of Indiana; and affirming the contemporary value and salience of humanities scholarship through large-scale community projects with clear deliverables in research and practice."
For more information, visit the IU Bloomington Arts and Humanities website or email ahcounc@iu.edu.