BLOOMINGTON, Ind. – An Indiana University health economist was part of a cross-country bicycle tour aimed at learning why many rural Americans are opposed to Obamacare.
Alex Hollingsworth of IU's School of Public and Environmental Affairs joined two University of Arizona physicians and a medical student on the ride. The group wore jerseys that said "Talk to me about Obamacare."
The goal of gathering this information is to help prepare future physicians to discuss health policy issues with patients.
"Our patients seek, and deserve, answers that extend beyond their symptoms," the researchers wrote. "We must be better able to answer questions about the system in which we play a role."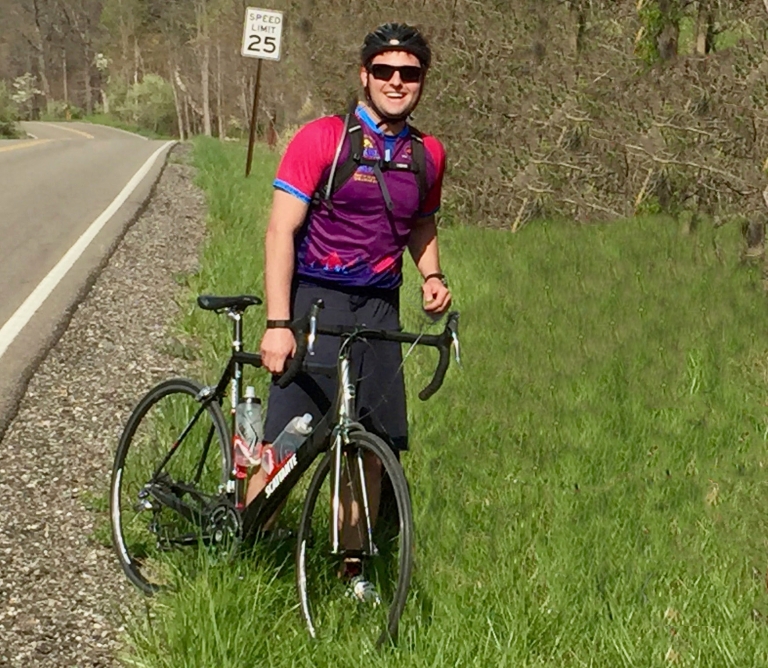 The research team stopped in small-town cafes and other gathering spots and conducted more than 100 interviews to learn more than telephone surveys have so far revealed about the underlying reasons for opposition to the Affordable Care Act – the ACA, also known as "Obamacare".
Hollingsworth rode a section of the tour through northern Ohio.
"It's certainly an unusual way to conduct academic research, but it was effective," he said. "We told the people we met that we were on a listening tour and took great care not to criticize their views or correct misinformation."
The majority of the views were negative and centered on these themes:
The ACA has increased the cost of health insurance.
Government should not tell people what to do.
Responsibility for ACA problems is diffuse, and blame falls on insurance companies, politicians and then president Obama.
The ACA should not pay for other people's problems.
"Our informants' voices were loud and clear," the researchers noted in an article on the tour. "They conveyed a strikingly similar negative sentiment across the geographic breadth of the United States: The ACA is seriously flawed. Rather than having any concrete ideas as to how to fix it, however, many informants resorted to blaming others: those who created the ACA and those who benefit from its implementation. This blaming was accompanied by a palpable anger."
Quotes from some of the informants underscore that anger.
"We don't want the government in health care," said a 68-year-old South Dakota man. "The government shouldn't take care of you womb to tomb. There isn't enough money in the budget."
A Montana man said Obamacare encourages people to take advantage of the system: "People should go out and get an education and get a job where they are covered by insurance."
The researchers said they were surprised at the bitterness and anger directed at the government and others.
With Hollingsworth on the tour were physicians Paul Gordon and Eve Shapiro and medical student Laurel Gray, all of the University of Arizona. James Dalen, dean emeritus at the University of Arizona College of Medicine, is also a co-author on the project.
Their article, "Opposition to Obamacare: A Closer Look," was published in the April 2017 edition of the journal Academic Medicine, a publication of the Association of American Medical Colleges.