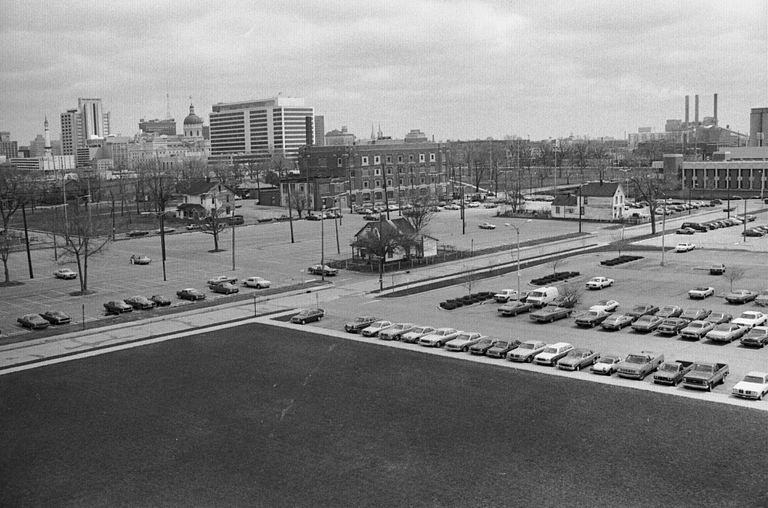 Susan Hyatt and Paul Mullins, anthropology professors in the Indiana University-Purdue University Indianapolis School of Liberal Arts, received the first Charles R. Bantz Chancellor's Community Fellowship Award for their work on "Invisible Indianapolis: Race, Heritage and Community Memory in the Circle City."
The project examines the history and culture of Indianapolis neighborhoods that have vanished over the years due to various factors such as redlining and segregation, gentrification, and postwar highway construction. The professors' year as Chancellor's Community fellows culminates Friday with a symposium called "Discover Invisible Indianapolis," featuring workshops on how to research the hidden history of your own neighborhood.
Hyatt and Mullins talked with IU Communications at the IUPUI Campus Center about how they collaborated, how the public can discover neighborhood histories and how they look at Indy with an eye toward uncovering "the invisible."
Q: You have both explored parts of the city individually. How did you come together to combine your expertise and earn the Chancellor's Community Fellowship?
SUSAN HYATT: The backstory is that both Paul and I have a long history of doing collaborative work in neighborhoods in Indianapolis. Paul's an archaeologist, and I'm a cultural anthropologist, but nonetheless we were both very interested in uncovering the hidden stories of neighborhoods. I worked on a big project on the south side called The Neighborhood of Saturdays that reconstructed an unknown story in Indianapolis about a neighborhood – around where Lucas Oil Stadium is – that had once been home to African-American and Jewish immigrants who developed quite close bonds over the 30 or 40 years that they shared that space.
In the meantime, Paul had done extensive work on the west side and had reconstructed the history of the neighborhood that used to be right where we're sitting. We heard about the Bantz Fellowship and had the idea to bring our two tracks together under a single umbrella and look at the ways we might theorize how spaces and neighborhoods change using ethnographic materials and material culture.
PAUL MULLINS: We wanted to fan out a little bit beyond the couple of places we knew and to do place-based and historical storytelling that had a very clear connection to the contemporary landscape. I'm particularly interested in telling stories about inequality, the color line and displacement in neighborhoods that might not otherwise have a story told about them or might not really appear in traditional historical narratives.
Q: When you received the fellowship, did you have a list of areas you wanted to cover?
PM: To a certain extent. We had a very idiosyncratic list of "this would be interesting, and this would be interesting." Some we could do ethnographically. Some have a cool material culture, some have both, some have neither. And some are just modest little histories that we could do in a nice blog, 800 or 1000 words, that were never going to be papers in themselves but are kind of interesting little stories nevertheless. So we just hopped around. We did some stuff on the near-south side expanding on Sue's work and some stuff here in the near-west side expanding on my work, but also some little-known occurrences that caught our eye along the way – like Chinese immigrants to the city, things that I didn't know anything about – and thought, "That might be an interesting story."
Q: When do you know that you have a concrete story? Do you hit a lot of dead ends?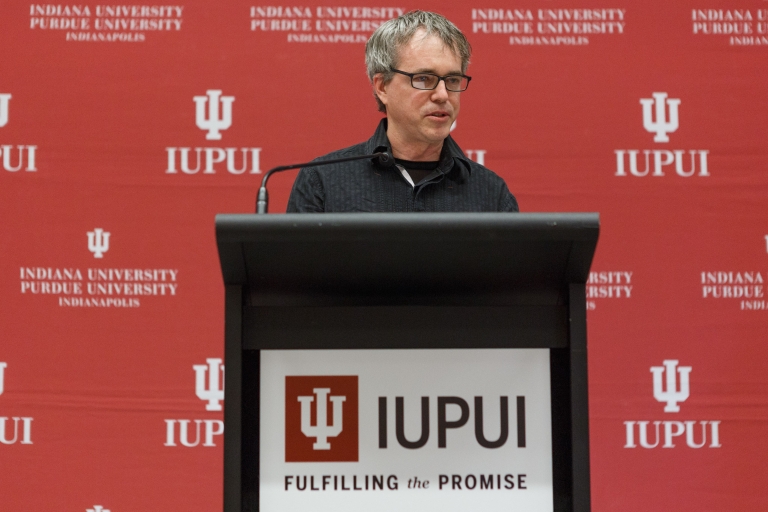 PM: There's never a dead end. There's always a story.
SH: Even if there's not the story you thought there was going to be, there's a story to be told. I've always liked the way that Paul framed "Invisible Indianapolis," in which is every site is a historic site but not in the way that we conventionally think of sites of historic significance – not necessarily with historic markers or monuments or grand buildings that people will visit. Every neighborhood has a story to tell about people who once lived there, or the people who still live there, or the people who have passed through there. Those are the stories we were looking for.
Q: Generations ago, there were many media outlets that didn't exist today, from newspapers to community newsletters. How useful are those in your research?
PM: It depends on the specific events. Like the Chinese immigration story: Occasionally, there were pieces in the newspaper archives about a local immigrant or a new laundry or a murder in the Chinese community, but they were always told in what you would characterize as xenophobic period commentary. We get the same sorts of things on the near-south side, very similar things in the African-American near-west side. There's a lot of primary data. It's often told in very ideological-period kinds of ways, but virtually always there's somebody around somewhere who has a memory of at least some of those people or events. There's almost always someone to talk to in contemporary descendant communities. Sometimes they don't even know they have that memory; they just need a jog. We just have to poke at them a little bit, and suddenly they'll unleash a story they heard from their family members or from community elders.
SH: We have such a wealth of digitized resources for this kind of research in Indianapolis, including Sanborn maps – the city directories that have been digitized – and the census data; you can piece together an amazing amount about a community. I was astonished to see how much Paul could find out about someone's life.
PM: The university has been committed to digitizing a lot of primary resources; we digitized a ton of city directories in the city beginning in the mid-19th century, and we have local newspapers digitized. There's a lot in the public domain that anybody can access; it's just a matter of knowing where the resources are. Teaching the skills is not all that challenging. The basic methodology can be done by anybody.
Q: And isn't that part of the symposium, telling people how they can do this themselves?
SH: Exactly. We have three people coming in who are very skilled at using different databases and different digitized sources that are available for free to anybody with an internet connection. It's a lot less intimidating to do something like this now than it was 20 years ago.
PM: In 10 years, it's been revolutionized. More things get digitized all the time. The university library has been like a machine in terms of digitizing historical resources. When I got here in 1999, we had to go through the censuses on microfilm and write everything down – it took forever. Now, the newspapers are digitized, and it's searchable. This is a lovely time to be a digital researcher.
Q: I walk around the city and see stadiums, new condos and tall buildings, whereas you probably see all these old communities. Has this work changed how you view where we live?
PM: I always saw the historic landscape at the same time. Some of these neighborhoods had become empty lots; I'm glad to see them developed and with cool new architecture. And with others, sometimes you see new buildings go up and feel kind of sad; you know that's where the Senate Avenue YMCA was, or some other important social institution that many people have forgotten. That building or landscape is still in an elder's memory, though, so I thought we should tell those stories.
We have a tendency to look past most of the landscape. Sometimes I find stuff that I just didn't know about, and I know the city quite well. I drive through and find stuff that I'm fascinated with and knew nothing about. There are a lot more stories to tell in Indianapolis, and we're just hoping that other people will take up the cause and tell those stories of all these little neighborhoods all over the place.