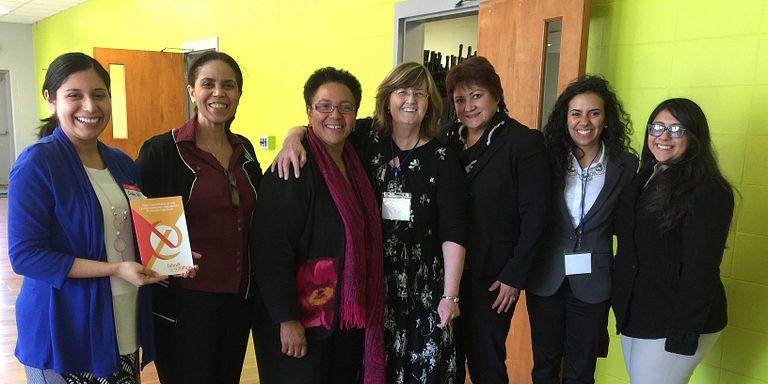 Silvia Bigatti remembers her early years as a faculty member at Indiana University-Purdue University Indianapolis and how difficult it was to connect with the Latino community.
She was trying to do it alone.
Some 17 years later, she wants to make sure others have an easier time.
The newly formed Latinx Community-University Research Coalition of Indiana strives to make those connections, bringing together faculty and staff, policy leaders, community organizations, and community leaders interested in the well-being of Latino populations across Indiana. Those connections will advance community-engaged research and programmatic collaborations that are respectful of the needs, cultural identity and interests of the Latino population while removing barriers.
In 2014, Bigatti and Monica Medina, a clinical associate professor in the School of Education at IUPUI, began talking about the concept and envisioning some kind of organization. Then the Office of Community Engagement at IUPUI became looped into the discussion, and from that office Associate Vice Chancellor Khaula Murtadha, Assistant Director for Research Silvia Garcia and Director of Latino Affairs Cindy Gil became founding members of the coalition.
"We are all interested in increasing research collaborations with community partners focused on Latino health," said Bigatti, a native of Argentina who is an associate professor in clinical psychology in the Richard M. Fairbanks School of Public Health at IUPUI. "And because quality education leads to more health, we call it quality of life and well-being."
The group held its first conference in April, with community leaders in attendance as well as researchers from other universities around the state including IU Bloomington, Purdue, Marian, DePauw and Indiana Wesleyan.
"We're hoping that Latinx not only facilitates and increases research with the community, but actually attracts Latino faculty – who are more likely to do research with Latinos – to the campus," Bigatti said. "Latino faculty attract Latino students, and Latino students attract Latino staff, so if we get the ball rolling, it's going to increase this population and its presence at IUPUI.
"Then it kind of starts all over again – they do research with the community, which attracts more faculty, and then we have a vibrant and diverse community of researchers that's connected to the community outside of the campus, doing work that impacts the community immediately."
As for the name "Latinx," it's a more gender-neutral term that is catching on at the national level and, for the organization, helps to distinguish it in the community.
"There's a lot of Latino-this and Latina-that, but there's only one Latinx," Bigatti said. "It's inclusive and has turned out to be a really good idea in terms of marketing. Nationally, young activists are using 'Latinx.'"
The coalition has its next conference scheduled for March 27, 2018, and in the meantime encourages anyone interested to visit its Facebook page.