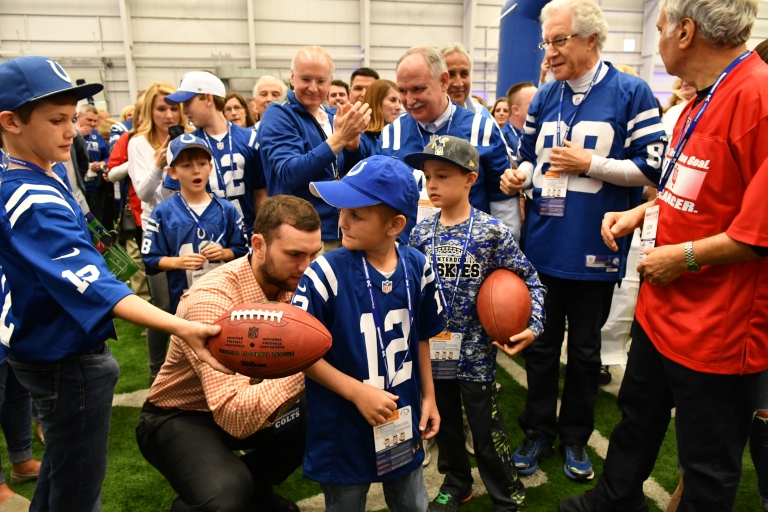 For the second consecutive year, more than $1 million was raised for cancer research at the Indiana University Melvin and Bren Simon Cancer Center during the annual Chuckstrong Tailgate Gala on April 21.
Hosted by the Indianapolis Colts and head coach Chuck Pagano at the Indiana Farm Bureau Football Center, the fifth annual tailgate gala netted $1.1 million through corporate sponsorships and live and silent auctions as well as $100,000 from the Jim Irsay family and another $100,000 from the coach and his wife, Tina.
"Blessed to be back for another one, another journey," said Pagano, who was diagnosed with acute promyelocytic leukemia nearly five years ago. "This is such a great event. It's just a group of people who are committed to coming together for a cause to find a cure. We might think we're a long way away – I don't think we are. These doctors and researchers who are here, and these people who are here supporting, don't believe that. We have the opportunity to come together again as a family, as a community, and raise awareness to finding a cure."
The amount also included $15,000 that was raised when guests paid $1,000 for the opportunity to catch a kick from Adam Vinatieri, or "Automatic Adam," while others contributed $1,000 to toss a memorable pass to wide receiver T.Y. Hilton.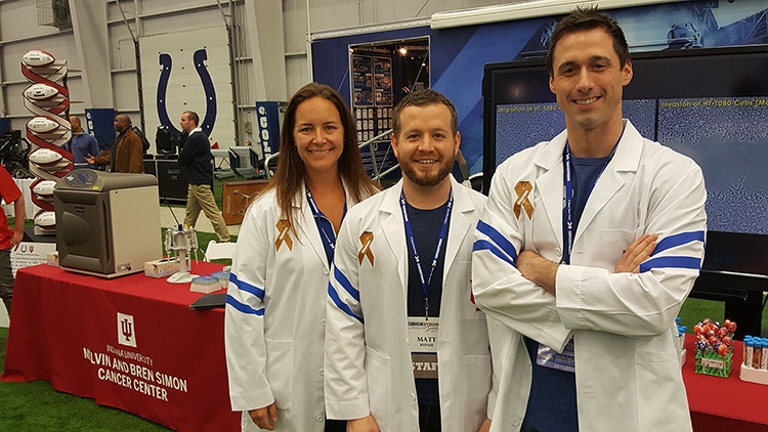 An additional $17,500 was generated by an Andrew Luck live auction package that promised the quarterback and avid reader would visit a child's school to read a favorite book.
Luck, Vinatieri and Hilton – along with nearly all of the Colts players, coaching staff and cheerleaders – joined more than 500 guests at the event.
Funds from the tailgate gala are used to support cancer research projects at the IU Simon Cancer Center that translate laboratory discoveries into improved treatment options for patients. Research leads to advancements to find better ways to prevent, detect and treat cancer.
Since 2012, the Chuckstrong initiative has raised nearly $5 million for cancer research at IU.
Top-level "touchdown" sponsors for the event were Anthem Blue Cross and Blue Shield, Bob and Lisa Colver and B.J. and Lori Nichols, DairyChem, the Efroymson Family Fund, Huntington Bank, Lilly Oncology, Sol and Kay Raso, the Throgmartin family, Indiana Knitwear, IU Simon Cancer Center, Markey's Rental & Staging, and the Morales Group.
The IU Simon Cancer Center is one of only 69 National Cancer Institute-designated cancer centers in the nation. NCI-designated cancer centers are recognized for meeting rigorous criteria for world-class, state-of-the-art programs in multidisciplinary cancer research. NCI-designated cancer centers put significant resources into developing research programs, faculty and facilities that will lead to better approaches to prevention, diagnosis and treatment of cancer.
Michael Schug is communications manager for the IU Simon Cancer Center.