Andy Buchenot remembers the "Aha!" moment when he realized that top-down instruction to students is not the way he wants to teach.
He was in graduate school at the University of Wisconsin-Milwaukee, working on a doctorate in rhetoric and composition. It was his first semester as an instructor when a tenured professor came to review his teaching.
"I had been studying collaborative teaching strategies for years, but – faced with putting them into practice in front of a seasoned pro – I froze up," Buchenot said. He arranged the students into rows, stood at the front of the classroom, and taught from behind a podium. "It was awful. The review I got was … unflattering," he remembered with a grimace.
He swiftly changed his approach. For the next class, he arranged the desks in a circle. He passed out an assignment that asked students to discuss a challenging essay. Then, from a spot in the circle of desks, he asked students what they thought. Nobody said anything.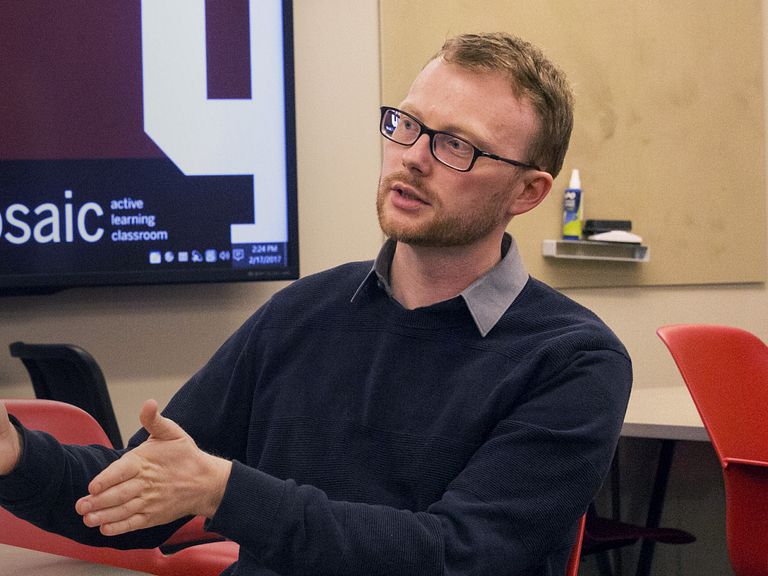 Instead of running back to the front of the room, he reminded students that they had been doing this work for the past four weeks and that they could do it again. "I trusted them enough to take over and, sure enough, they just started talking. It was on topic, relevant and smart. Turns out, these students knew a lot. They just hadn't been put in situations where they could show it."
Ever since, Buchenot has worked to teach in a way that allows his students to show what they can do. Now an English professor in the Indiana University-Purdue University Indianapolis School of Liberal Arts, he teaches scores of students every semester.
Active, collaborative learning has played a huge role in Buchenot's teaching methods since his grad school days, especially now that he is a Mosaic faculty fellow. That fellowship program is a key part of IU's Mosaic Active Learning Initiative, launched in 2015. It brings together faculty who, over the course of an academic year, teach in Mosaic classrooms, share approaches to active and collaborative learning, engage in research related to active-learning classrooms, and contribute to the development of learning spaces across IU.
Portable dry-erase boards, flexible seating, video walls – Buchenot considers each a form of technology, and he uses them all in his teaching.
"Throughout my teaching career, I've become more and more interested in thinking about how technology shapes what it is we mean when we say 'writing,'" he said. "I love to remind people that writing is a technology – one of our oldest. Thinking about writing as a technology opens up a lot of different ways of approaching it."
Buchenot first considered applying to the Mosaic Faculty Fellows program after meeting with Tracey Birdwell, Mosaic principal instructional technology consultant, during a tour of new active-learning classrooms at IUPUI.
"I remember thinking, 'This is so great; they are speaking my language,'" he said. "I'm already interested in how to get students more active in class, and the Mosaic Initiative and its staff are experts in doing just that. And they have the resources to create spaces to make it happen."
Buchenot especially enjoys being part of a community of fellows, sharing ideas and perspectives on active learning. He's made connections with colleagues outside of the English department. These relationships have broadened his perspective and made him a more thoughtful teacher.
"Mosaic is an example of Indiana University at its best," he said. "It's a forward-looking, progressive initiative that makes me proud to be part of this university."
Ceci Jones is the media relations specialist for the IU Office of the Vice President for Information Technology and CIO.