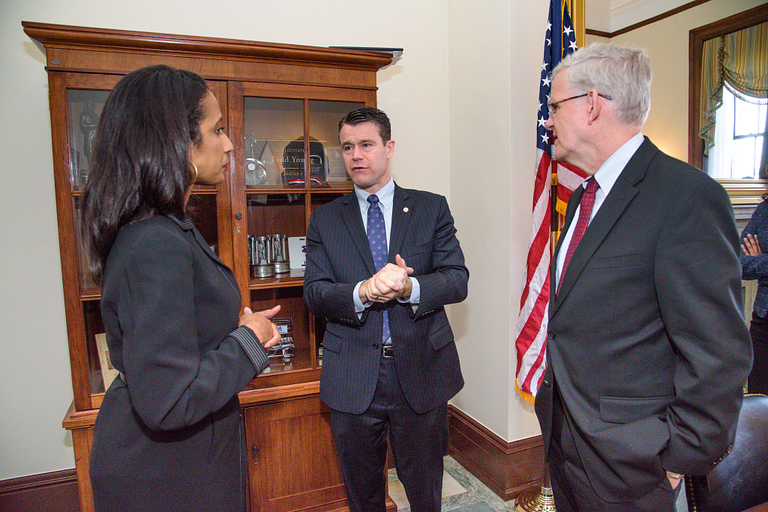 U.S. private philanthropy and remittances are an important – and growing – part of the country's overall foreign aid to developing countries. Una Osili, director of research at the Indiana University Lilly Family School of Philanthropy, shared this information with a U.S. Senate subcommittee in early May.
Global philanthropy, remittances and international development were the focus of a hearing of the Senate Foreign Relations Subcommittee on Multilateral International Development, Multilateral Institutions, and International Economic, Energy, and Environmental Policy. Chaired by Sen. Todd Young of Indiana, it was the subcommittee's first hearing in this Congress.
U.S. government and private economic engagement with developing countries was estimated at $365 billion in 2013-14, according to the Index of Global Philanthropy and Remittances, Osili said. Of that, government official development assistance was approximately $33 billion, or 9 percent of the total. Private U.S. sources provided nearly $332 billion, including $44 billion (12 percent of the total) in private philanthropy, $109 billion (30 percent of the total) in remittances from migrants to their home countries and $179 billion (49 percent of the total) in U.S. private capital flows.
The Lilly Family School of Philanthropy recently began researching and producing the IGPAR and the Index of Philanthropic Freedom. Osili is a longtime advisor to both indices, which were founded and produced until 2017 by the Hudson Institute's Center for Global Prosperity, and leads the school's other research on international philanthropy.
"I am honored by the invitation to testify today, and I applaud Sen. Young and the other members of the subcommittee for bringing attention to the ways in which philanthropic giving is reshaping foreign aid and development in developing countries," Osili said.
"As philanthropy becomes increasingly global, the subcommittee rightly recognizes the importance of understanding private philanthropy's role in international relief and in providing sustainable approaches to advancing economic and social opportunity globally," she continued. "Importantly, they also recognize that collaborations among governments, foundations, individual donors, NGOs, businesses, social enterprises and civil society organizations offer possibilities for improving billions of lives around the world in new and innovative ways, and I hope our ongoing research with our IU colleagues continues to shed light on that work for them."
"It was a privilege to have a fellow Hoosier, Dr. Osili, appear before my first subcommittee hearing as chairman," Young said. "I am grateful for her time, and all Hoosiers can be proud of the tremendous work that she and her team are doing at Indiana University.
"Thanks in large part to that work, we have a better understanding of the role that private philanthropy and remittances play in addressing the world's most serious humanitarian and development challenges. The scholarship of Dr. Osili and the team at Indiana University's Lilly Family School of Philanthropy will continue to play a pivotal role in informing congressional oversight and legislation in the future."
During her testimony and subsequent questions from Young and ranking member Jeff Merkley of Oregon, Osili also discussed the role philanthropy plays in innovating new solutions for global development issues, trends in giving for international development, and how nations' governmental policies help or hinder delivery of global philanthropy.