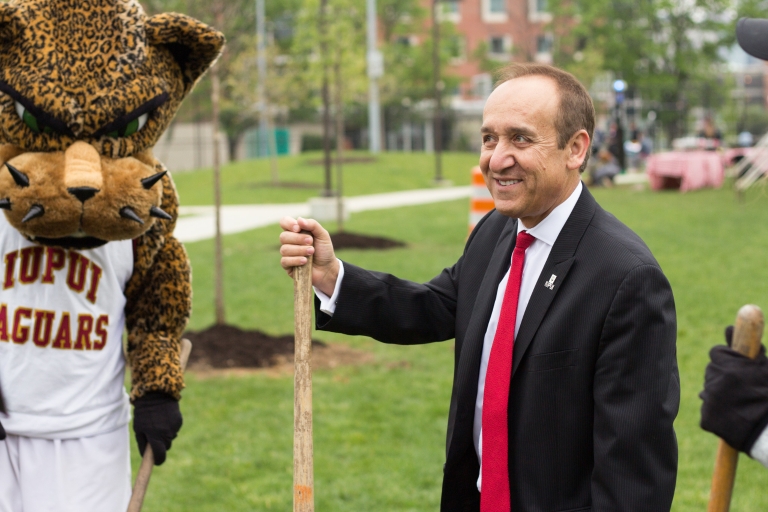 Twenty-six trees planted on campus for Arbor Day
The morning of Friday, April 29, 40 students planted 26 trees in one of our campus recreation fields, Lockefield Green. The planting included a visit from Chancellor Nasser H. Paydar and school mascots. To fuel up for the project, the volunteers ate a pancake breakfast prepared by the IUPUI food-rescue/hunger-relief initiative, the Campus Kitchen at IUPUI, a student-led organization that salvages food that would otherwise be discarded from surrounding restaurants and businesses. The trees will provide shade and beauty to the campus community using our basketball courts, beach volleyball courts and workout benches.
The group planted eight Princeton American elms, three Kentucky coffeetrees, three London planetrees, three tulip poplars, three serviceberry trees and six swamp white oaks.
Kelley School of Business launches podcast
The Kelley School of Business has released a series of podcasts, available for free subscription, titled "The ROI Podcast," aimed at solving challenges in the business community. The podcast  can be downloaded from iTunes, Google Play or any other podcast app.
Recorded on the IUPUI campus, "The ROI Podcast" is hosted by Phil Powell, associate dean of academic programs, and Kelley staff member Shane Simmons. The episodes are eight to 12 minutes in length and are released once per week. They discuss daily issues and topics encountered by business professionals and provide efficient resolutions based on faculty research.
The solutions are typically two to three actionable insights that professionals can immediately apply.
"ROI in the business world means 'return on investment.' Those who listen to the podcast are investing their time with the Kelley School, so we need to provide value that they can immediately apply in their daily lives," said Powell.
The podcast examines different topics every week, including leadership, bullies in the workplace, entrepreneurship, disruptive innovation and much more.
In its initial episodes, the podcast tallied hundreds of downloads from listeners in the U.S. and the United Kingdom.
The number of podcast listeners has steadily grown in the last seven years, with 24 percent of U.S. consumers saying they have listened to a podcast in the past month, according to Edison Research and Triton Digital. That's a 15 percent increase in listeners from 2008.
To listen to the podcast, visit ksbi.podbean.com or download from your favorite podcast app. Listeners can contact Shane Simmons via email at simmons@iupui.edu or phone at 317-278-7410 to provide feedback and ideas for the podcast.
'SAVI Talks! Unequal Access: Tobacco Retail in the Indianapolis Metro Area'
Be the first to hear the findings from the report "Unequal Access: Tobacco Retail in the Indianapolis Metro Area," a companion piece to the IU Richard M. Fairbanks School of Public Health's September 2016 "Report on the Tobacco Epidemic in Marion County and Indiana." This discussion will take place from 7:45 to 10 a.m. on June 29 at WFYI, 1630 N. Meridian St. 
Retail access to various smoking products is an important consideration when discussing community action to improve a community's health. Studies show that tobacco outlet density and proximity are linked to tobacco use, particularly in poor areas. The study used socioeconomic data culled from the SAVI community information system to examine the density and proximity of tobacco outlets relative to vulnerable communities in Marion County. Karen Comer, director of collaborative research and health geoinformatics for The Polis Center, will present findings from the SAVI analysis of retail access in Indianapolis. Panelists for the discussion include:
Virginia A. Caine, director, Marion County Public Health Department.
Claire Fiddian-Green, president and CEO, Fairbanks Foundation.
Paul K. Halverson, professor and founding dean, IU Richard M. Fairbanks School of Public Health.
Bryan Mills, president and CEO, Community Health Network.
Carmel Wroth, managing editor for WFYI's Side Effects Public Media, will moderate.
Lauren Campbell has received the athletic department's Michael A. Carroll Scholarship for the 2017-18 season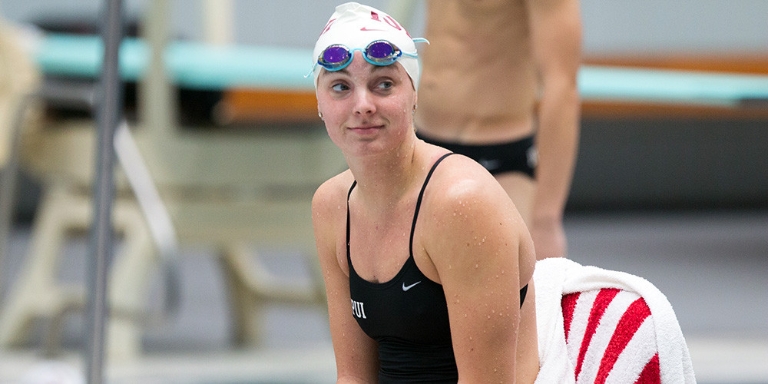 While you often don't get to choose your own path while you're young, it's ultimately the path you're set upon that can help sculpt and mold the person you become. IUPUI rising senior Lauren Campbell has been molded greatly by a path that has taken some twists along the way.
Growing up in Pittsburgh, Campbell moved to Indiana with her family prior to entering the fourth grade. The move was difficult for her as she left behind friends and had to adapt to a whole new life a few states away. Something changed upon her arrival to the Hoosier State.
"I remember the move like yesterday," Campbell said. "I was a good student, but part of the curriculum for the fourth grade in Indiana was Indiana history, and I was moved to lower-level classes. Not growing up here, I didn't know anything about Indiana history."
But her fourth-grade teacher in the Avon school system, Drusilla Pearcy, urged her to seek and pursue a passion.
Enter swimming.
Center for Young Children to hold open house June 13
Visit the Center for Young Children on June 13 from 6 to 7:30 p.m. to learn about its STEM preschool classroom experience. This innovative program is the latest offering by CYC and was developed through extensive research and efforts by numerous IUPUI departments. The STEM program designed for children ages 4 to 6, provides a setting in which children can wonder, solve, learn and grow. It introduces them to the scientific method; life, earth and space sciences; and engineering processes. Join the STEM Open House to hear from STEM teachers, tour the facility, enjoy refreshments and hear from current families in the STEM program.