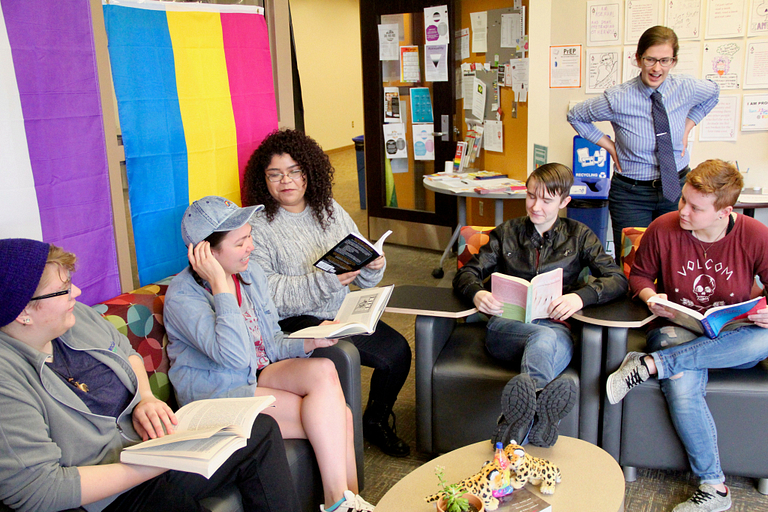 One flag turned into the IUPUI LGBTQ+ Center with Pride.
The IUPUI LGBTQ+ Center – also known simply as "The Center" – wrapped up its first academic year with student use and programming growing exponentially with each passing month. The visibility of the center, prominently located on Taylor Hall's first floor, and its spacious, open atmosphere have created a community.
LGBTQ+ organizations have been at IUPUI for more than a decade, but seniors like Sam Gaunt remember low LGBTQ+ visibility on campus. In earlier years, there was just one rainbow flag hanging in a Taylor Hall window. That window was in an office suite for the LGBTQ Student Alliance, in a space shared with other multicultural organizations. Now, the center, which opened in August, has created a highly visible place for acceptance and love.
"This is a space that is open and welcome for people well-established in their self-identity," Gaunt explained, "but also for people exploring and trying to find a community."
The center, which collaborates with IUPUI entities like the LGBTQ Student Alliance and LGBT Faculty and Staff Council, will participate in the June 10 march as part of the Circle City IN Pride celebration in downtown Indianapolis. IUPUI students, staff and faculty who would like to march with the center or help work an informational booth can find more information online.
The center's construction was a step toward fulfilling the IUPUI strategic plan priority of promoting "an Inclusive Campus Climate."
Gaunt and the hundreds of students who have used the center appreciate the space. Before, the LGBTQ Student Alliance office suite was open in a similar manner, but the small room was cramped, awkward and even intimidating.
"I noticed people would walk past the other location, too nervous to come in," Gaunt said. "Here, people come in and are more comfortable."
Director Tristan Vaught and program coordinator Taylor Dooley – the center's two paid staff members – have dedicated themselves to making sure students have an area where they can be themselves. They can play a spirited game of Lewo – a colorful version of Jenga – or talk about struggles during weekly discussion groups. Video games, movies, yoga and even "queeraoke" promote a fun, energetic vibe. The positivity was especially appreciated in recent political climates. 
"There's been a lot more anxiety from students, faculty and staff," Dooley said. "More people came to us, concerned that X, Y or Z could happen. We help them navigate situations in the classroom or workplace."
An early goal was to make the center a resource hub to help students succeed. And, quickly, the students responded.
A second home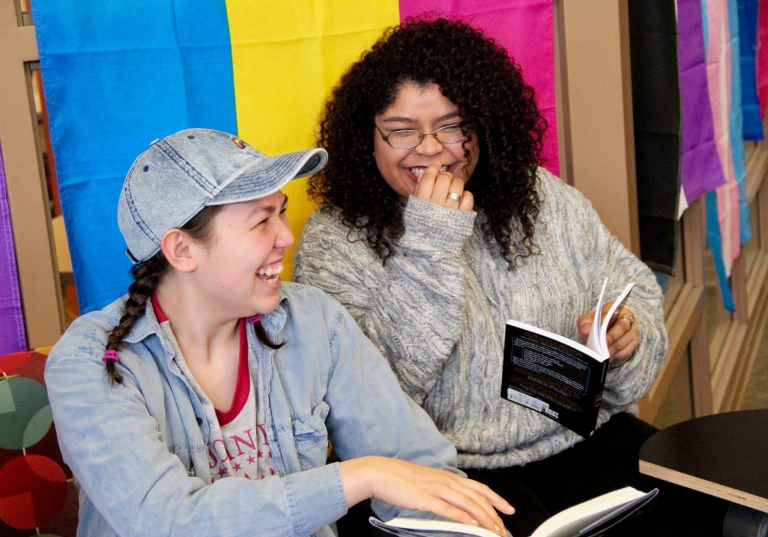 Typically, students just pop into the center to hang out between classes. There is a small library of books that tackle issues the students might be dealing with. A flat-screen TV hangs on a wall; stacks of board games like Apples to Apples and Say Anything are always available. Tall ceilings, big windows and colorful posters promoting unity are inviting to all.
"You can ask anyone – I pop in 10 times a day. I practically live here," said Andrea Doloso, a junior studying organizational leadership and supervision.
Even though it was commencement week and the spring semester was over, Doloso was one of several students who dropped in at the center on a gloomy mid-May morning. She dispensed hugs and smiles to all of her fellow students. After all, the center had brought them closer together as the year went by.
"I always feel calm in here," said Amber Peterson, a sophomore majoring in social work. "It's a great place where I can be 100 percent at peace with myself. You can come as you are, and it's fine."
Senior Esther Calderon, who is majoring in tourism, conventions and event management, admitted to feeling unsure when she first visited the center. Was she "gay enough"? Would they accept her? Her trepidation didn't last long. 
"Almost immediately, they want to get to know you," she said with a smile. "I made the majority of my friends here. I did my last final exam in here."
Hate brought love – and exposure
The front lawn of Taylor Hall is a bustling space, as dozens of organizations use it for activities, events and sales throughout the year. On Oct. 4, several Westboro Church members demonstrated on the lawn, near the center's front windows. The students caught wind of the demonstration and fought back with their own signs. It was dubbed an "anti-protest," but it quickly evolved into a dance party and "love rally."
"We wanted to show we have love," Peterson said.
The LGBTQ+ students were among the estimated 1,200 members of the IUPUI campus and Indianapolis community who swarmed the Westboro group. In the process, many saw the new center, and dozens of students, staff and faculty members would visit in subsequent days.
"They were spreading hate, but there was a lot of love coming from this community," Doloso said.
A Prideful debut
While the center made its official debut when the fall term began, the 2016 Indy Pride event was crucial to a successful start. Vaught said they made numerous community connections and received important exposure. 
Several months later, the center teamed up with more than a dozen other organizations to present the inaugural IUPUI Jag Pride Festival. April 17 to 22, the center hosted food and games on the Taylor Hall lawn and shared information to celebrate and educate the campus community.
"We were excited to have so much support and solidarity for the first IUPUI Jag Pride Festival," Vaught said.
Big sophomore year expected
Vaught and Dooley saw the center's tremendous growth between the fall 2016 and spring 2017 semesters.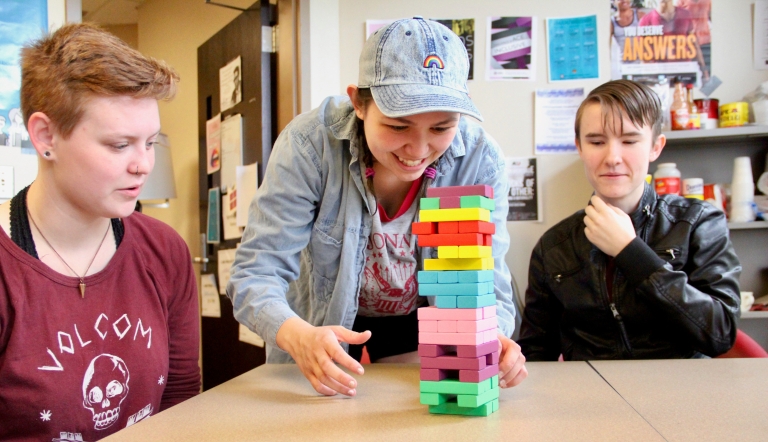 "We doubled our numbers this spring," Dooley said. "The weekly programs also doubled. Sometimes all of the chairs and couches are full, so people just sit on the floor or on laps."
Fall plans are already underway. Dooley said the center will be a larger presence at new-student orientations, and there is excitement already brewing for the Oct. 29 Harvey Milk Celebration Dinner. The event in downtown Indianapolis will be hosted and implemented by the LGBTQ+ Student Alliance with support from the center. It will feature author, activist and lecturer Cleve Jones, whose work was part of the inspiration for the ABC miniseries "When We Rise."
Dooley said the center will continue to improve on its goals of personal health and wellness along with providing academic resources for visitors.
"We want to connect with the community and IUPUI and be a thriving presence," she said. "We are also hoping to reconnect with alumni who maybe did not feel supported while they were here. 
"We are looking at our peer institutions. We are looking at strengthening and providing more."