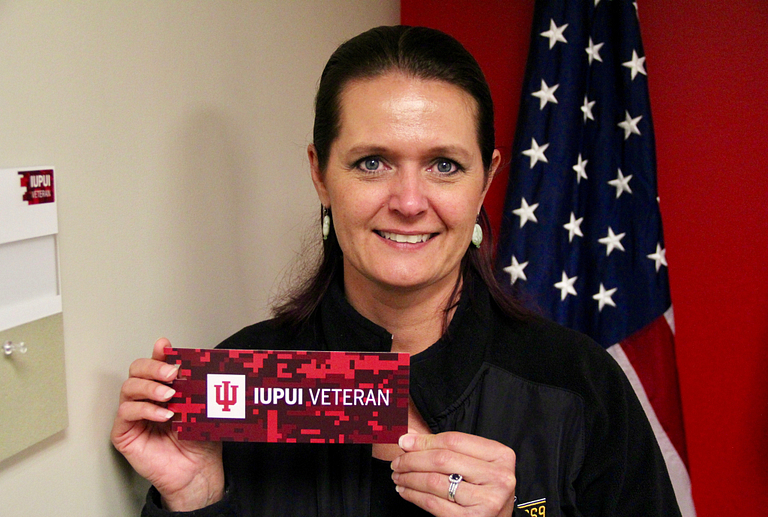 The rigors of graduate classes require stress relief, and Cliff Morlan found that solace in numerous games of pool in the  Campus Center Game Room. 
One of his regular opponents was fellow student James Ennis. The men bonded over their games, talking about classes, family and everything else. Almost everything. Both men were U.S. military veterans, serving overseas for years, but they had no idea during the spirited games. Morlan and Ennis only discovered their shared veteran status at an IUPUI Veterans Week event in 2016, several years after that first break shot. 
"Some veterans don't talk about their service with the general population," said Morlan, who is pursuing a master's degree in Teaching English to Speakers of Other Languages.
To help bring unity and understanding to the IUPUI veteran staff, faculty and students, the IUPUI Office for Veterans and Military Personnel is in the middle of several initiatives. One was inspired by situations like Ennis and Morlan's.
Veteran Identifiers were introduced this spring for Jaguar military veterans in the form of stickers for nameplates and bookmarks. Lapel pins will soon be on their way. The stickers and bookmarks are on digital camouflage crimson with a cream "IUPUI veteran" printed on them. To obtain a veteran identifier, faculty and staff who are veterans should contact the office at gibenefi@iupui.edu.
"This is a great step in the right direction," Morlan said. "Veterans can talk freely about their service and what they did while overseas or in the military that a normal person wouldn't relate to. Being deployed without family, for example. Most IUPUI veterans are older, returning adults, usually with a spouse and kids."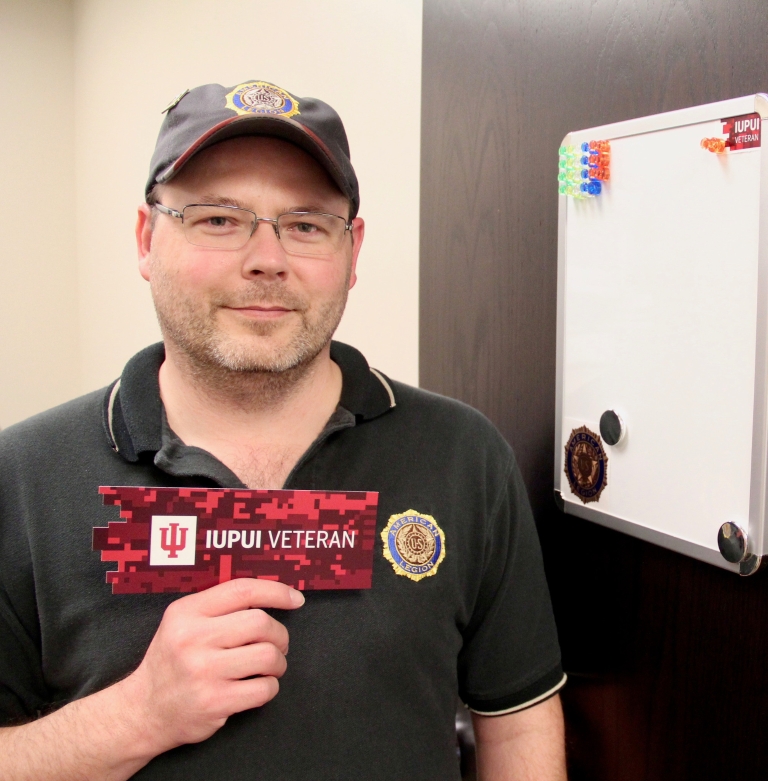 Kim Bloodgood, director of the IUPUI Office for Veterans and Military Personnel and a Desert Storm-era U.S. Air Force veteran, said when two veterans meet on campus, it opens up a whole new conversation. Veterans can be recognized on a daily basis, not just during holidays and events. She has her sticker outside of her office in the Campus Center. Colleague Rachell Laucevicius, veterans' services coordinator for the Office for Veterans and Military Personnel, has her IUPUI veteran sticker on the back of her computer monitor, which is most visible to walk-ins. Laucevicius is a Navy veteran.
Bloodgood said that the identifier project and other initiatives moved quickly. Much support came from the chancellor's office, and positive impact is already being felt by the approximately 1,100 student veterans and more than 350 faculty and staff members.
Joe Hayes, another IUPUI staff military veteran, has been an employee in the Division of Student Affairs since 2012. He is the director of Campus Center and Student Experiences and works with thousands of students every year. Some of those are veterans. Hayes can recall some students wearing their veteran status on their sleeve. Others were more private. Still, campuses like IUPUI need to remain welcoming to students returning from service.
"The veteran community is one that can easily be forgotten because we're not as identifiable as some communities can be," said Hayes, whose military career with the Navy spanned almost 10 years. 
Since he came to IUPUI, Hayes has noticed and appreciated the veteran support. The Office for Veterans and Military Personnel was crucial in his and many of his peers' transition to campus.
"When I got here, I quickly introduced myself and found a small but welcoming community," Hayes recalled. "Today, I'm meeting more vets utilizing their GI Bill."
Hayes is involved in the IUPUI Veterans Faculty and Staff Council, and he is an advisor for the Student Veteran Association. He meets with students a few times a semester just to talk about how their studies are going and to let them know of new programs and events designed to support them.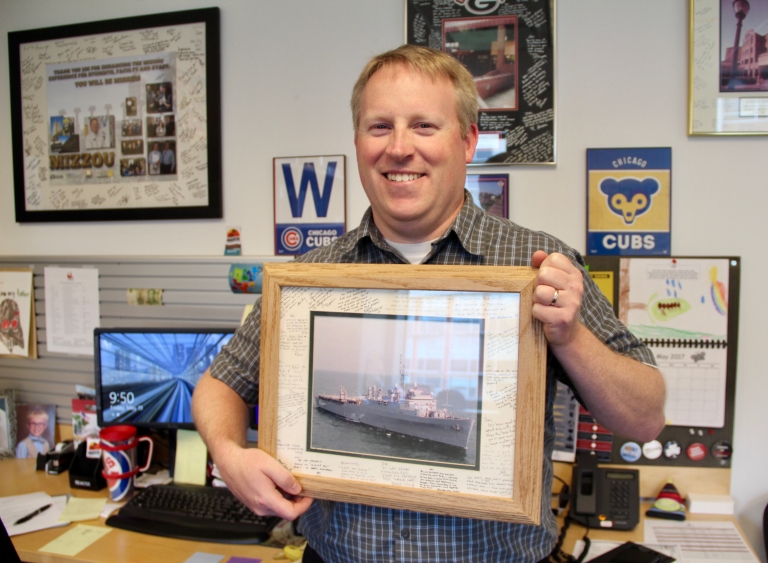 "If my veteran status helps a student vet stay here, it's worth it. We know what a college degree can do for people," said Hayes, who served on the second USS Portland and the USS Ticonderoga as an ensign.
Serve together, learn together
IUPUI first-year veteran students – along with active National Guardsmen and reservists – will have a chance to bond in a Themed Learning Community and program titled "Continuing to Serve: The Military Connection." The fall program will select 25 veteran students to take three classes together. The classes will be joined by a community-service project as well as hours of bonding in and between classes. Students in learning communities often study and dine together. They often succeed together, too. 
Students will get credits from classes in philanthropy and public and environmental affairs – Giving & Volunteering in America and Public Safety in America – and from a "transition seminar." Bloodgood will lead the seminar; IUPUI faculty members (and Army veterans) Jim White, public safety clinical lecturer, and Dwight F. Burlingame, professor of philanthropic studies, will lead the other courses. The classes are all on the same day and are intended to give the veterans a good start to their IUPUI academic careers.
Veteran body art
Bloodgood is currently leading an interdisciplinary project that showcases veterans' tattoos and the stories behind them. Students from the Herron School of Art and Design are taking photos while Department of English students help mold the stories from the men and women who served their country. The show, "Military Tattoos at IUPUI," will run November through January in the Campus Center Cultural Arts Gallery.
The project is still looking for subjects. The tattoos could be of any design. If it was received during active duty, chances are a good, powerful story comes with it.
"Our goal is to have 30 participants, and we already have 11," Bloodgood added. "Military veterans who are IUPUI faculty, staff and students are welcome to share their tattoos and stories."
Bloodgood said she saw a similar show at the Indianapolis Art Center, but she wanted to localize it further for IUPUI.
"I wanted to bring it to our campus," Bloodgood said. "It's important to teach as often as we can, and this is definitely a topic worth teaching."
Moving on up
A busy office will get busier in late June when the Office for Veterans and Military Personnel moves from the theater level of the Campus Center to the second floor. The new space is only 100 square feet larger, but the design is more open and relaxing. Bloodgood said the new office will be more inviting for veterans to come study. A focus room will double as an area for students to work on group projects, presentations and tutoring sessions, and it will be a quiet space for veterans in need of a moment. The soon-to-be former location will be turned into general meeting spaces.
"The layout is more conducive to student veteran use," Bloodgood said. "We want to get back to basics, and where we serve our military-related population is critical to that objective. It also helps that the students are positive about the move." 
Morlan welcomed the office's relocation. The current, more closed-in space has raised issues for some veterans, especially if they suffer from post-traumatic stress disorder, he said.
Morlan reminded that veterans come in every race, creed, gender and orientation. He is proud that IUPUI supports their shared service to their country.  
"It's great for veterans to be recognized and for them to talk about where they've been and what they've been through," said Morlan, administrative coordinator for the Multicultural and LGBTQ+ centers. "These programs are great for veteran students to build teamwork and for reaching out to each other."