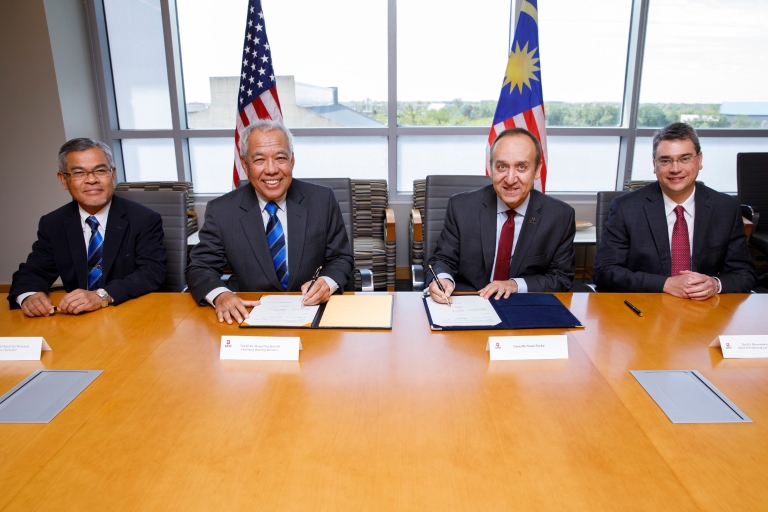 INDIANAPOLIS – At a signing ceremony on May 2, Indiana University-Purdue University Indianapolis Chancellor Nasser H. Paydar formalized a new partnership agreement with Universiti Teknikal Malaysia Melaka. The agreement establishes a framework in which students, faculty and researchers at UTeM and at IUPUI's School of Engineering and Technology will participate in academic exchanges and research.
The signing ceremony concluded three days of meetings in Indianapolis and Bloomington among UTeM delegates, Indiana University President Michael A. McRobbie, representatives from the School of Engineering and Technology, and staffers from the IUPUI Office of International Affairs.
"The signing of this agreement formalizes what the IUPUI delegation discussed in Malaysia in January," Paydar said. "Now we have all the details in place to enhance global learning opportunities on both institutions' campuses and better equip engineering and technology graduates for the evolving global workforce."
Under the agreement, the universities plan to share curricula and develop opportunities for undergraduate students in mechanical engineering, mechanical engineering technology, computer engineering, computer engineering technology, electrical engineering and electrical engineering technology. Students will then be able to participate in short-term exchanges or in "2+2" degree programs, in which they complete two years of coursework at each university. The universities also agree to collaborate on future research.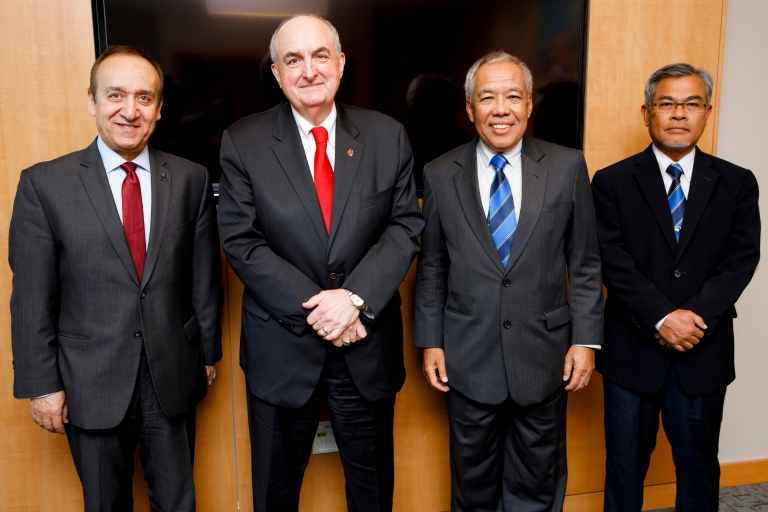 "This week's agreement builds on the long legacy that the School of Engineering and Technology has in mentoring and collaborating with Malaysian partner institutions," said David Russomanno, dean of the School of Engineering and Technology. "We look forward to welcoming many more Malaysian students and scholars to IUPUI and to enhancing exchange and research opportunities for IUPUI students, faculty members and researchers."
"IUPUI has had a very formative influence on my life and career," said UTeM Vice Chancellor and Professor Datuk Dr. Shahrin bin Sahib, who graduated with honors from IUPUI in 1987. "The education that IUPUI offers to its students is an excellent preparation for the world. I have benefited substantially from my years at IUPUI, and I am deeply privileged by the opportunity to remain involved through the signing of this Memorandum of Agreement between IUPUI and UTeM. This important event marks another milestone for both universities, and specifically for UTeM as we soar higher toward producing certified higher technical education graduates for Malaysia's future economy."
Of IUPUI's approximately 2,000 international students, Malaysia sends the sixth-highest number. Since 1991, 754 Malaysian students have attended IUPUI, including 26 enrolled in fall 2016.
The School of Engineering and Technology's partnerships in Malaysia date to 1984, when the school offered IUPUI-accredited coursework through Malaysia's Institut Teknologi MARA. IUPUI also partnered with Malaysia's national power company, Tenaga Nasional, to establish engineering degree programs at Universiti Tenaga Nasional.