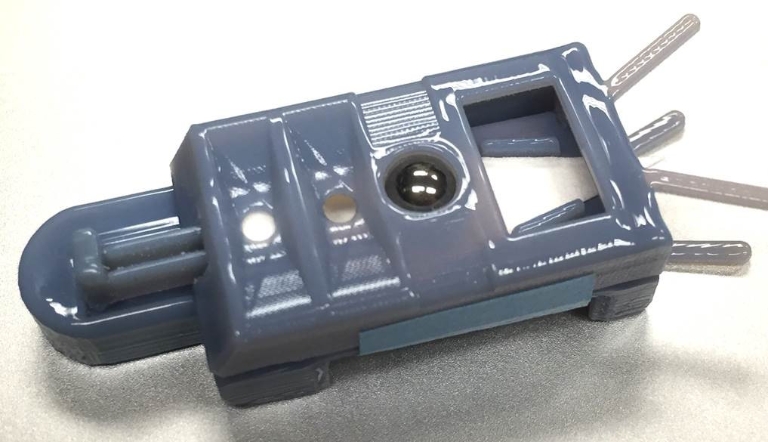 INDIANAPOLIS – With funding from the National Institute on Drug Abuse, Nicholas Manicke of the School of Science at Indiana University-Purdue University Indianapolis is developing a new method to screen for lethal designer drugs such as fentanyl and synthetic cannabinoids including K2 and Spice.
In the United States, deaths from fentanyl, a potent opioid with heroin-like effects, increased at least 200 percent between 2013 and 2015, according to NIDA. The number of fatalities from synthetic cannabinoids – man-made mind-altering chemicals sprayed on dried, shredded plant material and then smoked or sold as liquids to be inhaled – has also been climbing rapidly. Fentanyl, often mixed with heroin and/or cocaine, and synthetic cannabinoids account for the majority of emergency room visits related to designer drugs in the U.S.
Drug testing in hospital emergency departments, often done by urine analysis, misses these potentially deadly compounds, leaving physicians in the dark about the specifics of the overdose they are treating. Public health officials are similarly unaware of the precise nature of the drug problem facing their community or state. 
Now, IUPUI's Manicke and his team are developing a rapid, sensitive, low-cost screening method to help emergency room physicians treating overdoses of these lethal compounds and to inform public health officials combating their growing use in the nation's cities, suburbs and rural areas.
Unlike current mass spectrometry methods used for screening, a new mass spectrometry process Manicke and his team are developing requires only minimal sample preparation, enabling quick turnaround of drug screens. Mass spectrometry is an attractive option for performing synthetic drug screens because it is sensitive and selective and can be adapted relatively quickly as new harmful drug compounds become available to consumers.
"One of the difficulties in dealing with the public health crisis caused by designer drugs is that the actual drug compounds associated with acute intoxications are unknown," said Manicke, principal investigator on the NIDA grant. "We hope to enable mass spectrometry-based drug screening in the ER by developing an inexpensive, disposable cartridge that combines all the sample workup.
"People often say that mass spectrometry instruments are too big and expensive for hospitals, but I don't think that's true," Manicke said. "They are smaller than, and a fraction of the cost of, an MRI machine. If we can just simplify the analysis procedure, the barriers to implementing these sorts of tests will become much lower." 
Manicke's new mass spectrometry cartridges enable qualitative and quantitative analysis from a blood sample without sample purification in about 30 seconds. It is estimated that the disposable cartridges will cost less than $10 each.
This summer, the emergency departments in Eskenazi Health and IU Health Methodist Hospital will begin testing mass spectrometry screening for lethal designer drugs using the novel cartridges. 
"In the short term, these cartridges could be used by health facilities of any size, anywhere, and mailed to a central lab – rapidly generating data alerting health and law enforcement to the chemical composition and geographic distribution of the drugs out there," said Indiana Poison Control Medical Director Daniel Rusyniak, an IU School of Medicine professor of emergency medicine and a co-investigator on the NIDA-funded study. "In the longer term, the cartridges could be used to give clinicians vital information on specific altered patients."
NIDA is supporting this work with a two-year, $410,000 grant, R21DA043037, to Manicke, who is an assistant professor of chemistry and chemical biology and a faculty member in the Forensic and Investigative Sciences Program in the School of Science at IUPUI. 
About the School of Science
The School of Science at IUPUI is committed to excellence in teaching, research and service in the biological, physical, behavioral and mathematical sciences. The school is dedicated to being a leading resource for interdisciplinary research and science education in support of Indiana's effort to expand and diversify its economy.