IU's expanding European engagement, and reflections on a rewarding trip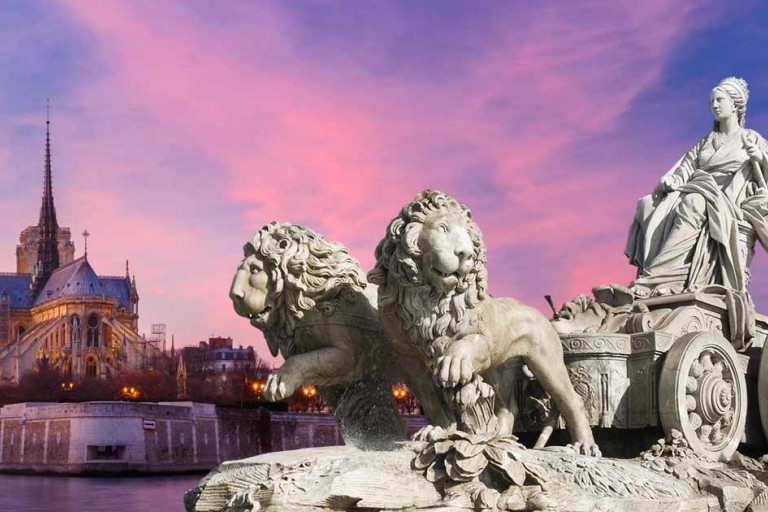 Members of an Indiana University delegation led by President Michael A. McRobbie traveled to Spain and France last month. While there, they were exposed to the power of IU's longstanding engagement in two historically important, economically dynamic and culturally vibrant countries in Europe.
The trip, organized by IU's Office of the Vice President for International Affairs, was highlighted by visits to Madrid and Aix-en-Provence, France, home to two of IU's longest and most successful study abroad efforts. In both cities, they experienced first-hand the transformative and often life-changing impact that living and learning in a foreign country can have on IU students.
The group also delved deep into the types of programs and partnerships that make possible overseas opportunities for IU students and faculty, produce research collaborations that address the most important issues facing the planet and prepare future generations of graduates to thrive in today's increasingly international marketplace.
Read more about the trip and what the IU delegation learned along the way.
Trustee seat open for alumni voting; other seats appointed by governor
Three candidates are running for the IU trustee seat open this year. Voting by alumni is open now and will continue until 10 a.m. EDT June 30.
In accordance with state law, the annual election is conducted by the dean of university libraries on the Bloomington campus, with assistance from the IU Alumni Association. Degree-holders from all IU campuses are eligible to vote for the trustee position.
IU graduates elect three of the nine trustees, one each year for a three-year term.
Candidates for the trustee seat this year are Dennis D. Elliot, Patrick A. Shoulders and Craig D. Wells.
For more information about the candidates or to vote online, visit the Trustee Election website. Paper ballots are available upon request by calling 812-855-6610.
The remaining six trustees, including the student board member, are appointed by Indiana's governor. Three were recently announced. 
Indiana Gov. Eric Holcomb has appointed to the board Harry L. Gonso, an Indianapolis attorney and former IU trustee from 1976 to 1994, and reappointed Michael J. Mirro, of Fort Wayne, Indiana, to a second three-year term.
Additionally, Holcomb has appointed Zachary Arnold, a medical student at the IU School of Medicine center in Muncie, Indiana, who will serve a two-year term as student trustee.
IU East begins renovation of Whitewater Hall Lobby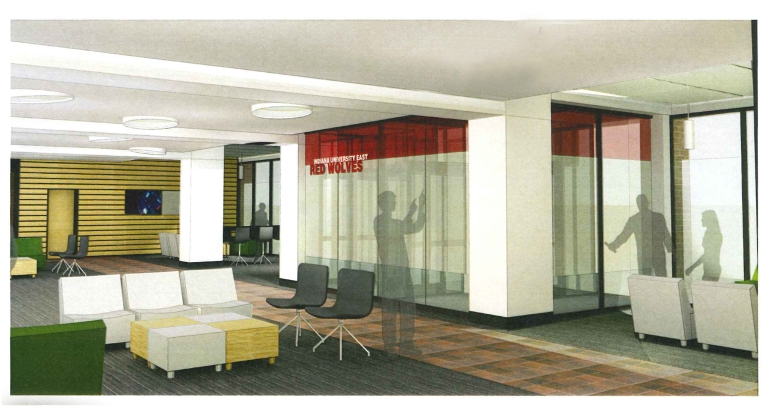 On May 30, IU East began renovation of Whitewater Hall Lobby. Work on the project is expected to be completed by Sept. 8.
The renovation will enhance the space and improve the lobby's energy efficiency and technology. Chancellor Kathy Cruz-Uribe said the renovation is an important project for the campus.
"Our campus has changed dramatically over the past decade. Our enrollment is strong, and it is important we have spaces that provide students areas to study, interact and be part of the campus," she said. "This renovation is a direct response to our continued enrollment growth to accommodate the needs of our students."
IU Bloomington seeks public comment in preparation for accreditation review
IU Bloomington is seeking comments from the public about IU Bloomington in preparation for its periodic evaluation by its regional accrediting agency. IU Bloomington has been accredited by the Higher Learning Commission since 1913 and will host a team representing the commission for a comprehensive evaluation on September 25 and 26. The team will review the institution's ongoing ability to meet the commission's criteria for accreditation.
Comments must address substantive matters related to the quality of the institution or its academic programs. All comments must be in writing and must be received by Aug. 25.
IU awards five bicentennial grants to support heritage programs
The IU Office of the Bicentennial has awarded its second round of Bicentennial Project Grants and Bicentennial Course Development Grants to support activities that commemorate and chronicle IU's cultural and historical identity in ways that will inspire and engage the community.
The grant programs, launched in October, are part of a multiyear, multicampus celebration of the 200th anniversary of the university's founding.
These awardees join fall 2016 bicentennial grant recipients from IU Kokomo, IU South Bend, IU Southeast and the IU Auditorium, whose projects are currently underway or have been completed.
The office will accept Bicentennial Project and Bicentennial Course Development proposals three times each year leading up to the bicentennial year, 2019-20. The next deadline is June 30. Visit the IU Bicentennial website for more information about proposal guidelines.
IU alumnus to present public lecture on science funding, personal journey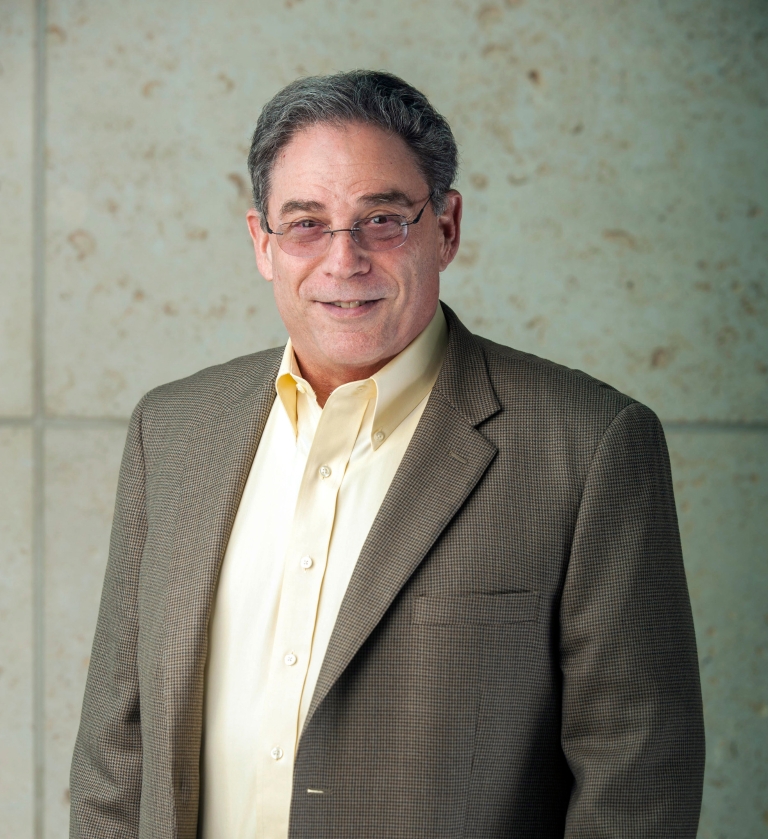 A scientific leader from the prestigious Howard Hughes Medical Institute will discuss his varied career, as well as the processes by which researchers can become HHMI investigators, scholars or fellows, at IU Bloomington.
Phil Perlman, an IU alumnus and senior scientific officer and director of research facilities at HHMI in Chevy Chase, Maryland, will deliver a lecture from 3:30 to 4:30 p.m. June 7 in Jordan Hall, Room 124.
His talk is titled "The Howard Hughes Medical Institute: Its research mission, student and faculty funding opportunities, and one scientist's journey from IU graduate student to HHMI scientific officer."
The lecture is free and open to the public. 
Nominations being accepted for teaching awards and faculty honors
Nominations are now being accepted for Distinguished Professorships; Distinguished Teaching Awards; Associate Instructor Awards; the Ehrlich, Pinnell and Ryan awards; and the President's Award for Excellence in Teaching and Learning Technology.
The electronic submission of all nominations and required documents is due by Monday, Oct. 16. Recipients will be honored in spring 2018.
All questions pertaining to the nomination submission process can be sent to uha@iu.edu or by calling Cheryl Mioduski, assistant coordinator of university honors and awards, at 317-274-3524.
Kelley School of Business launches podcast
The Kelley School of Business released a series of podcasts available for free subscription titled "The ROI Podcast," aimed at solving challenges in the business community.
Recorded on the IUPUI campus, "The ROI Podcast" is hosted by associate dean of academic programs Phil Powell and Kelley staff member Shane Simmons. The episodes are eight to 12 minutes in length, are released once per week, and discuss daily issues and topics business professionals encounter while providing efficient resolutions based on faculty research.
To listen to the podcast, visit ksbi.podbean.com or download from your favorite podcast app.
Listeners can contact Simmons at simmons@iupui.edu or 317-278-7410 to provide feedback and ideas for the podcast.
Viers recognized for distinguished service in international education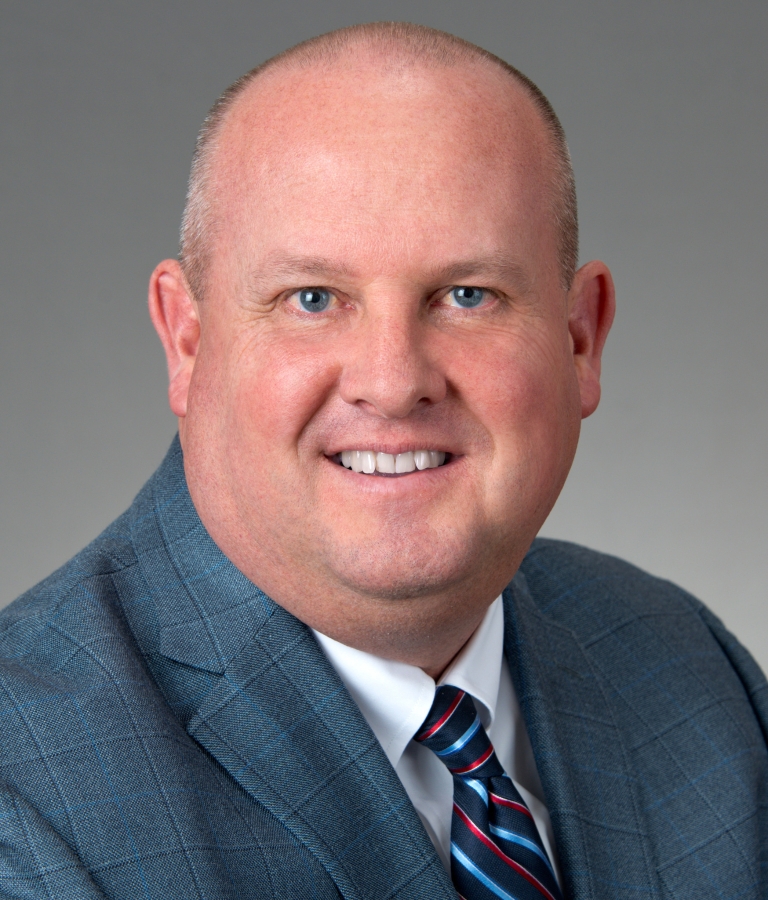 Christopher J. Viers, IU associate vice president for international services, has been honored by NAFSA: Association of International Educators with the Homer Higbee Award for Distinguished Service.
The award, first presented in the early 1980s, recognizes a member of the association who has served with distinction for a decade or more and continues to serve as a leader, mentor and scholar in the field. Recipients are chosen by an international committee; only one person is so honored each year.
For 15 years, Viers has overseen the needs of international students and scholars on IU's eight campuses, a period of time when numbers of international students have more than doubled to 9,000. During his tenure, the Office of International Services has significantly expanded programs and services that support student involvement and success, and developed a state-of-the-art case management software solution (Sunapsis) that is used for one in three international students in the U.S.
In 2012, Viers assumed oversight responsibility for international student recruitment and admissions, which continues to result in a more diverse and more highly qualified pool of enrolled students. In April, he established a U.S. passport acceptance agent site to offer convenient on-campus passport services to the university community.
In addition to his administrative responsibilities, Viers teaches international higher education administration at the graduate level at IU and for the Master of Arts in higher education program at Taylor University. His research interests include international higher education administration, global issues in higher education and global student flows.
Remender appointed chief of IU Police Department-Kokomo
IU Kokomo Chancellor Susan Sciame-Giesecke and IU Superintendent of Public Safety Benjamin Hunter have announced the appointment of Thomas Remender as chief of the IU Police Department-Kokomo. He began serving in the position May 15.
Remender has been interim chief since March and previously was a sergeant with IUPD-Indianapolis. Remender's experience also includes serving as an officer with police departments in Danville and Pittsboro, Indiana, and as founder/president and counselor at Alpha and Omega Youth and Family Services in Crawfordsville.
Bee hives installed on IU South Bend campus as part of Sustainability Showcase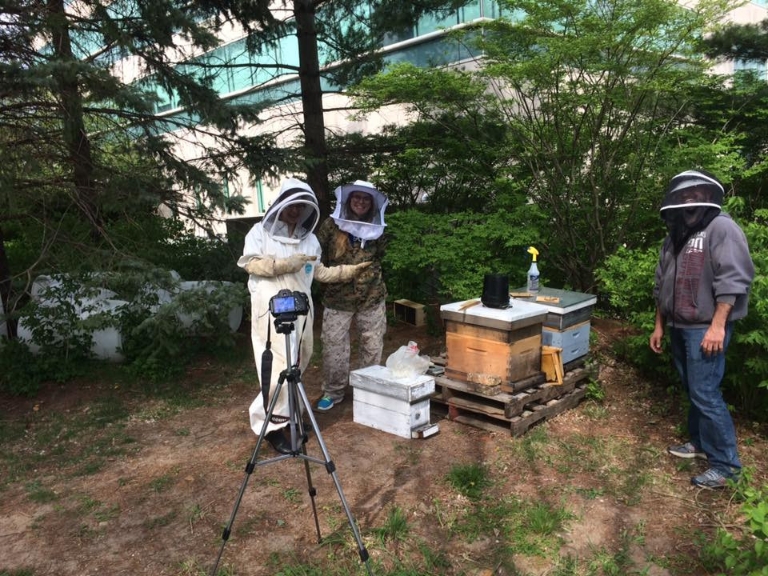 IU South Bend is now home to two bee hives, as part of the Center for Sustainability's sustainability showcase.
The showcase will consist of 10 city lots on campus that will serve as examples of how to live in an ecologically friendly manner in a city like South Bend.
Bees are allowed to be kept in the city of South Bend, and the new bee hives in the sustainability showcase will serve as a model for beekeeping in the city.
The hives are west of the Franklin D. Schurz Library, facing away downhill to the Purdue Technology Building parking lot.