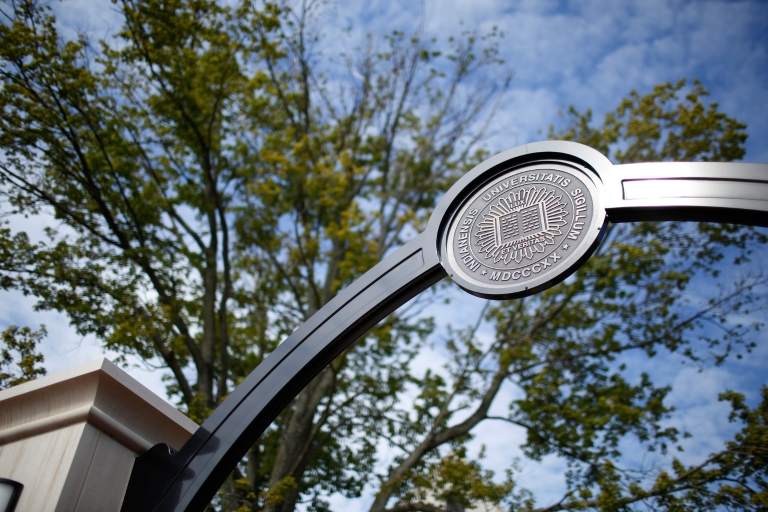 BLOOMINGTON, Ind. – Indiana University and the IU Foundation honored four individuals and one family as the university's 2017 Partners in Philanthropy.
During a ceremony June 8, IU President Michael A. McRobbie and IU Foundation President Daniel C. Smith recognized a group of individuals whose many years of dedication and generosity to IU have created a lasting, positive impact upon the university.
"The act of philanthropy is more than monetary generosity; it is a conscious commitment to the betterment of society," McRobbie said. "Such generosity that seeks to build a better future is at the heart of American higher education. This year, we honor those whose philanthropic support and service to IU have transformed the university's campuses and communities.
"As we recognize their dedication, we also reflect on their willingness to lead by example; to advocate for our students, alumni, faculty and staff; and to support the university as its most enthusiastic ambassadors. We are indeed fortunate to count them among Indiana University's most loyal friends."
Each of this year's honorees received one of four awards: the Cornerstone Award, the Keystone Award, the Family Legacy Award and the Herman B Wells Visionary Award.
Nominations for Partners in Philanthropy awards are solicited annually from all IU campuses. A committee of representatives from Indiana University-Purdue University Indianapolis, IU Bloomington and regional campuses selects the award recipients.
"Not only are these individuals highly engaged in their support of Indiana University, they are also active volunteers, leaders and advocates in their local communities," Smith said. "Their collective generosity and service to IU are truly inspiring, and illustrates the fact that kindness takes many forms. From class campaigns to student scholarships and naming gifts, this year's Partners in Philanthropy set an extraordinary example for future generations to follow."
The Cornerstone Award
C. Sue Sanders was honored with the Cornerstone Award, which recognizes individuals whose partnership, volunteerism and generosity have been instrumental to the success of a single IU philanthropic initiative for a campus, program or school.
Sanders earned her bachelor's degree in business from Indiana University Southeast in 1981. Her husband, the late Judge Carlton E. Sanders, received his bachelor's in business management from IU Southeast in 1972. Since that time, both played an active role in philanthropy, volunteerism and advocacy for the regional campus and its surrounding community.
After a successful career in information systems technology, Sue Sanders retired in 2000 and dedicated herself to improving health care and nursing facilities in southern Indiana. Realizing IU's nursing graduates were in high demand and the region had a shortage of nurses, she led the charge to expand the IU Southeast nursing program by providing the foremost gift for the construction of the Judge Carlton and Sue Sanders Laboratory for Nursing Education, completed in 2014. Since then, she has been an advocate for IU Southeast nursing students and their futures throughout the Midwest.
The Sanderses' generosity was not limited to IU Southeast's nursing programs. Sue made sizeable contributions to the IU Southeast Honors Program; founded the Judge Carlton E. and Sue Sanders Chair in Business and Economics; endowed the Sanders Speaker Series; and created an international study scholarship for the campus. The Sanders Training Lab and Sanders Professional Sales Center are also namesakes of their philanthropic support toward IU Southeast.
In 2006, the Sanderses received IU Southeast's Chancellor's Medallion to recognize their service to the campus and New Albany, Indiana. In 2015, they were recognized with the IU Presidents Circle Laurel Pin for their commitment of more than $4 million to IU Southeast, and they were most recently named Distinguished Alumni by the IU Southeast Alumni Board of Directors.
Sue now serves on the IU Southeast Board of Advisors, the board of the Community Foundation of Southern Indiana and the advisory board of the Salvation Army of Southern Indiana.
View a video biography of C. Sue Sanders.
The Keystone Award
The Keystone Award recognizes an individual who has shown exemplary volunteerism and generosity through multiple IU fundraising campaigns. This year's recipients are Jeff and Marcia Fettig, longtime IU advocates and loyal supporters.
The Fettigs' generosity has touched various schools and campus units on the Bloomington campus, including the Kelley School of Business, the School of Education, the IU Student Foundation, the IU Alumni Association and class campaigns.
While a student at IU, Marcia Fettig participated in the IU Student Foundation and was a member of Alpha Phi sorority. She graduated in 1978 with a bachelor's degree in elementary education, later returning to complete her master's degree in reading in 1980.
After graduating with highest distinction from the Kelley School of Business, Jeff Fettig pursued his Master of Business Administration in finance, also from the Kelley School, in 1981. His successful career and leadership as chairman and CEO of Whirlpool Corp. led to the company's collaboration with Habitat for Humanity of Monroe County over the past seven years – a partnership that continues today.
The Fettigs also recently gave back to the IU chapter of Phi Gamma Delta, of which Jeff was an active member during his undergraduate career; the two spearheaded the construction of the fraternity's new house on campus. The Fettigs continue to be active in their local community of southwest Michigan, and their recently endowed scholarship at the Kelley School – with preference toward direct-admit students from southwest Michigan and/or Tipton County, Indiana – demonstrates their community-based philanthropy.
Jeff Fettig is active on the IU Foundation Board of Directors, the Kelley School of Business Dean's Council and the Kelley School Academy of Alumni Fellows. Marcia dedicates much of her time to Bark Angels, a pet therapy program she co-founded in 2009.
View a video biography of Jeff and Marcia Fettig.
The Family Legacy Award
The late Jerry and Lila Seger were the first of their family to receive IU degrees, but they were far from the last. Since Jerry and Lila turned their tassels in the late 1940s, 34 more members of their family have gone on to complete an IU education.
This year, the family of Jerry and Lila Seger was honored with the Family Legacy Award, which recognizes families that have created a time-honored tradition of volunteerism and generosity toward Indiana University.
The Seger family's long line of IU graduates boasts a Little 500 rider, many members of the IU Student Foundation, multiple members of the Greek system, members of both women's and men's IU golf teams, and multiple philanthropic-minded relatives whose generosity spans generations.
The family came together to support the Kelley School, where 22 of the family's 34 degrees have been conferred, at a crucial time in the plans for Hodge Hall. Their sizable gift launched the successful campaign for the expanded and renovated building. Jerry and Lila's six surviving sons, along with gifts from the Seger-owned Wabash Valley Produce and the Steven Seger Foundation, honored Jerry and Lila by naming a classroom in Hodge Hall.
Beyond Indiana University, and true to the university's mission to make the world around us better, the Segers have taken great pride in their hometown of Jasper, Indiana. They made a leadership gift for the development of a 75-acre park on the site of the former Jasper Country Club. Grandson Andrew Seger serves as president of the city's Economic Development Commission, and son Roger Seger serves as president of the Park Board. In addition, the children of Larry and Dianne Seger have organized a local golf outing to raise money for Indiana University's chapter of Camp Kesem, in memory of their parents.
Randy and Roger Seger serve on multiple boards and committees throughout the university, and Andrew Seger is a member of the Kelley School Johnson Center for Entrepreneurship and Innovation Executive Board.
View a video biography of the Seger family.
The Herman B Wells Visionary Award
Receiving the Herman B Wells Visionary Award this year is Robert H. McKinney. This award recognizes an individual whose lifetime commitments of time, talent and treasure to IU reveal a deep understanding of the power of philanthropy to shape the future of the institution.
Bob McKinney was born and raised in Indianapolis. He earned a Bachelor of Science in engineering from the U.S. Naval Academy and served on destroyers in the Pacific Theater for three years near the end of World War II. He also had a temporary appointment to Gen. MacArthur's staff before returning to law school in Indianapolis in 1949. He was later called upon to serve in the Korean War for two years, after the completion of his law degree from Indiana University.
Until his retirement in 2005, McKinney was chairman and CEO of First Indiana Corp., parent company of First Indiana Bank (now BMO Harris Bank). He was chairman and CEO of the Somerset Group Inc. and a founding partner of Bose McKinney & Evans LLP in Indianapolis. His commitment to community-based banking prompted President Jimmy Carter to appoint McKinney as chairman of the Federal Home Loan Bank Board, the Federal Savings and Loan Insurance Corp. and the Federal Home Loan Mortgage Corp.
Virtually unparalleled is his support of Indiana University, McKinney served on the Indiana University Board of Trustees from 1989 to 1998, including one year as its president. He was chairman of the board of advisors of IUPUI and advising director to the IU School of Public and Environmental Affairs. He is currently a member of the Robert H. McKinney School of Law Board of Visitors and the Indiana University Foundation Board of Directors. He has also served the former Center on Congress at IU as an advisory board member.
McKinney's financial support of Indiana University includes the naming gift to the IU Robert H. McKinney School of Law in Indianapolis, which also provides funding for five endowed chairs and an endowment to fund the McKinney Family Scholarships. The Robert H. McKinney Law Professorship, the Bose McKinney & Evans Sherman Minton Moot Court Competition and the V. Sue Shields Scholarship are also beneficiaries of his generosity. Further, he has contributed to the Conservation Law Center and SPEA.
McKinney and his five children actively manage the McKinney Family Foundation, with an emphasis on solving Indiana's environmental issues.
Bob McKinney's motto, "doing well by doing good," is proof of his extraordinary commitment to Indiana University's students, faculty, staff and friends.
View a video biography of Robert H. McKinney.
About the Indiana University Foundation:
Founded in 1936, the Indiana University Foundation maximizes private support for Indiana University by fostering lifelong relationships with key stakeholders and providing advancement leadership and fundraising services for campuses and units across the university. Today, the IU Foundation oversees one of the largest public university endowments in the country, with a market value in excess of $1.9 billion. In fiscal year 2016, IU received $360.9 million in support from the private sector. IU is consistently ranked among the top four of Big Ten universities in annual voluntary support.