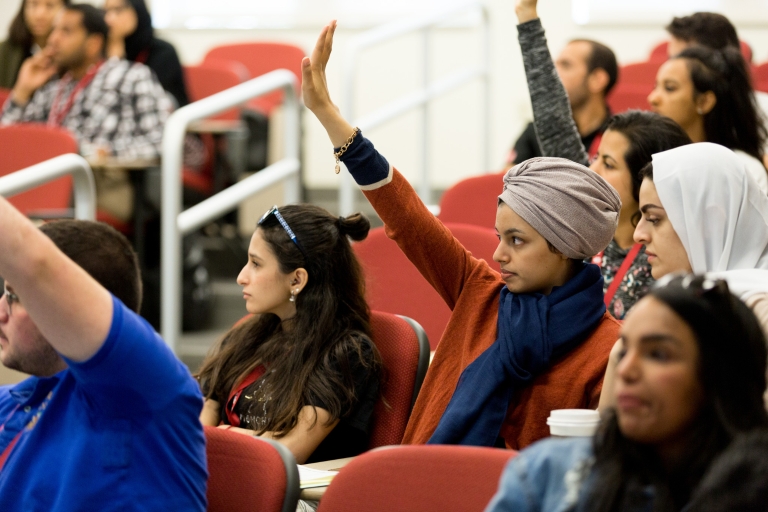 More than 90 college students from seven countries across the Middle East and North Africa arrived at Indiana University's Kelley School of Business for a month-long program in American business practices and entrepreneurship.
The students – from Tunisia, Morocco, Algeria, Egypt, the Palestinian territories, Jordan and Saudi Arabia – make up the sixth class to come to IU Bloomington for the Global Business Institute. More than half of them are women. Another seven students are expected to arrive soon.
Started in 2012 with support from the Coca-Cola Company and the U.S. State Department, the program has helped its alumni improve their lives and the lives of many others in their home countries. The program previously included participants from Pakistan and Afghanistan.
"What we started out to accomplish was to have an impact in the MENA region, with regard to economic opportunities for young people," said LaVonn Schlegel, executive director of the Institute for International Business, which runs the program.
At that time, the unemployment rate for young people in most countries across the region ranged from 30 to 50 percent. Curt Ferguson, then president of Coca-Cola's operations in the Middle East and North Africa, approached his alma mater, the Kelley School, wanting to do something to address the issue.
"He recognized that if you have something to lose, you're going to fight to keep it. You're not going to fight to lose it," Schlegel recalled. "That's kind of the approach that we've taken with this program, to give these kids the sense of purpose, a sense of confidence and a sense that they can go back and be entrepreneurs. And that they can go back and make a difference."
The accelerated and rigorous curriculum includes a blend of core business fundamentals with learning about soft skills involving communication, teamwork, problem solving and presentation.
Kelley faculty teach in the program. The students also meet with leaders at several Indiana start-up companies. They also will volunteer with the local Habitat for Humanity chapter to better understand social entrepreneurship.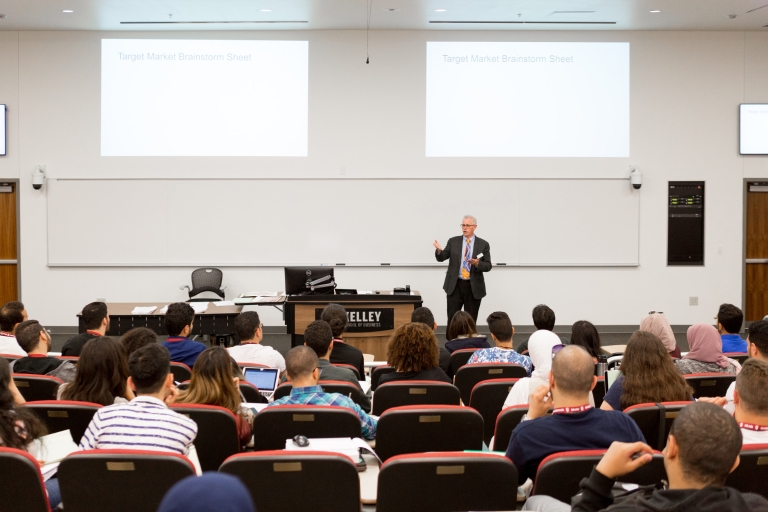 Numbers tell the story. Of the nearly 300 Global Business Institute alumni who have completed their college educations – another 200 are still in school – more than 95 percent found employment within three months. The 2017 Arab Youth Survey places youth unemployment across the region at around 30 percent.
Nearly 110 businesses were started, of which 85 are still running. One alumnus started a logistics company in Kabul, Afghanistan, that today employs 70 people. Eight companies employ at least 16 people and another 17 businesses have between six and 15 employees.
Sixty-two percent of alumni report being engaged in entrepreneurial activities in their communities or universities, demonstrating the long-lasting spirit of entrepreneurship that participants gain from the Kelley School program.
Among the entrepreneurs hoping to benefit from the Global Business Institute is Iyad Ghazal, 22, an architectural engineering student from the West Bank in the Palestinian territories. He will soon graduate from An-Najah National University and continue to grow a small business that produces electric signs that can be controlled remotely by mobile technology to conserve energy.
"I thought at first that to create a business was to have an idea and to be able to apply it," Ghazal said, adding that he soon realized he had much to learn about managing workers, marketing and other aspects. "I was in serious need for such a program, and when I read about it, I applied in order to improve myself and help me grow my idea.
"I dream to be a businessman in my country, creating many businesses, because I have many ideas," he added.
Another aim of the Global Business Institute is to encourage participants to pursue further education. Seventy-seven alumni have received scholarships to pursue advanced degrees outside of their home countries, including 13 Fulbright Scholars. Some have even received multiple scholarships, using their participation in the Kelley program to jump-start career-related international experiences.
Someone with those aspirations is Rahaf Alraddodi, 23, a human resource management student finishing up her degree at Yanbu University College in Saudi Arabia. She hopes to pursue an MBA in the United States in a couple of years, perhaps at Kelley, after gaining some experience in consulting.
"This is a really good start, to learn just how Americans handle businesses and how to mix the two – Saudi or Arab with the American way," she said.
Alraddodi said business opportunities for women in Saudi Arabia are on the increase. Families are more supportive of their daughters receiving a university education, as are the government and companies in the form of scholarships and other financial support.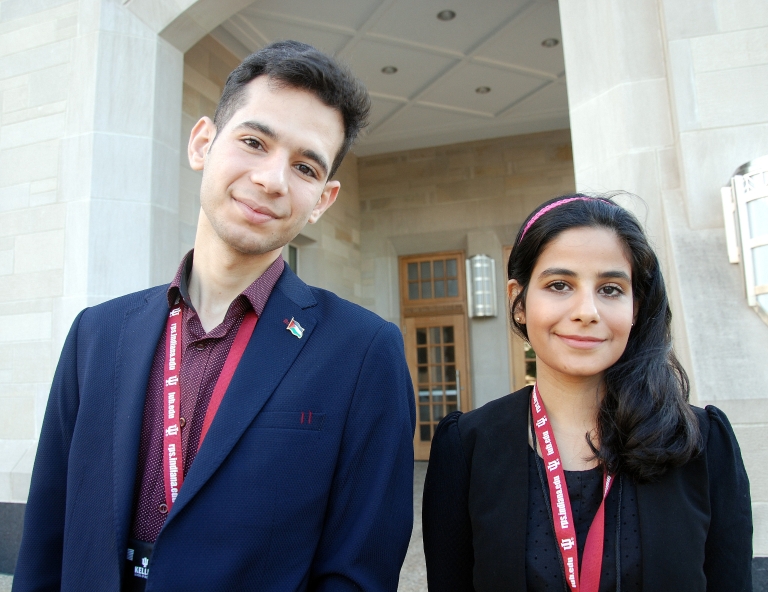 "I think it's really changing," she said. "Women are more open – they want to try new things and just want to be thrown into this new pool and learn how to swim."
Ultimately, it is hoped that the program will enable students to use entrepreneurial knowledge and skills to address issues in their home countries, encourage innovation and create jobs that improve economic conditions. It is a competitive program. Last year, more than 7,000 people applied for 100 program spots.
Earlier this year, the State Department featured the Global Business Institute among 17 projects worldwide in a special report released during Global Partnerships Week.
Schlegel also points to the program's value of bridging cultural and ethnic divides and is thankful for how hospitable Hoosiers have been.
In past years, the manager of a casual American restaurant welcomed Muslim students and accommodated their dietary needs in connection with breaking their daily Ramadan fast. Students are sought out for conversations at the Bloomington Farmer's Market and on the streets of nearby Nashville.
"As one would expect, the IU community has embraced these students without question," she said. "I've had a number of faculty members thank me for being included in this program because they've had a chance to learn something and … stretch their horizons a bit."
The students will leave Bloomington on July 23 and travel to Washington, D.C., for two days of events at the State Department and the U.S. Chamber of Commerce. They then go to Atlanta for meetings at Coke's headquarters.
"They all consider themselves Kelley and IU loyal, which I find especially gratifying because that means we have helped build their world broader than it was before," Schlegel said.
George Vlahakis is associate director of communications and media relations for the IU Kelley School of Business.