For two weeks during the summer, local high school students can come to campus to take science and mathematics courses taught by Indiana University Bloomington graduate students.
When the program started in 2010, its focus was on physics and math. Now in its eighth year, the Foundations in Science and Mathematics program offers 16 science- and math-related courses. Algebra, chemistry and biology are a few of the foundational courses offered, but options such as environmental science, zoology and forensic science were added this year.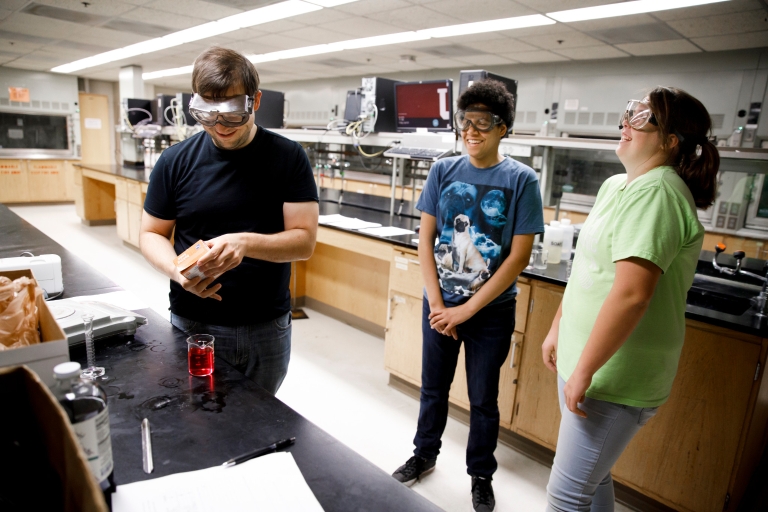 "We continue this program with the goal of helping students prepare for high school," said Kate Hummels, this year's program administrator and a graduate student in the Department of Microbiology. "We hope the program will help expand their knowledge, encourage interest in STEM fields and spark exploration into specific areas."
Programs like this are important for children to succeed, said Sophia Vinci-Booher, a math instructor in the program and a graduate student in the Department of Psychological and Brain Sciences. The difficult subject matter and the large amount of content being taught in high school are compounded by the fact that science and math concepts build off one another, and some students can get left behind quickly, she said.
The program isn't just a learning opportunity for the high school students, however. The graduate students, who do everything from applying for funding to designing the curriculum to teaching the courses, are expanding their knowledge as well.
"The Foundations in Science and Mathematics program is a way to gain hands-on experience and to broaden my teaching experience to high school students," Vinci-Booher said. "Although the preparation we are receiving through our individual programs at IU Bloomington is superb, I feel that it is important to gain as much hands-on teaching experience as possible. The more hands-on teaching experiences I can have, the better able I will be to serve a university and my future students as a professor."
With nearly 140 students enrolling each summer, the program caters to a wide range of learning abilities. They see students who need additional help in specific academic areas as well as students who are passionate about a subject and looking for ways to learn more, Hummels said.
Because of this, the instructors make a point of actively engaging the students rather than lecturing the full two hours, and class sizes are capped at 15 students.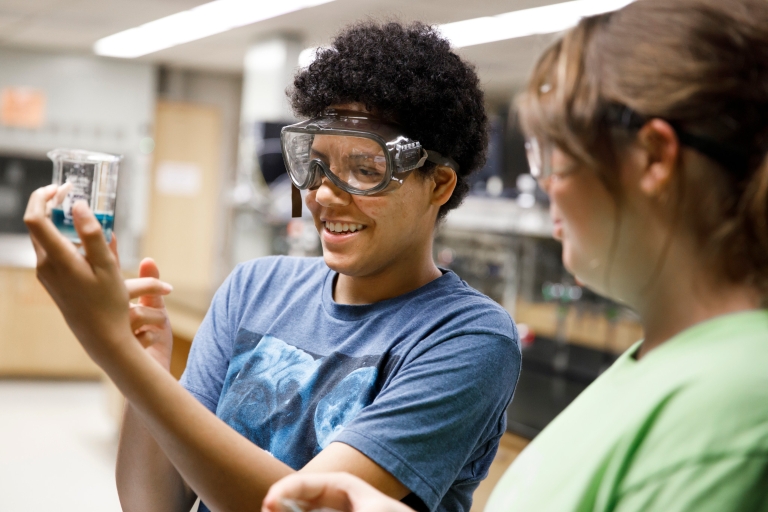 "Because the class sizes are small, students get lots of one-on-one time with the teachers," Vinci-Booher said. "They are encouraged to ask questions and, because there are no formal grades given, they are free to experience learning without the pressure of a grade. This makes for a very different learning experience than is typical and gives them a bit more autonomy over what they are learning."
For Vinci-Booher, this means helping her trigonometry students see the subject in a way that directly relates to the world rather than as a bunch of formulas out of context.
"If they leave with a small piece of this knowledge, then I feel that will help instill in them a desire to know more about science and mathematics," she said.
Students in previous years have enjoyed the hands-on experience and friendly learning atmosphere and have left feeling confident and more prepared for the school year ahead, Hummels said.
The program boasts two summer sessions to choose from, and the classes meet Monday, Wednesday and Friday for two hours a day over the course of two weeks.
There are still spots open for the July 10-21 session, and registration is available online.