Three Indiana University Bloomington students are spending their summer helping the Mathers Museum of World Cultures prepare to reopen Aug. 15.
Kaila Austin, Ethan Miller and Margaret Slaughter are the inaugural Allen Whitehill Clowes Charitable Foundation interns – the museum's first paid interns. The private Allen Whitehill Clowes Charitable Foundation Inc. was established by the late Allen W. Clowes, a leading philanthropist in Indianapolis who made major contributions to various charities that promoted or preserved the fine arts, music, literature, education, science and history.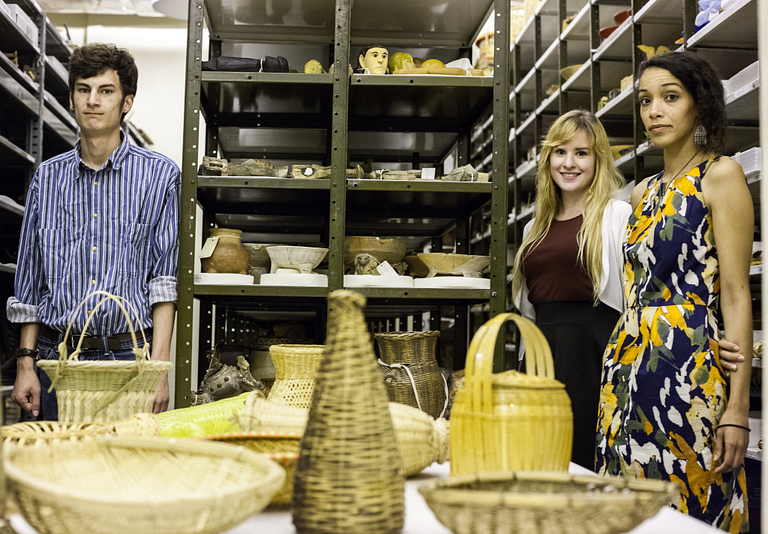 The Mathers Museum closed for renovations in May, which coincided with the start of the internships. The offering of competitive, paid internship experiences builds on decades of practicum student programming and significantly increases the Mathers Museum's ability to cultivate dedicated museum professionals at the undergraduate and master's levels.
"We are thrilled that the Allen Whitehill Clowes Charitable Foundation has partnered with us to launch this new museum internship program," said Mathers Museum director Jason Baird Jackson. "Because we know that paid internships are a key high-impact educational practice, they figure prominently in not only the Mathers Museum strategic plan but in the campus' strategic plan as well. I am extremely impressed by the quantity, quality and diversity of the applications that we reviewed in the first round. That process suggests that Indiana University students are hungry for additional museum training opportunities and are well prepared to benefit from them."
Three students per semester (fall, spring and summer) will participate in the internship program over a 10-semester pilot through summer 2020.
Miller, who is studying English and art history, began his Clowes internship taking down the exhibits and transporting artifacts to collections storage so the renovation could begin. Jackson said one important task ahead for the museum is creating an online database of its exhibits and artifacts. Miller's work has included digitizing a past exhibit on Navajo woven textiles and numbering, cataloging and storing items in the museum's education collection.
"I'm making the Navajo rug information available to a wider variety of people and allowing the exhibit to live on in some form after the objects have been returned to storage," Miller said.
Miller's main goal is to maximize his learning and make the museum's information accessible to the community and beyond. He has found the museum staff to be a valuable resource for academic and professional planning, and he has sharpened his research, writing and organization skills – and has learned to sew.
"That was an unexpected bonus," Miller said.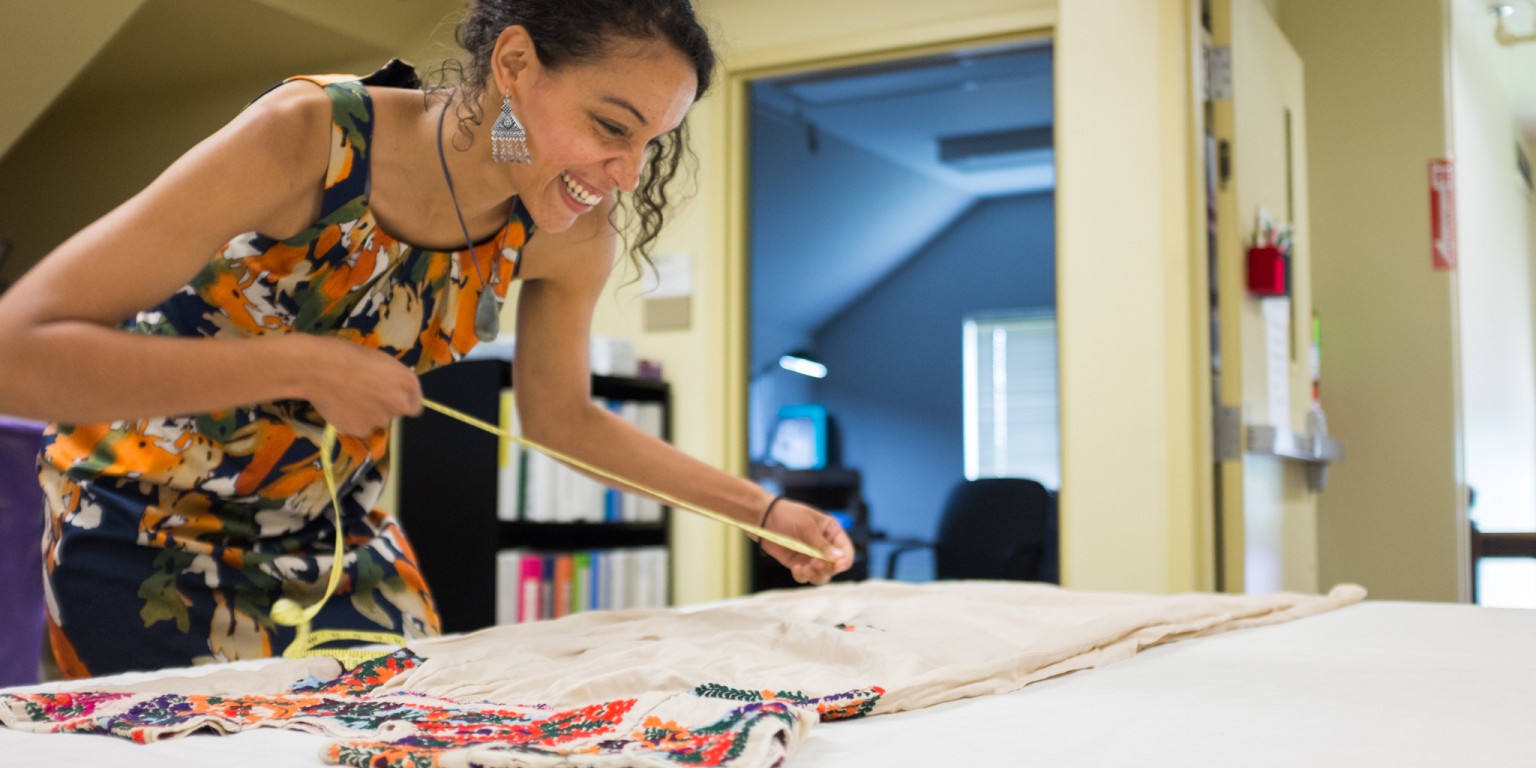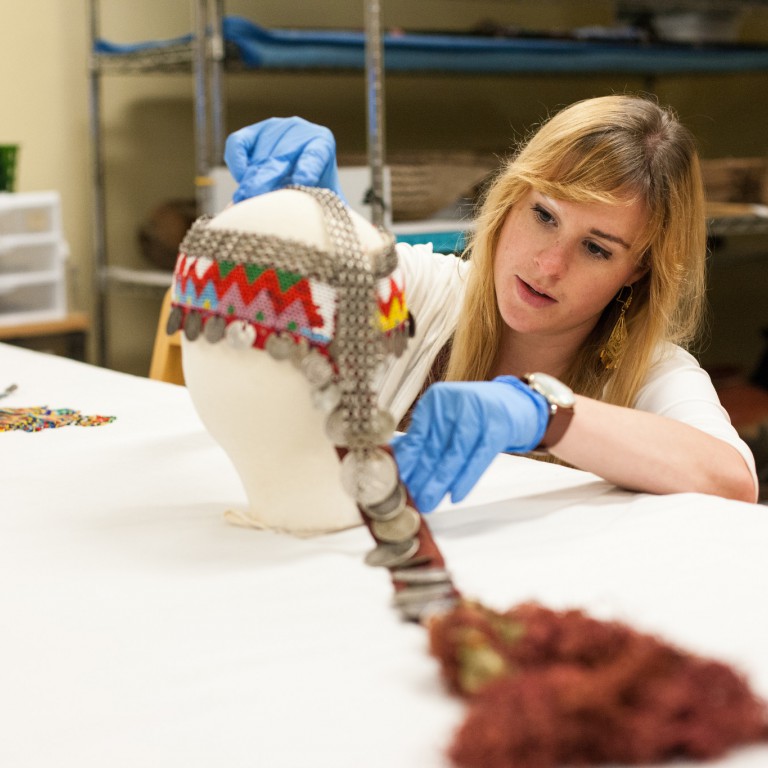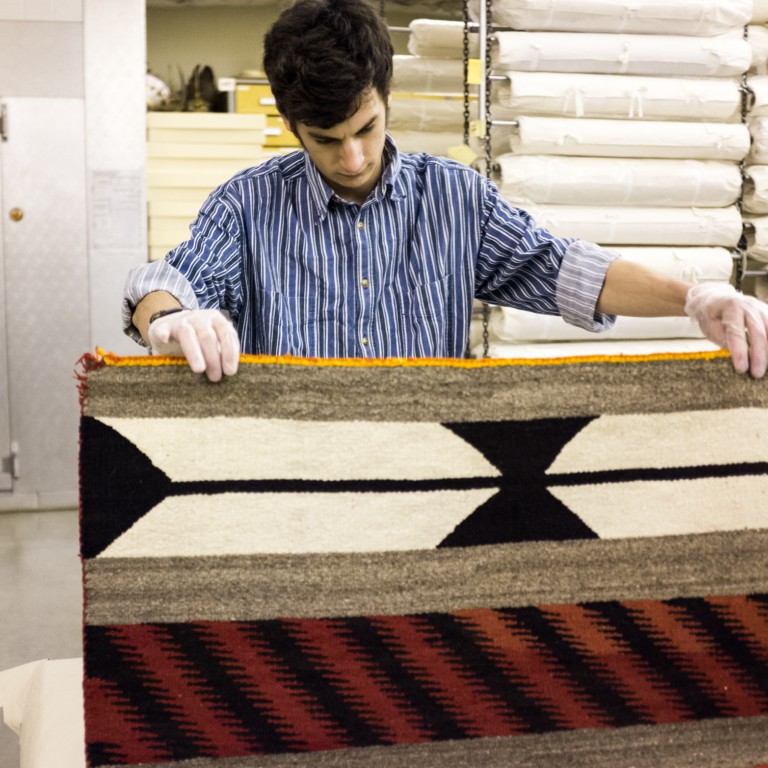 Photos by Chris Meyer, IU Communications
Slaughter also is benefitting from her time working with the museum staff. She learned about the Clowes internship program during her spring semester as a practicum student at the Mathers Museum; she immediately applied.
"For me, the Clowes internship is a dream come true," Slaughter said. "I wanted to continue my curating work while conducting more research and facilitating museum experience, and this fellowship has allowed me to do each of these things and more.
"Each day, I become more familiar with the operations of the museum, learn the roles and significance of each of its members, observe and maintain its internal and external procedures regarding everything from object movement and storage to policies on acquisitions and loans. The extent of my benefit working with chief curator Ellen Sieber and the entire staff of the Mathers Museum cannot be accurately described. I am indebted to this opportunity for giving me the time to work with, listen to and learn from each of them."
A first-year graduate student in the master's program in the IU Bloomington Department of Religious Studies, Slaughter is studying medieval Judaism and Christianity through their objects and cultural artifacts, and she considers how these are presented in a museum context. She hopes to pursue a career in a museum, in the capacity of curator and researcher.
Slaughter is co-curator for a fall exhibit titled "A Different Look at Syria" that delves into the rich diversity of cultural traditions and history in Syria since 10,000 B.C. The exhibit will acknowledge the tragedy of Syria's present civil war and invite visitors to connect or reconnect with Syrian culture by learning about its jewelry and textiles. Slaughter has also worked on a book the museum will publish in 2018 that will cover a selection of objects from the collection.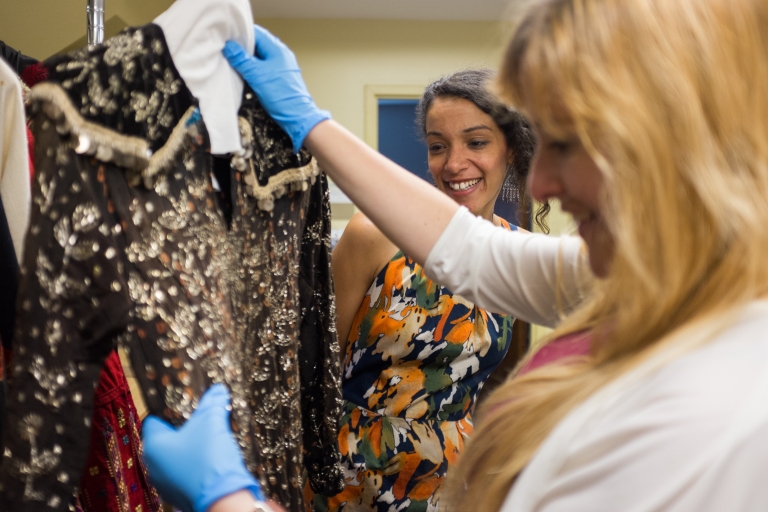 Like Slaughter, Austin is also interested in a museum career. She is a senior double majoring in art history and African-American and African Diaspora studies and painting with a certificate in museum studies. Her goal is to work in a museum preparatory capacity or as an exhibit planner in a mid-sized museum and eventually work abroad.
Austin's work at the Mathers Museum entails digitizing photographs from the 1960s for an exhibit on Pakistan opening in August. During the Clowes internship, she has been designing and constructing individualized mannequins to display garments and other artifacts – allowing the museum to save money and customize the displays to specific measurements. Austin's goal is to create a handbook that can be used by the Mathers Museum to make mannequins from scratch after her internship ends.
"Because I am a painter at heart, working in 3-D and with foam is an entirely new subject matter and material for me, so it has been interesting learning about so many different materials and about how important the mannequin is to the presentation of an artifact," Austin said.
Once she finishes the mannequin work, Austin will use 3-D laser-scanning technologies, offered through the IU Advanced Visualization Lab, to digitize some of the museum's collection. She said it is beneficial to have 3-D renderings, especially of damaged artifacts, so the original artifacts are not handled as frequently.
Austin's supervisor, director of museum programs and education Sarah Hatcher, said the benefits of the Clowes interns are almost innumerable to the museum.
"As a mid-career professional, I appreciate the new insights and enthusiasm that working with students brings," she said. "And I can honestly say that without the energy and effort of the Clowes interns, there are projects that wouldn't get accomplished nearly as quickly. It has been really exciting to facilitate ways for each of them to use their interests and knowledge to help further the museum's mission."