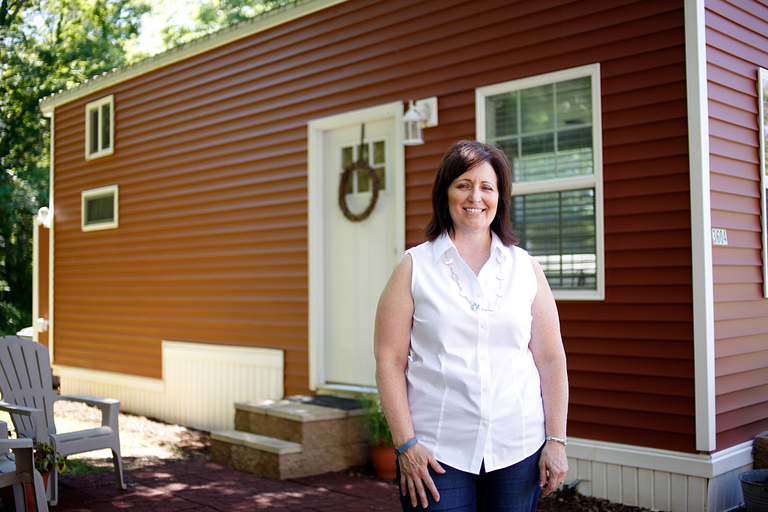 A 26-foot-long, 8-foot-wide, 10-foot-tall building with 250 square feet of living space might not seem like much. But for IU employee Charla Stonecipher, this tiny house was the solution that allowed her to pursue a job opportunity at Indiana University.
In 2014, Stonecipher was living in Borden, Indiana, and commuting to her job at IU Southeast when she was offered a new position that would require her to relocate to Bloomington.
While she didn't want to uproot her husband and their three children, she felt the opportunity was too good to pass up. So she began searching for ways to make it happen.
Her husband, Don, had been following the tiny house movement for a few years and had been wanting to build one. When she decided to accept the job in Bloomington, a tiny house had a purpose.
For the first year, she rented a house in Bloomington while they worked on the tiny house, which they built using the base of a RV trailer that had burned. They both came into the project with construction knowledge: Stonecipher had served as a volunteer on several Habitat for Humanity Women Builds, and her husband is a master woodworker and previously worked as an electrician. But they still had a lot to learn along the way.
"Sometimes you look at a project and think it's hard, until you actually do it," Stonecipher said. "And then you realize it's not as hard as you thought it would be."
Five months later, on Thanksgiving weekend, they hooked the four-room tiny house to a truck and drove it to a mobile home community on the southwest side of Bloomington, where Stonecipher has been spending her weekdays for the past year and a half.
Sometimes she travels home on the weekends, and sometimes her family visits her, using the extra lofted sleeping area in her home.
"I have learned that you can get by with much less than you think," she said. "I am more mindful about what I am buying and if I really need it."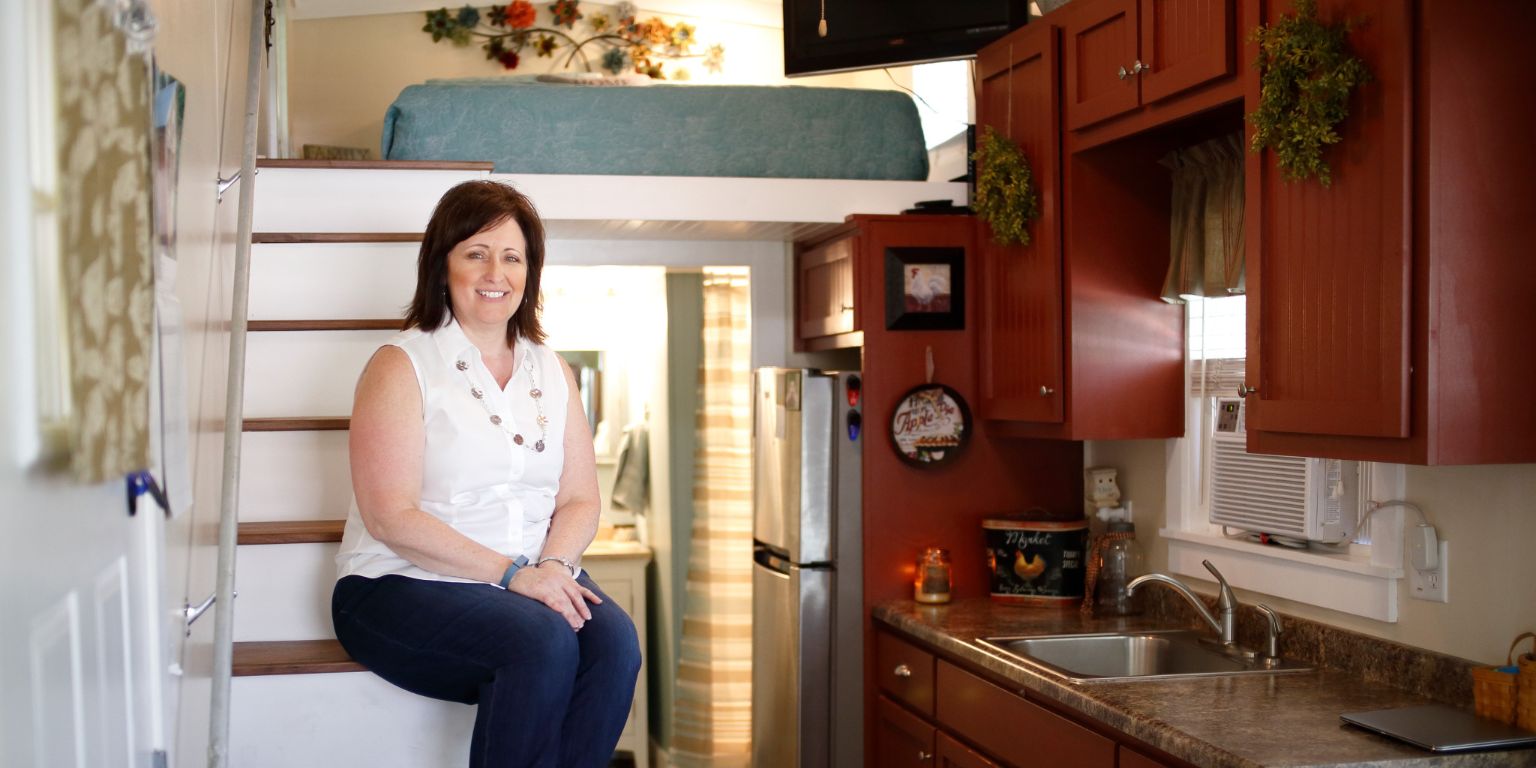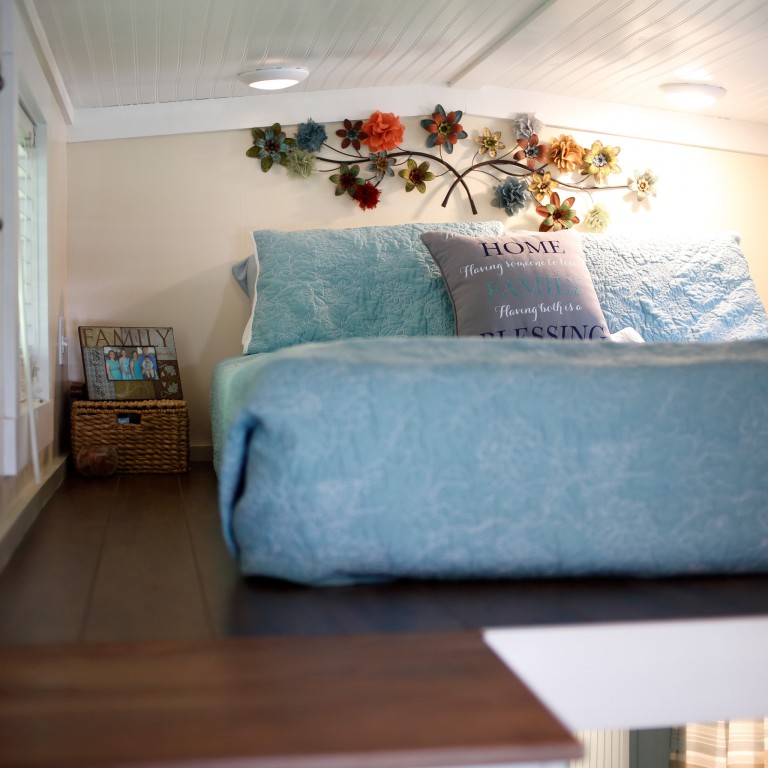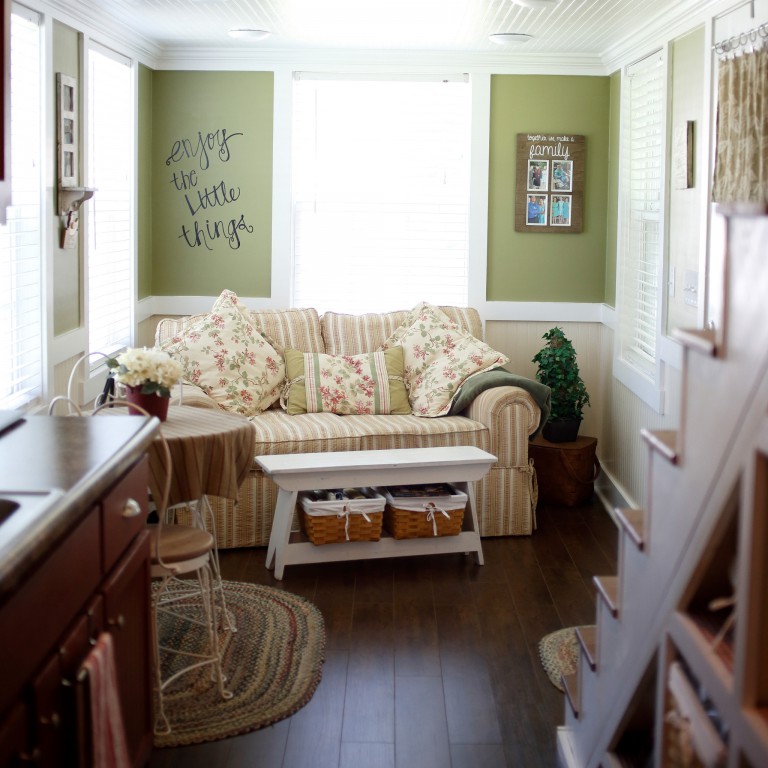 Photos by Eric Rudd, IU Communications
Growing and learning
Stonecipher's role with IU has transitioned since she originally took the job, and now she supports four different administrators as an administrative assistant in the Office of the Executive Vice President for University Academic Affairs while also coordinating programs for IU's Faculty Academy on Excellence in Teaching.
Also since moving to Bloomington, she has completed her bachelor's degree, something that has been a goal of hers for most of her adult life.
Starting a family at the age of 19 put a hold on her educational goals, but when her husband was injured on the job, she went back to work to support their family. At 40, she realized she desperately wanted to get her degree.
"I'm a first-generation college student; no one in my family went to college," Stonecipher said. "I found myself in a position where I couldn't afford to go back to school on my own, and I was intimidated by applying for grants or scholarships."
And then she took her first position at IU.
"The tuition benefit was my open door to being able to complete my degree," she said. "Working in a higher-ed position was amazing and motivating for me, and I was able to accomplish my dream of finishing my education."
Over the course of 10 years while working full time, she earned her bachelor's degree. She completed half of her credits on the IU Southeast campus, and she finished the remaining credits online through IU East once she relocated to Bloomington.
"The flexibility of the online program was amazing for me," she said. "I'm so thankful IU made the online program a priority, and I'm a prime example of someone who was able to finish their education because that was available.
"Now I have an IU degree! And IU has a really special place in my heart because they made that happen," Stonecipher said.