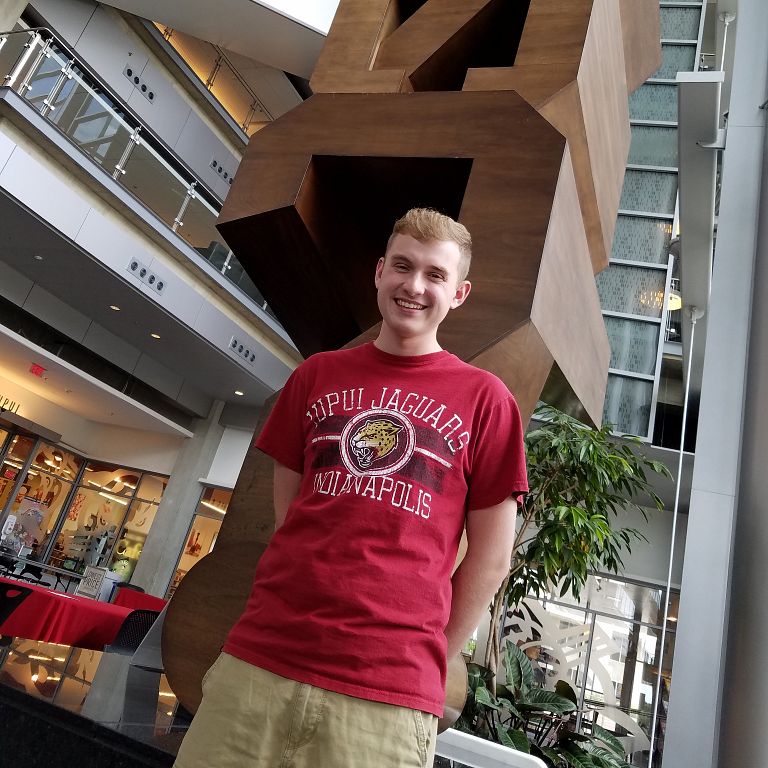 Michael Stottlemyer is not one to take his college career sitting down – not when it comes to fighting food insecurity at Indiana University-Purdue University Indianapolis, and certainly not when he sees a chance to bring scholarships to fellow students.
Nearly two years ago, the commandant of Stottlemyer's military-based prep school, Anderson Preparatory Academy, sent the now-IUPUI student an email. It detailed Indiana House Bill 1002, which would have created the Next Generation Hoosier Educators scholarship. Worth $7,500 per year, the scholarships would have been awarded to graduating high school students who promised to study education in-state and then dedicate five years to teaching Indiana youth upon completion of their own college degree.
Stottlemyer thought it was a great way to address Indiana's teacher shortage, but he wanted to know: Why wait?
"I decided one day in January that I was going to go to the Statehouse," Stottlemyer said. "I was going to write a testimony explaining why the bill was great, but also why the people who could apply should be changed to include high school seniors and current college students."
So he took the wintry walk over to the Capitol and presented his case to the Indiana Commission for Higher Education.
"I happened to be the very last person to testify. Before me, it was these big-time universities. Everyone just kept saying, 'We support the bill. We support the bill.' There was not a single issue with the bill until I spoke. So I walked up there, little freshman me, and I said, 'I support the bill, but I have a problem.'"
The "little freshman" Stottlemyer argued that, as someone already studying math education, he would be prepared to lead a classroom earlier than the high schoolers who would qualify under the existing bill. He also argued that, as someone paying for school himself, he would gladly commit to an Indiana secondary school, even if he only received the scholarship for part of his college tenure. And he contended that there were others like him.
"They had big concerns about if they paid for just two years, would existing college students complain about the five-year commitment. I just kept telling them, 'You're talking to someone who is one of those students. I would do that, and I have friends who are struggling to pay for school, and they would do it.'"
After giving his testimony, Stottlemyer tried to rush out – it was Thursday, and he had class – but was stopped by one of the bill's co-authors. The two exchanged questions and emails, but Stottlemyer didn't hear anything else about the bill for some time.
Eventually, Stottlemyer got his hands on an application after the Institute of Higher Education sent them to high school guidance counselors, and he noticed a few key changes. The version of the bill then-Indiana Gov. Mike Pence signed into law included the 200 scholarships originally planned to be awarded statewide, but they were now open to current college students as well as high school seniors.
No doubt buoyed by the victory, Stottlemyer applied, completed the interview process and earned the scholarship for the 2017-18 academic year. While the money is nice, he insists that he would have gone through the process at the Statehouse regardless.
"I have always wanted to speak up for what's right," said Stottlemyer, who will be entering his junior year this fall. "Even if I weren't going to apply because I was up for other scholarships, I knew I needed to testify on behalf of education students across the state, the students who recognized the same issue but were too far away to testify or were just too scared. So I felt like I was there to represent all education majors in college."
Standing up to fight food insecurity
It was not the first or the last time Stottlemyer had spoken up for others. When asked about his "crusade mentality," he gave credit to his grandmother.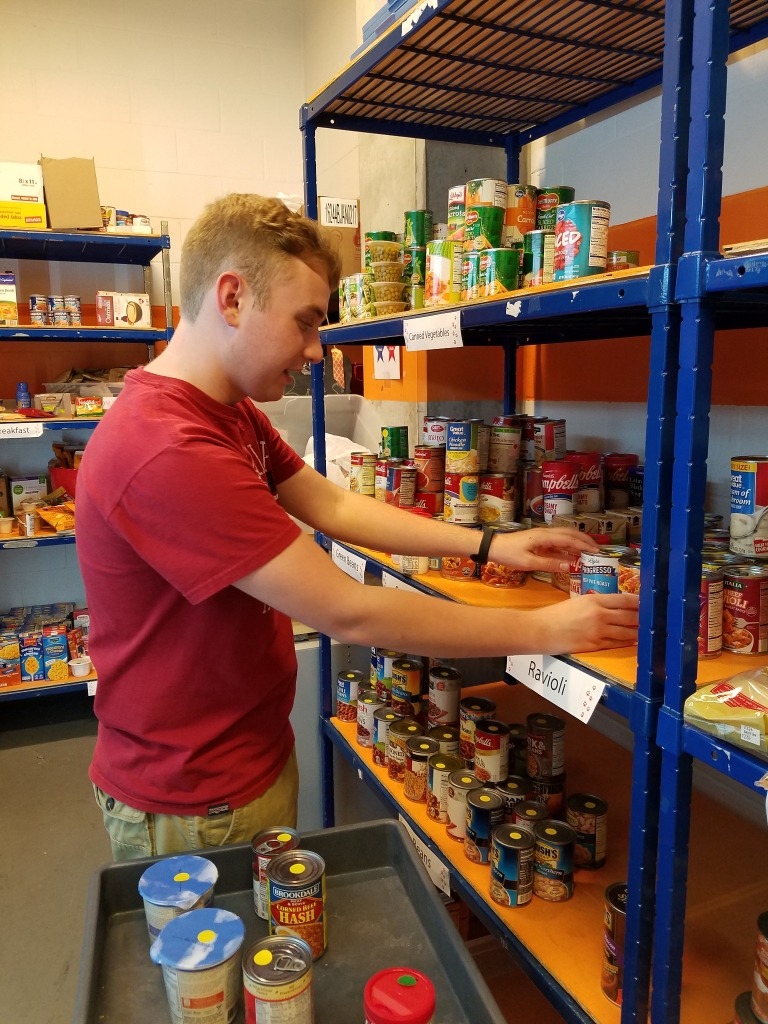 "Through high school, my grandmother and I were very close – and still are very close. She was always one to put everybody before herself. You take care of yourself, you get yourself the bare necessities, but with everything else, you need to help other people. It's really where I learned to stand up for others, to stand up for what's right."
That same year he lobbied for the bill change, Stottlemyer got involved with Paw's Pantry, IUPUI's food pantry that serves students, faculty and staff. His first-year seminar course had a community-service requirement, and he chose the pantry because no one else had. He soon realized the situation was even more dire than he thought.
"I saw Paw's Pantry with no food on the shelves. The food that it did have wasn't the type of things that college students want to eat, and there were times when volunteers would get sent home because they had nothing to do. I asked, 'Who am I just to stay quiet with all of my connections? Who am I just to keep that for myself?'
"I'm here to serve everyone. Even though I don't have a problem with food insecurity, I know it's an issue, and I know that students at our school need this service. But if you don't have food to serve them, what are they to do? They're not ones to speak up for themselves."
In one year with Stottlemyer as vice chair of donations, Paw's Pantry went from having sporadic supplies to being able to donate excess food to other pantries in the Indianapolis community. It now accepts fresh and frozen foods, and as Stottlemyer moves into the top leadership position of chair next year, the Pantry hopes to keep its doors open more days throughout the week and provide options that appeal more to the taste buds of the average college student as well as those of international students.
Stottlemyer is on pace to graduate in 2019 with his degree in math education. He knows he'll be teaching in Indiana for at least five years after earning his diploma; that much is certain. In the two years until then, however, we will just have to wait and see who he stands up for next.