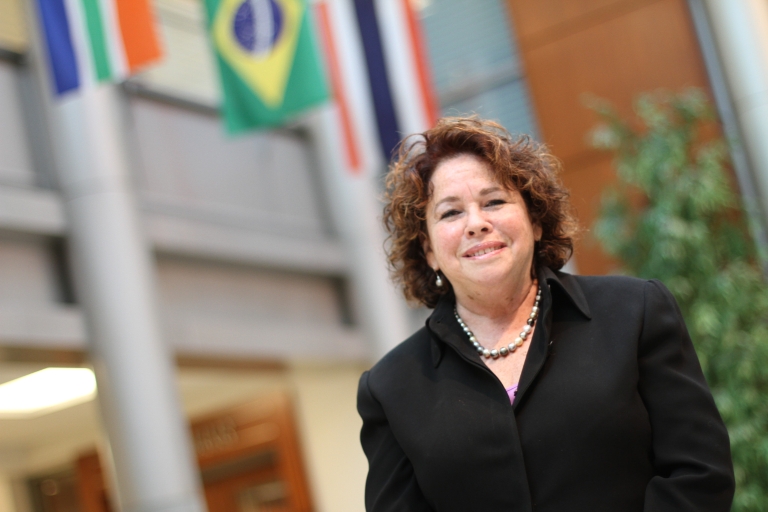 Marjorie Lyles has spent her storied global career blazing trails and breaking barriers for women in business.
This year, Lyles celebrates 40 years since beginning her acclaimed teaching and research career. She was the first woman to receive a Ph.D. in business from the University of Pittsburgh and, today, is professor of international strategic management, Chancellor's Professor and the OneAmerica Chair in Business Administration at the Kelley School of Business.
During her undergraduate years at Carnegie Mellon University, Lyles said, she told her advisor she wanted to pursue an MBA.
"He said, 'Well, you're getting married. Maybe an MBA isn't right for you. Why don't you do something like library science?'"
Lyles laughs now at the memory, explaining that she completed the library science program. But after earning a Master of Library Science degree, she enrolled in the MBA program anyway. Shortly afterward, she was invited by a faculty member to pursue her doctorate. She graduated in 1977 with a Ph.D. in business, majoring in strategic decision-making and planning and minoring in management information systems.
When she was hired by Indiana University that same year, Lyles became the third female faculty member among 150 Kelley professors on both campuses.
"I truly believe I have the best job," Lyles said. "It is more rewarding than you'd ever imagine."
The school's first female management professor, Lyles has focused her teaching and research on emerging markets, global strategic management, organizational learning, strategic planning systems and cooperative strategies. She has presented and authored more than 100 papers and chapters on international business and strategic management.
Over the years, she has centered much of her research around emerging markets, particularly China.
"As an undergraduate, I traveled in Europe for a summer, and that was it. I knew then that international business interested me," Lyles said. "I felt strongly in later years, as a faculty member teaching strategic management to students who were going to work in firms, that I needed to know something about international business. At the time, one of the biggest issues U.S. firms were facing was how to move international. So it made a lot of sense to me. At that moment, I was teaching at the University of Illinois, and in 1984 I was offered an invitation to be a visiting faculty member at the top international business school in Europe, the European Institute of Business Administration, also known as INSEAD."
That began a career spanning the globe, as Lyles set herself apart as an international strategic management expert.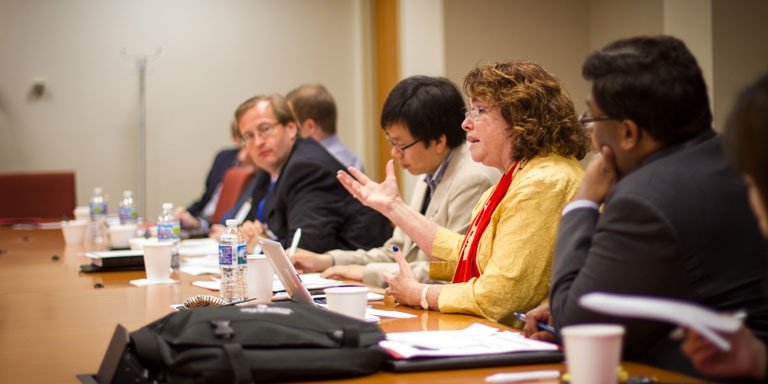 "Marjorie has helped to grow the Kelley School's reputation as an international school," said Ken Carow, executive associate dean of faculty and research at Kelley Indianapolis. "Her leadership in the international arena enhances our research, which is translated to students and the greater business community as a whole, and it puts Kelley on the front edges of national and international collaborations."
In 2012, Lyles was elected by her peers to be the first female president of the prestigious Strategic Management Society. She is currently serving a six-year term on the SMS Executive Committee and board, including two years as incoming president (2013-14) and two years as president (2015-16). Lyles will serve as past president through the end of 2018.
"It has been an honor to serve as president of Strategic Management Society," Lyles said. "As president, I made sure an international agenda was emphasized more than it had been before. SMS is now moving to be more of an international organization. Scholars in other countries beyond Europe and the United States are now looking at SMS as a distinguished professional organization to which they want to belong."
"As a member of the Strategic Management Society, I know the importance of having Marjorie as a role model for the group," said Idalene "Idie" Kesner, dean of the Kelley School of Business and the Frank P. Popoff Chair of Strategic Management. "She has been a pioneer in international strategy research and teaching. Her expertise on China, and Southeast Asia more broadly, is valued by academics and business practitioners across the globe. We celebrate all that Marjorie has accomplished in the past 40 years."
For the past two decades, Lyles has led Evening MBA students on business consulting trips to China and emerging economies like Brazil, Russia, Liberia and, this year, South Africa.
"The study trips are opportunities for our Evening MBA students to open their eyes to population segments in almost every country that are often left out of our discussions in the business school," Lyles said. "The entire experience helps students grow by giving them a chance to be creative and innovative. They learn to think outside the box, and so do I, on these consulting trips."
Lyles was honored for lifetime achievement in international management in 2015 when she was selected as the PWC Strategy & Eminent Scholar by the International Management Division of the Academy of Management.
In 2013, she was named a Chancellor's Professor, which is the most notable appointment a faculty member can attain at IUPUI. In 2011, Lyles received the John W. Ryan Award for Distinguished Contributions to International Programs and Studies. She was also nominated for the prestigious Chang Jiang Scholar Award by Sun Yat-sen Business School in China, which is the highest award the Chinese government offers to academics.
Lyles received an honorary doctorate from Copenhagen Business School in March. It's a distinguished honor that has been given to only 40 scholars worldwide since 1978. The researchers are nominated by the departments with which they collaborate over the years. Lyles has worked with researchers at Copenhagen Business School on several papers and has served as a visiting scholar there as well.
"It is a tremendous honor to receive an honorary doctorate from Copenhagen Business School," Lyles said. "Those who have received this honor before me are leaders in the areas of international business and strategy."
To women in business, and women looking to succeed in business in the future, Lyles recommends keeping your goals in mind – and sticking to them.
"The facts illustrate that women are doing quite well in business, but we are still facing a lot of hurdles," she said. "A lot of that is networking and, simply, biases. You have to figure out how you can succeed in that environment and let some things roll off your back."
When asked about juggling work as both a professor and a mother, Lyles said she didn't find it hard to succeed at both.
"I was a single mom a lot of the time," she said. "I had to rely on other people to help me. When I first moved to Indiana, some of the neighbors whose kids went to school with my son were a big help. We had a little group of working mothers, so we shared obligations. That made it easier as well."
When thinking back to the times she defied the traditional roles of women as she pursued her career and interests, Lyles said she had always been like that.
"I grew up making a lot of my own decisions," she said.
"My mother passed away when I was 2, and my dad had three girls to support. He worked all the time – kind of like I do now," she said with a laugh. "I was used to being independent and making my own decisions. I never was very good at following directions and being told what I should be doing."
And if she had followed directions back when her advisor counseled against getting her MBA, how would she have gotten to where she is today?
Teresa Mackin is assistant director of communications and media relations for Kelley School of Business Indianapolis.