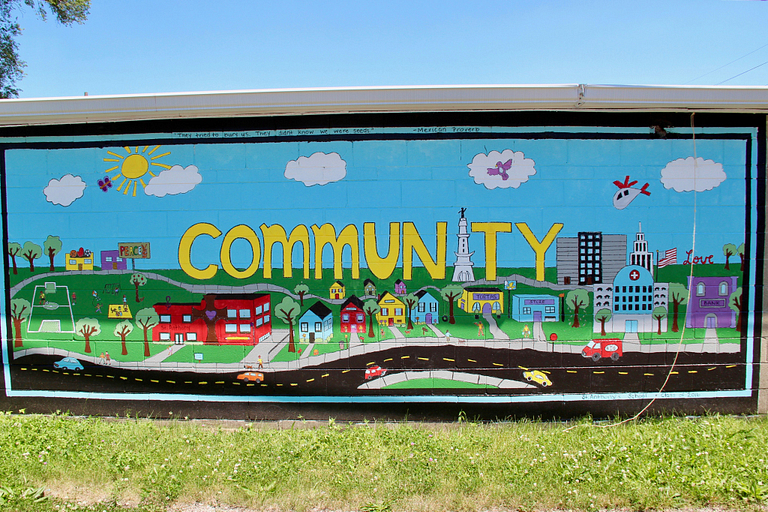 Bold ideas help fuel new businesses and community development.
Source River West Entrepreneurship Center hopes to cultivate both. Located at 2228 W. Michigan St., the center has partnered with IUPUI's Office of Community Engagement to focus on the Near West and River West corridor of Indianapolis.
Near West includes the Stringtown, We Care, Hawthorne and Haughville neighborhoods. Both Source River West director Mark A. Roger and IUPUI see tremendous potential in the area. Roger considers the strongly developed Chatham Arch and Lockerbie neighborhoods adjacent to the Mass Ave area as inspiration for what can be.
"Twenty years ago, Chatham Arch grew from ashes and reestablished itself all over again," Roger said. "That's what we're hoping to do here – to have River West functioning as an economic driver for these four neighborhoods so it can build commercially and residentially.
"We want to grow businesses from within. We need a blend of local and outside businesses – furniture shops, clothing stores and so on. We need the relative population here to grow and let the neighborhoods thrive."
The development will concentrate on 12 blocks of West Michigan Street, from the White River bridge to the railroad tracks just west of North Holmes Street. Such development will require the right mix of businesses. Source River West is ready to work with local entrepreneurs to brainstorm and to guide them along the many steps toward creating a successful new venture or scaling an existing business.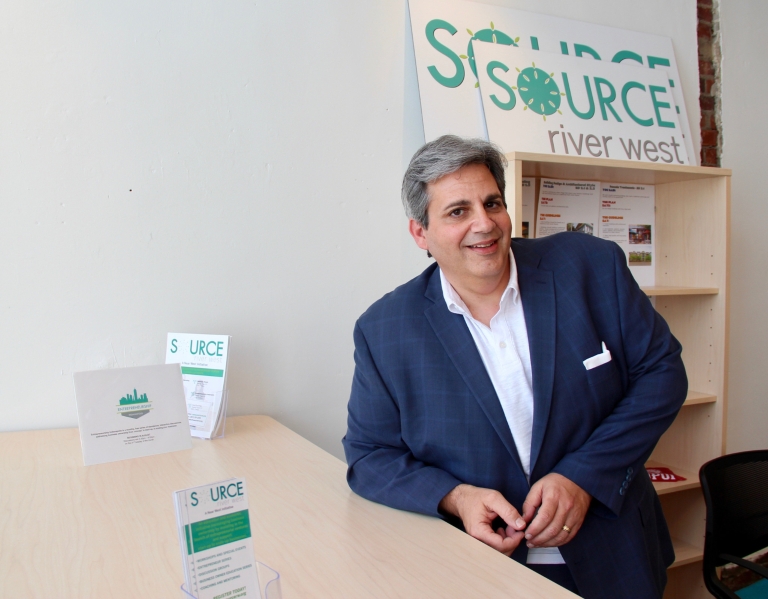 Empty storefronts dot West Michigan Street now, but there are already signs of resurgence. Colorful murals painted in the last year would fit in well into a redeveloped area. Then there are businesses like Super Tortas, a popular Mexican sandwich restaurant, that recently relocated to this strip. Will more moves be coming to the area just west of the IUPUI campus? 
Roger, with his decades of startup experience in the Indianapolis area, sees the possibility. He has already led initial workshops on fund-sourcing and entry-level basics at Source River West. Workshops will be held every other Tuesday evening and start tonight; business trends will be discussed from 6 to 7:30 p.m. Interested people can register via email at info@sourcerw.org or by phone at 317-737-2155.
Strong start
On May 23, Source River West welcomed the community, business owners, IUPUI brass and more for a grand open-house event. The 100-year-old brick building that last hosted an art gallery and has been part of the Westside Community Development Corporation offices was filled with young and old – with residents of the Near West as well as curious community supporters from as far as Carmel.
Tuesday-evening summer workshops, from 6 to 7:30 p.m. unless noted
Catered by, yes, Super Tortas, the opening brought fellowship and networking. Put almost 100 business-minded people in the same room, and that's bound to happen.
IUPUI alumnus John Gieryn, who earned his bachelor's degree in mechanical engineering in 2015, attended the opening to represent his new business, Indy Art Media. The co-op rents out public address equipment, projectors, canopies and more. Gieryn's business goal is to make media equipment more accessible. 
While Indy Art Media is based out of the northwest side of town, Gieryn lived in Near West as part of a housing co-op. As an IUPUI student, he helped establish Indianapolis' Food Not Bombs chapter as well as the Indy Work for Justice organization. His experience with the nonprofits helped get him ready to start Indy Art Media.
As he surveyed the busy opening, Gieryn said he believes a place like Source River West is valuable to the community.
"A lot of folks have great ideas or are already doing entrepreneurial projects," he said. "This provides another opportunity to increase connectivity in Indianapolis for people interested in economic development and economic justice. The resources are sorely needed."
Saidah Pearsall runs Shea Bodyworks, a natural skin care company and beauty brand. Her Twilight Facial Oil, Lavender Blissful Body Shine, and Happy Hands and Feet Balm are sold at Carmel's Whole Foods, Good Earth Natural Foods and The Yoga Studio locations. In July, Pearsall's products will be found in a subscription-based "beauty box" delivery service of beauty supplies.
Pearsall started Shea Bodyworks in 2014 and steadily increased business and exposure. This spring, the business was named as a 2017 American Small Business Champion by Score, the nation's largest network of volunteer, expert business mentors, supported by Sam's Club. 
While Pearsall has years of business experience, she believes Source River West is vital for a new entrepreneur because it's a one-stop shop for resources, business planning and mentors.
"This center is instrumental, especially in a community like this," Pearsall said. "It gives people hope that there is something better. A lot of people don't want to work for somebody for the rest of their lives. They want to follow their passions or their dreams, and this is a place that can nurture those dreams."
Supporting a center that supports
Phil Votaw's office is next door to Source River West. He is executive director of Westside Community Development Corporation, which owns the Source River West building.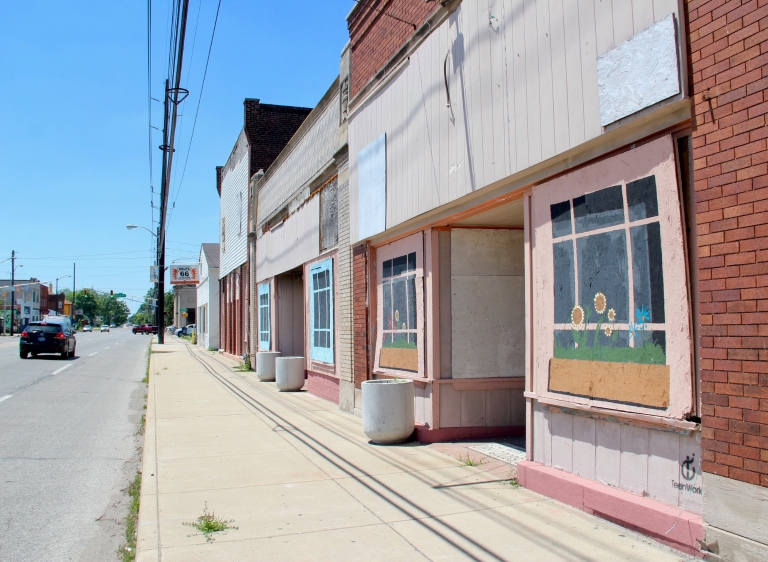 "I hope that it will spur some people in starting new businesses," said Votaw of Source River West. "They will look at a fledgling business plan. They will help answer 'What does it take to start a small business?' and 'Is it a hobby or a business?' They will help vet those questions." 
Votaw's office has helped numerous entrepreneurs over the years. He said that most clients tended to open their businesses outside of Near West. Source River West will work with area entrepreneurs or potential business owners wanting to give Near West a chance.
"We're hoping to develop some of the vacant spaces we have along Michigan Street into places new makers or artists or any number of small businesses can incubate," Votaw said. "We hope this will be helpful and meaningful to the folks who live here as well."
Kelley School of Business alumnus Tom O'Neil donated the office furniture in Source River West from his own establishment, OfficeWorks.
"As a small-business owner myself, this is something that is near and dear to my heart," said O'Neil, who is on the Dean's Advisory Council for the School of Informatics. "It will help the neighborhood and the university and, really, the entire city."