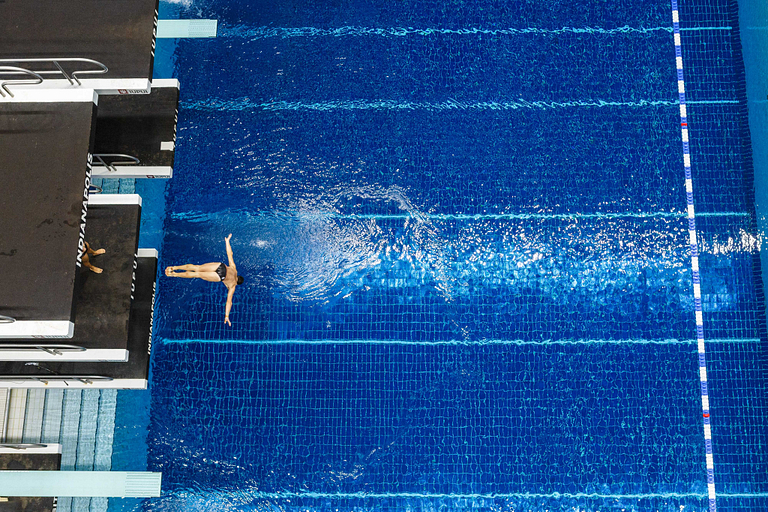 The idea of switching from plastic to environmentally friendly bags to hold purchases from the IU Natatorium's ProShop led the "fastest pool in the world" to become the first athletic facility in Indiana to achieve zero waste.
Now the Natatorium and the Office of Sustainability at Indiana University-Purdue University Indianapolis are receiving national recognition for their efforts.
On June 28, the Green Sports Alliance will present its annual Environmental Innovators of the Year Award, which recognizes the "first, the greenest, the best in sports and sustainability." The Office of Sustainability will be among a dozen organizations receiving the award.
The Natatorium accomplished its innovative feat in June 2016 when it hosted the Olympic Diving Trials, making the trials the first Olympic event to have a zero-waste designation. Being a zero-waste venue means that by weight, 90 percent of all waste must be recycled or composted; only 10 percent may be disposed of as trash.
In terms of recognition for the zero-waste initiative, "this is the best I could have hoped for," said Jessica Davis, director of the Office of Sustainability at IUPUI. "The Green Sports Alliance is the leading international organization in the field of sports and sustainability. Getting recognized on this level is a whole different thing for us."
Thinking back to the day a better Natatorium ProShop bag was discussed, Davis said, "The door cracked open and I just busted right through."
The conversation quickly morphed from which bag type was best suited for the venue to how the IU Natatorium could work toward something bigger.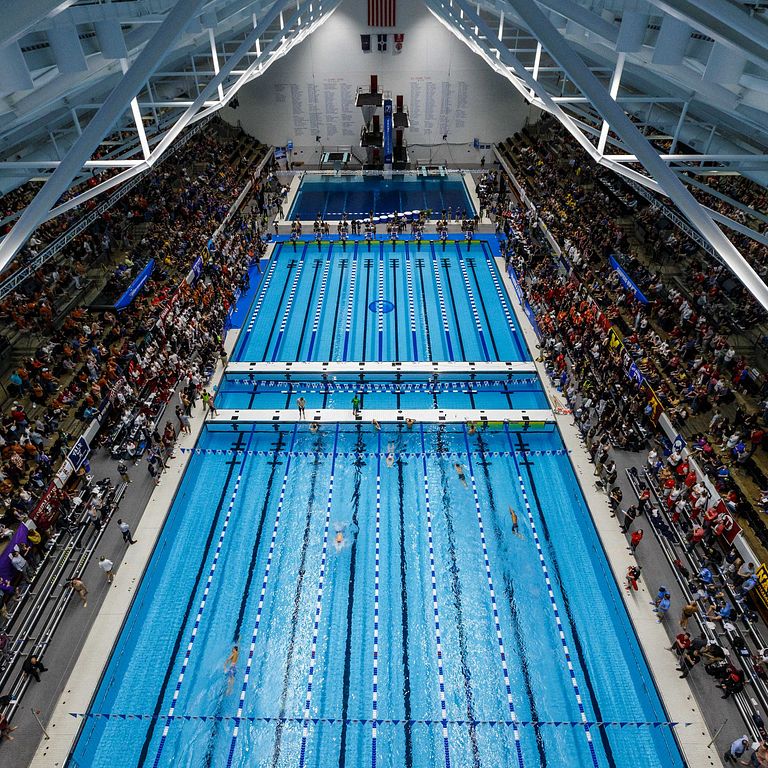 The timing could not have been better. A $20 million renovation of the Natatorium had just been completed, and there was a sustainability story to tell. Lighting upgrades to the facility would result in 43 percent less energy usage than before the renovation. The filtration systems for the competition and diving pools were replaced, reducing water usage by 65 percent and filtration energy by 25 percent. All traditional water fountains were replaced with reusable water-bottle filling stations.
With national television coverage of the 2016 Olympic Diving Trials, as well as fans and athletes visiting from across the country, the event provided the perfect platform for telling the IU Natatorium's sustainability story.
Zero-waste operational changes meant, among other things, meeting with food service providers to examine all food products typically offered at concessions in the Natatorium.
"We sorted them as recyclable, compostable and trash and worked at eliminating trash items," Davis said. "We essentially eliminated trash from the food products that were offered."
With 10 partners involved – IUPUI Sustainability, IUPUI Food Services/Chartwells, IUPUI Campus Facility Services, IU Herron School of Art and Design, IU Natatorium, Indiana Sports Corp., USA Diving, Olympic Local Organizing Committee, Ray's Trash, and GreenCycle of Indiana – the impact of this program was felt across the Indianapolis athletic community, as well as the Olympic community. Citizens Energy Group and Busch Systems also recognized this potential and supported the zero-waste initiative as sponsors.
Davis and community partners, including Butler University, are now working to make zero waste an ongoing proposition, rather than a one-time event.
"The big issue that we're addressing right now is that in order to really be zero waste, you need to have long-term collection of food waste," she said. "In Marion County, there is hardly any infrastructure for collecting and hauling food waste.
"You can collect food waste and there are places to dispose of it, but the missing piece is having it picked up and taken to a disposal site. There hasn't been anyone in Marion County collecting food waste on a commercial basis.
"Once we can solve that piece of it, zero waste becomes something that is sustainable and achievable in the long term because the costs are then shared among all of the organizations having their food waste collected. Until that piece is addressed, zero waste almost had to be a one-off, because the cost was so astronomical for us to do it by ourselves long-term," Davis said.
Davis is hopeful that she and her partners in the community can develop a commercial-scale food-waste hauling route within six months, serving not only IUPUI and Butler but other entities in Marion County, including museums, hospitals and schools.