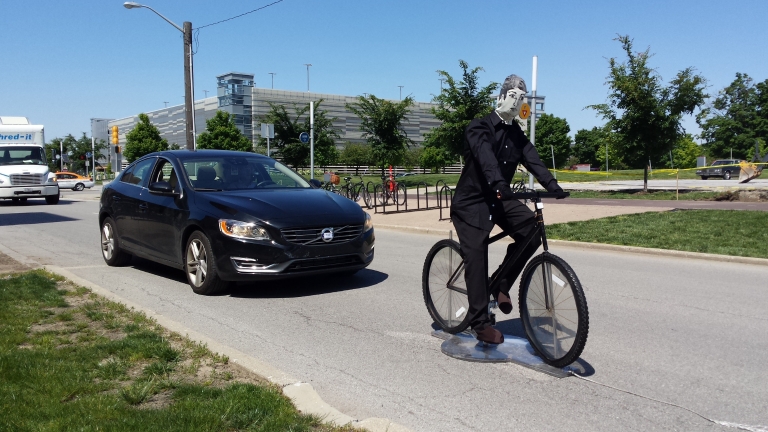 INDIANAPOLIS – The drive toward putting autonomous cars on the road is in full gear, with most major automobile manufacturers vowing to release such vehicles in the next decade or so.
When that happens, research by the School of Engineering and Technology at Indiana University-Purdue University Indianapolis will have played a significant part.
The school's Transportation Active Safety Institute, or TASI, has studied crash-prevention technologies, traffic data and overall driving safety since 2006, and last month it extended its work with Toyota's Collaborative Safety Research Center. The automaker announced its CSRC Next research effort, focusing on the challenges and opportunities of autonomous and connected vehicle technologies that will arise over the next decade.
CSRC Next will direct $35 million through 2021 toward research designed to support a safe transition to self-driving cars. Eight projects at six schools, including IUPUI, will explore driving features called "road-departure detection and control."
Due to distractions or other reasons, drivers sometimes drift off the road. It may be just a split-second moment when tires move inches outside a lane, or a far more severe situation in which a driver veers completely off the road and lands in a ditch, hits a tree or even has a rollover accident.
"Autonomous vehicles have no drivers, so those vehicles must be equipped with sensors that can detect a road's edge in case anything happens," said Yaobin Chen, Chancellor's Professor of Electrical and Computer Engineering in the School of Engineering and Technology and director of TASI at IUPUI. "Then, autonomous control will take over, correct the error and put a car back in the lane on the road."
With the help of high-resolution Google imagery, the team at IUPUI has studied road edges and boundaries in all 50 states. The types of roads vary greatly (interstates, U.S. highways, state roads, rural roads, suburban streets), as does what lies just off them (guardrails, curbs, grasses, trees). That information will allow researchers to create and test methodologies for roadside-departure systems.
"You detect it through sensors such as radar and cameras, and then correct it with a control algorithm," Chen said.
Eventually, the National Highway Traffic Safety Administration will come up with rules and standards for such active safety systems – with help from IUPUI research.
Toyota's Collaborative Safety Research Center was created in 2011 with a mission unique in the automobile industry: collaborating with leading North American universities, hospitals and research institutions on projects aimed at reducing traffic casualties and sharing the results publicly.
It has since completed 44 research projects with 23 partner universities, publishing more than 200 papers and presenting at multiple industry conferences. Toyota vehicle safety has been enhanced, but CSRC research has also had broader impacts, as its results have contributed to standards development at international bodies like the Society of Automotive Engineers.
Key projects have included groundbreaking programs to develop test platforms for collision-avoidance systems, in which IUPUI played a role by creating advanced test targets for pedestrian and bicyclist pre-collision systems that featured radar cross-sections matching those of pedestrians and bicyclists.