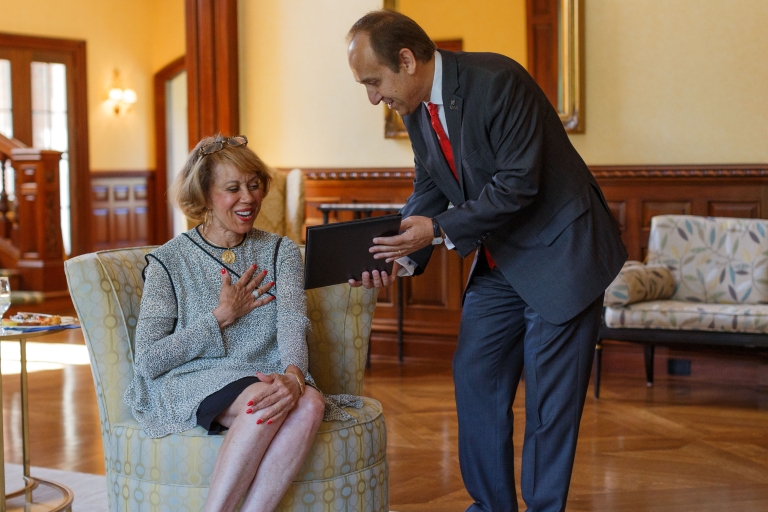 INDIANAPOLIS – Alpha Blackburn, a longtime civic leader in Indianapolis with nearly two decades of service to the Indiana University-Purdue University Indianapolis community, received the Chancellor's Medallion from IUPUI Chancellor Nasser H. Paydar on Wednesday at the annual IUPUI Board of Advisors Summer Reception.
Blackburn is president and CEO of Blackburn Architects Inc., and her award-winning fashion designs have filled pages of local and national publications for years. But just as she has been a leader in fashion, she has been an even greater leader in Indianapolis.
Since 1999, Blackburn has served on the IUPUI Board of Advisors, a group of government, business and civic leaders from the Indianapolis area who are appointed by the IU Board of Trustees. She has also chaired the Indiana Civil Rights Commission for more than a quarter-century.
"Alpha has generously supported our campus with her service and resources for nearly two decades while providing an incomparable model of civic leadership," Paydar said. "This Chancellor's Medallion honors all that she has done for IUPUI and the city of Indianapolis, recognizes her vision, and celebrates her legacy of making a lasting difference in the lives of IUPUI students, faculty, staff and the people of this city."
The Chancellor's Medallion is the highest award with which the IUPUI chancellor may recognize distinguished contributions to the campus, community and beyond. Past recipients include Richard Lugar, William Hudnut, Sam Jones and others who have made a transformational difference through tireless service.
Blackburn has served on the Herron School of Art and Design Advisory Board and helped design the renovated Multicultural Success Center at IUPUI. She is also a member of the Indianapolis Arts Council, American Pianists Association and Indianapolis Symphony Society.
"IUPUI thrives as a campus of diverse minds and ideas and, as member of the Indianapolis community, I've been blessed to have a front-row seat to see the campus's growth and change," Blackburn said. "I'm humbled and pleased that Chancellor Paydar presented me with the Chancellor's Medallion, but really it has been my honor to serve."
Blackburn is a distinguished alumna of Howard University, where she received a Bachelor of Arts in 1961 and a Master of Fine Arts in 1963.