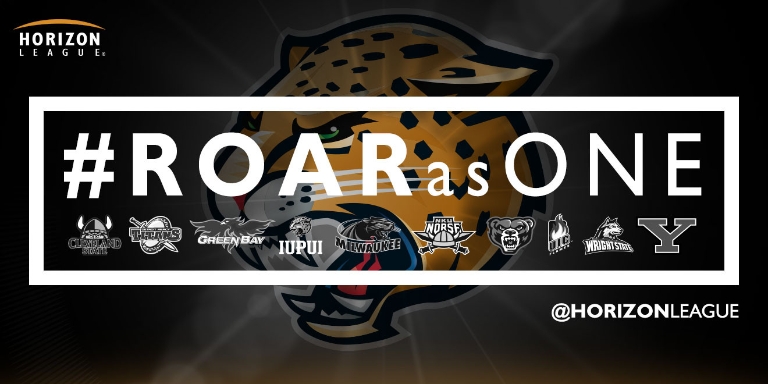 INDIANAPOLIS – The Horizon League Board of Directors has unanimously approved the application for membership from Indiana University-Purdue University Indianapolis to join the Horizon League. IUPUI will officially join the league July 1 and will begin competition during the 2017-18 academic year.
"We are excited to welcome IUPUI to the Horizon League family," said Horizon League Commissioner Jon LeCrone. "The Jaguars bring us tremendous competitive potential, particularly in men's basketball, along with an engaged and energized city. Their addition solidifies our broad community partnerships in Indianapolis. IUPUI is the right school at the right time."
"Since the moment IUPUI began playing NCAA Division I sports 19 years ago, we have welcomed the spirit of competition and camaraderie from our Summit League opponents," said IUPUI Chancellor Nasser H. Paydar. "The Horizon League will offer our student-athletes new opportunities for competition and will help our campus strengthen the sense of community that grows out of the very best athletic contests and that plays such an important role in fostering student success, one of our campus's strategic priorities."
"We are delighted with the addition of IUPUI to the family of Horizon League institutions," said George W. Hynd, president of Oakland University and chairman of the Horizon League Board of Directors. "It is clear that the vision, values and mission of IUPUI are clearly aligned with those that we champion in the Horizon League. The addition of IUPUI will affirm our commitment to excellence in promoting the student-athlete experience and impact at all of our Horizon League institutions. On behalf of the board, I want to convey our enthusiasm and congratulations to the newest member of the Horizon League."
IUPUI boasts world-class athletic facilities, including Indiana Farmers Coliseum, which recently underwent a $53 million renovation and is home to the Jaguars' men's basketball program, and the IU Natatorium, which has hosted numerous major events, including the 2017 NCAA Swimming and Diving Championships, U.S. Olympic Trials, and USA Swimming & Diving National Championships.
IUPUI joins the Horizon League as it transitions into another world-class venue for its Men's and Women's Basketball Championship, March 2-6, 2018: the brand-new, state-of-the-art Little Caesars Arena in Detroit, home of the NBA's Detroit Pistons and the NHL's Detroit Red Wings. The event, known as Motor City Madness, features all 20 Horizon League men's and women's basketball teams competing for the league's automatic berth into the NCAA Tournament.
The addition of IUPUI returns the Horizon League to 10 full members. The Jaguars compete in 18 of 19 Horizon League sports: men's and women's basketball, men's and women's cross-country, men's and women's golf, men's and women's soccer, men's and women's swimming, men's and women's tennis, men's and women's track and field (indoor and outdoor), softball, and volleyball.
"We are excited about engaging with the other Horizon League member institutions to enhance the overall competitiveness of the league," said IUPUI Director of Athletics Roderick Perry. "As an institution and an athletic department, our mission, vision and core values align closely with the Horizon League. This is an important step forward in the life of our athletic department."
The Horizon League features public and private institutions that have impressive academic reputations and a storied tradition of broad-based athletic programs. Beginning July 1, league members will include Cleveland State University, University of Detroit Mercy, the University of Illinois at Chicago, Indiana University-Purdue University Indianapolis, Northern Kentucky University, Oakland University, the University of Wisconsin-Green Bay, the University of Wisconsin-Milwaukee, Wright State University and Youngstown State University.
What they're saying:
Jim Morris, vice chairman, Pacers Sports and Entertainment and chairman of the IU Board of Trustees: "The addition of IUPUI to the Horizon League is good for the university, for the city and state, and for the league. IUPUI is joining one of the great conferences in the United States composed of comparable and like-minded institutions. This is truly a great day for IUPUI students and our student-athletes. I'm excited about this wonderful opportunity. This is a giant step forward for everyone."
Jeff Konya, Oakland University director of athletics and chairman of the Horizon League Executive Council: "IUPUI is an emerging athletic brand that nicely falls within the current Horizon League footprint. It has some top-notch facilities that our student-athletes will enjoy going to and competing in. And by virtue of being in Indianapolis, it can bring several tangible and intangible assets to help strengthen the Horizon League and its members moving forward."
Jason Gardner, IUPUI men's basketball coach: "I know our department and basketball program are excited to make the move to the Horizon League. The Summit League has provided us fantastic competition since long before I was the head coach, but we're excited about what the future holds. I had the opportunity to coach in the Horizon League and understand just how strong the league is from top to bottom. We're going to work hard to improve every single day to be competitive with our new league rivals."
About IUPUI
Indiana University-Purdue University Indianapolis, a partnership between Indiana and Purdue universities, is Indiana's urban research and academic health sciences campus.
IUPUI's mission is to advance the state of Indiana and the intellectual growth of its citizens to the highest levels nationally and internationally through research and creative activity, teaching and learning, and civic engagement.
By offering a distinctive range of bachelor's, master's, professional and Ph.D. degrees, IUPUI promotes the educational, cultural and economic development of Central Indiana and beyond through innovative collaborations, external partnerships and a strong commitment to diversity.
IUPUI competes at the NCAA Division I level and offers 18 varsity sports. The Jaguars have produced two national champions and numerous All-Americans since joining the Division I ranks in 1998. Indiana's premier urban public research university, IUPUI has an enrollment near 30,000 and ranks among the Top 200 National Universities according to U.S. News & World Report. For more information, visit the IUPUI Jaguars athletics website or follow @IUPUIJaguars on Twitter.
About the Horizon League
In its 38th season of operation in the 2016-17 academic year, the Horizon League continues to aspire toward its goal of being one of the nation's leading athletic conferences while being recognized as a leader in the development of student-athletes as leaders and role models.
Each of the league's 2,600 Division I student-athletes has the opportunity to maximize athletic development and academic achievement while also serving the broader community and growing in personal responsibility and accountability. Through athletics, the 150,000-plus undergraduates among Horizon League institutions have the opportunity to come together, learn, and grow in life skills and opportunities.
The Horizon League's primary focus is on adding value to the educational experience through its core values: student-athlete well-being, integrity, respect and stewardship. It is the league's belief that athletics is a powerful and visible resource tool that can be used to enhance student-athletes' collegiate experience. The Horizon League's goals are to enhance the holistic university experience for the student-athlete; to create an affiliation of institutions with similar athletic goals; and to adhere to the principles of integrity, diversity, excellence and growth.