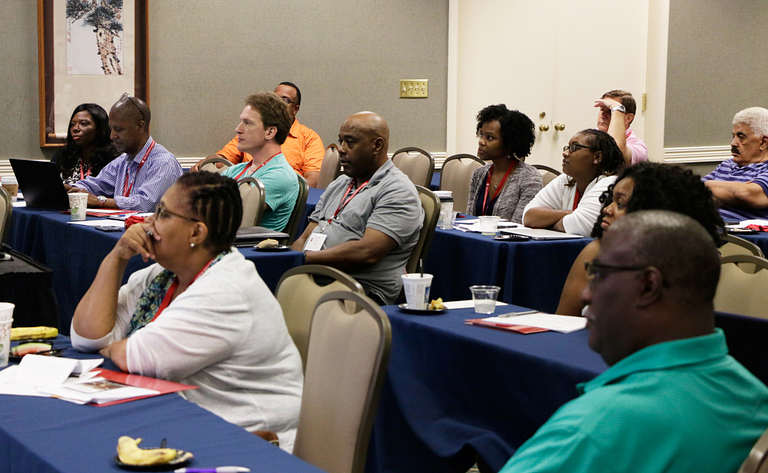 More than 70 faculty members from universities and colleges throughout the country, including Indiana University, will converge on the IU Bloomington and the Indiana University-Purdue University Indianapolis campuses next week to collaborate on ways to promote and develop the science, technology, engineering and math disciplines.
The Faculty Research Development Institute, part of the IU-Minority Serving Institutions STEM Initiative, takes place July 24 to 28 and will include IU faculty members as well as faculty from 14 historically black colleges and universities, Hispanic-serving institutions and tribal colleges or universities who are part of the overall initiative. 
Participants will build research connections, identify new funding sources to support projects and student researchers, and discuss potential students who might pair with faculty for research projects.
"The Faculty Research Development Institute is a unique program that brings together diverse researchers from throughout the country," said Yolanda Treviño, assistant vice president of strategy, planning and assessment for the IU Office of the Vice Provost for Diversity, Equity and Multicultural Affairs. "At times, researchers can be focused solely on their own research, so by bringing faculty from multiple institutions and disciplines together, we are helping to foster on-going discussions around mutual research interests and providing information and tools to make those collaborations possible."
The Faculty Research Development Institute is one part of the IU-MSI Initiative that began in 2015 as an expansion of the original IU-Historically Black Colleges and University Initiative. The initiative is possible through a $1.66 million, five-year grant from the Department of the Navy and aims to increase the number of underrepresented minority graduate students, scholars and professionals in the STEM disciplines; increasing research capacity through faculty collaborations; expanding research funding opportunities; and enriching academic experiences through exchanges of students and faculty.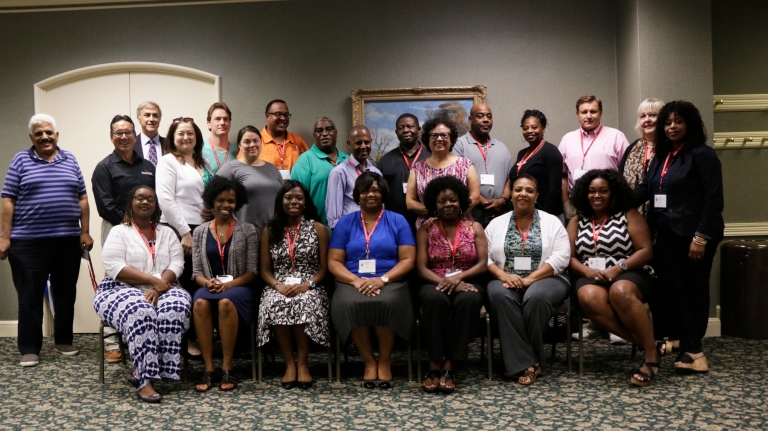 Megan Strait, assistant professor in the Department of Computer Science at the University of Texas Rio Grande Valley, heard about the IU-MSI Initiative through Selma Sabanovic, a colleague in IU's School of Informatics and Computing.
That led to a faculty/student exchange between the two colleagues in the spring and attendance, for both, at this year's Faculty Research Development Institute.
"I am interested in the IU-MSI Initiative because of its aim to advance underrepresented participants in academia," Strait said. "My interests in such programs stem from my own experiences (as someone who is biracial and from a bicultural background) in recognizing and navigating the complexities and challenges for students of color in academia. I was particularly interested in the IU-MSI Initiative because of the comprehensive view it takes toward representation and the value it places in MSIs/collaborators in research.

"Thanks to the invitation and hosting from Selma, my students and I have had the opportunity to identify future avenues for collaboration. Beyond the immediate opportunities for engagement, potential collaborations offer a longer-term model of support that is often inaccessible, due to structural barriers, to students of color and institutions that center on them."
Strait and two of her students visited IU for four days in May to explore opportunities for research collaborations. The visit was a prelude to one of the students' summer internship in Sabanovic's lab, and also yielded project proposals and funding opportunities for collaborations between Strait, Sabanovic and Bielefeld University in Germany. 
Sabanovic has taken part in the Summer Scholars Institute in the past – an eight-week program held at IU Bloomington and IUPUI that pairs students from IU and partner institutions with faculty to engage in full-time research.  
The Faculty Research Development Institute helps students remain connected to the research they work on by incorporating partnerships among faculty at their home university or college, she said.
"I think the initiative is a wonderful way to broaden the diversity and network in science, particularly by giving faculty and students a chance to meet, discuss ideas and continue to provide opportunities for collaboration over a longer period of time," Sabanovic said. "By connecting faculty, as well as students, through the MSI, I think it will be possible to develop more continuity in these projects, provide faculty with access to more resources to support their work, and share knowledge and equipment to conduct more challenging and impactful work together." 
That idea is one of the main reasons the Faculty Development Research Institute portion of the initiative exists, said Jack Schmit, assistant dean of the University Graduate School and grant director for the IU-MSI STEM.
"The advancement of research is dependent on faculty who write competitive proposals," Schmit said. "Funded proposals lead to new or confirmed knowledge and techniques and to presentations and publications. As more proposals are funded, we see additional opportunities to support student research in labs, both during the course of the academic year and during the summer. So, we see the institute as a gathering to bring STEM faculty together from across disparate institutions who each bring unique perspectives to research, thereby strengthening institutional collaborations and advancing knowledge."
Strait said she looks forward to exploring more research collaboration opportunities during the upcoming Faculty Research Development Institute and in continuing her partnership with IU.
"I am very enthusiastic about the program and excited to have the opportunity to take part," she said.