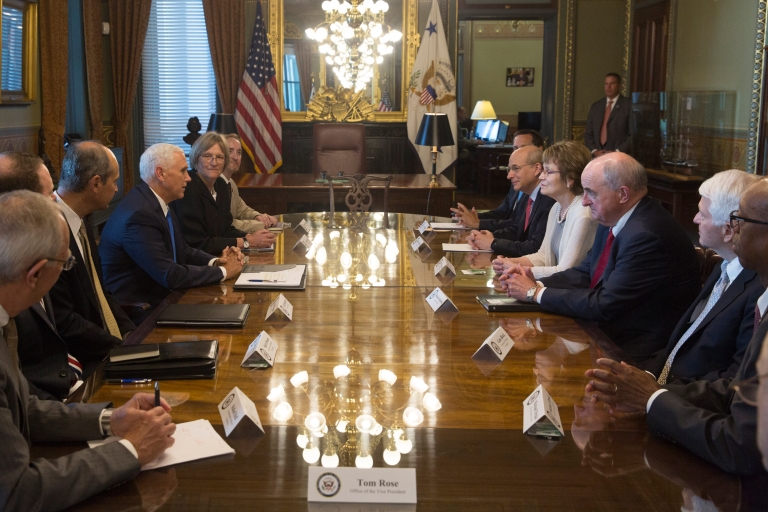 WASHINGTON, D.C. – Indiana University President Michael A. McRobbie led a delegation of university presidents who met with U.S. Vice President Mike Pence last week to discuss the importance of research funding and the role of research universities in innovation and economic development.
During the meeting, which was arranged by IU on behalf of the Association of American Universities, McRobbie and his presidential colleagues highlighted the contributions U.S. universities have made, through basic scientific research, toward strengthening the nation's economic competitiveness and national security. They also talked about how their universities might more effectively align their research and engagement efforts with the federal government's goals for creating new jobs, spurring business innovation and improving public health. 
"This was a very positive meeting, and our discussion covered a number of issues important to our country's long-term economic growth and prosperity," McRobbie said. "Vice President Pence expressed his strong support for the mission of the research universities and their role in innovation, and he expects to be calling on some of us again to consult on these issues."
The meeting on Wednesday included McRobbie, the presidents of Harvard University, the Massachusetts Institute of Technology, Ohio State University and Rice University, and the chancellor of UCLA. Also attending was Mary Sue Coleman, past president of the University of Michigan and the University of Iowa and current president of the AAU.
The conversation with Pence gave the delegation members an opportunity to express their support for a number of important federal government actions, including:
Reducing regulations affecting higher education and research.
Building a scientific infrastructure that supports innovation.
Continuing recent efforts to preserve federal work-study and student aid programs.
McRobbie talked about the increasing importance of international engagement and U.S. universities continuing to welcome the best and brightest international students, scholars and researchers to study and conduct research on their campuses. Last year, IU welcomed about 9,000 international students to its campuses across the state, ranking it in the top 20 among 1,200 universities nationwide.
While at the meeting, the delegation members received a tour of the vice president's Ceremonial Office, which includes a desk made in 1903 for then President Theodore Roosevelt and subsequently used by seven presidents in the Oval Office. The desk, which has remained in use by vice presidents since leaving the Oval Office in 1961, includes a top drawer inscribed with the signatures of many of its users.
McRobbie also presented Pence with a framed photo of about 70 IU alumni who serve in the state or federal government, including the vice president, as well as a basketball autographed by first-year Hoosiers coach Archie Miller.
The meeting with the vice president marked McRobbie's second meeting with a high-ranking U.S. government official in recent months. In April, he and several AAU presidential colleagues met with House of Representatives Speaker Paul Ryan to talk about the historical importance of the federal government-university partnership and its relationship to the government's agenda to strengthen the country's economic competitiveness, health and national security.
View more images from the meeting