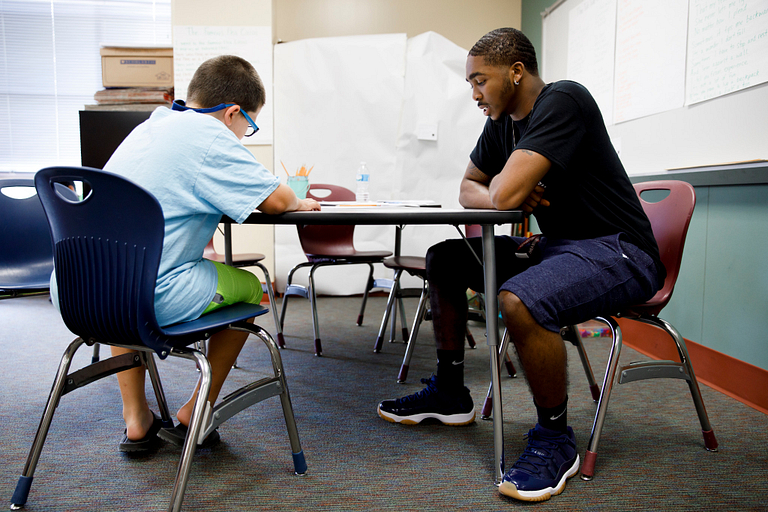 Indiana University sophomore Alve'Aire Lewis isn't taking any classes this summer. But he's still spending plenty of time in the classroom as one of 20 IU students providing academic support at two Bloomington elementary schools.
From 8:30 a.m. to noon Monday through Thursday, Lewis can be found at Fairview Elementary School, assisting third-graders who need a little more help with reading.
"Although I am not following a path for a teaching career, I wanted to get out of my comfort zone and try something new," said Lewis, an informatics major from Gary who works with Monroe County Community School Corp. teacher Elli Sparks. "I knew nothing about Fairview or MCCSC when I started, but getting to know the students over the last few weeks, I have really enjoyed working here."
IU's Office of the Vice Provost for Educational Inclusion and Diversity, within the Office of the Vice President for Diversity, Equity and Multicultural Affairs and the Office of the Provost and Executive Vice President, began a partnership with MCCSC three years ago to provide academic role models for the corporation's summer programming.
About 20 students – who are all part of IU's 21st Century, Groups or Hudson and Holland scholars programming – spend their time at either Fairview or Summit elementary schools. IU students serve as assistants and mentors, helping students reach their academic goals in reading or math and helping lead STEM-related projects at MCCSC's EDventure Camp.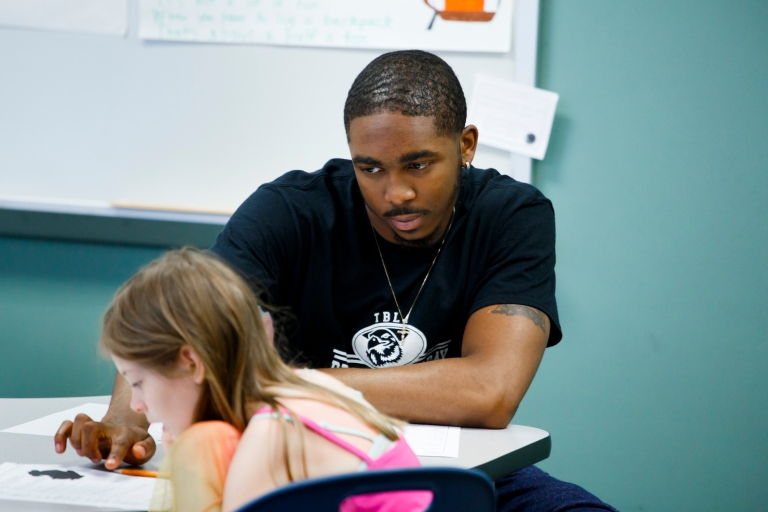 For Lewis, a 21st Century and Hudson and Holland scholar, being part of the program has allowed him to reflect on how far he has come as a first-generation college student. He said he used to be one of the kids who was talkative in class and getting into trouble. But by working with young students, he can now see how much he has changed.  
Although he never expected to take on a leadership role among young students at such a young age himself – he's 19 – he has enjoyed the positive feedback from students he interacts with.
"The students seem to look up to me," he said. "They tell their teacher, 'That Mr. Lewis is so cool.' That makes me feel good."
When a somewhat timid Lewis first entered her classroom, Sparks said she was a little surprised he wanted to be part of the program. But he has grown in just a few weeks, she said, right alongside her students.
"When he first came in, you could tell he was really shy and not comfortable in front of kids," Sparks said. "But he's come out of his shell, and he really takes the time to interact with the kids. He takes a few of our kids out to play basketball for breaks, and he's really made a connection with them. So that's been cool to see."
Like Lewis, junior Chiara Logan has no interest in going into education. But when she learned about the opportunity to help grade-school students improve their math skills, she couldn't help but take part.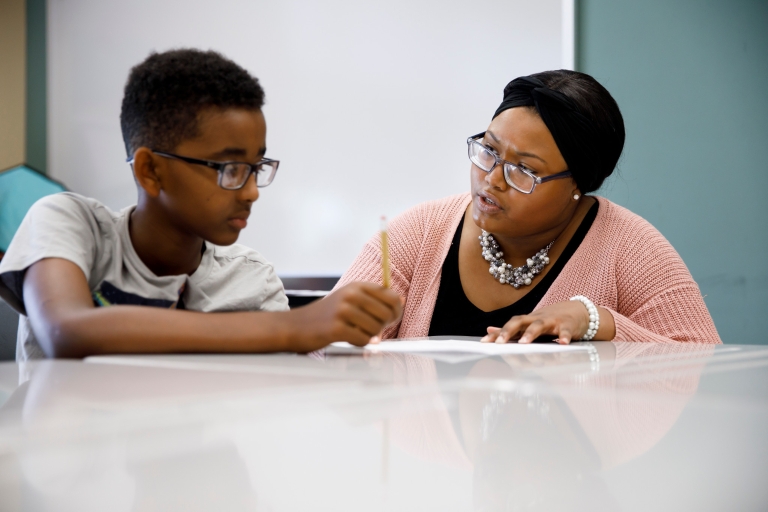 "Although I hope to one day become a doctor, I also value education and I wanted to help these children in school," said Logan, a Groups Scholar and Hudson and Holland Scholar majoring in gender studies. "I wanted to be a part of helping them get where they need to be academically."
Logan, a native of Fort Wayne, spends her time in Soo Sup Cha and Chelsea Emerson's classroom, helping fifth- and sixth-graders improve their math skills.  
As she helps each student work through a math problem, Logan said she understands the frustration of feeling like you don't understand a subject.
"I know when I was in elementary school I had trouble with math," she said. "Some of these students have low self-esteem when it comes to math because they think they can't do it. I'm able to help them because I was in their shoes; I know what it feels like."
As a successful college student, Logan also serves as an example of how far each student can come and that there is no shame in needing a little extra help. 
"I tell them, 'I'm in college and I still ask for help,'" she said. "I just try to serve as a positive mentor. I'm always telling them they can do it."
That type of example is what makes the partnership so valuable to both the IU students taking part and the young students they are helping, said Vince Isom, director of IU 21st Century Scholars Program.
"This program not only provides academic support to community children who need it, but it also provides an opportunity for our students to recognize that they can positively influence young students when it comes to gaining a college education," Isom said. "We hope that by seeing DEMA students in their classrooms, these young students know that IU cares about their future and that with hard work, they can join us as part of the IU, and potentially DEMA, family."