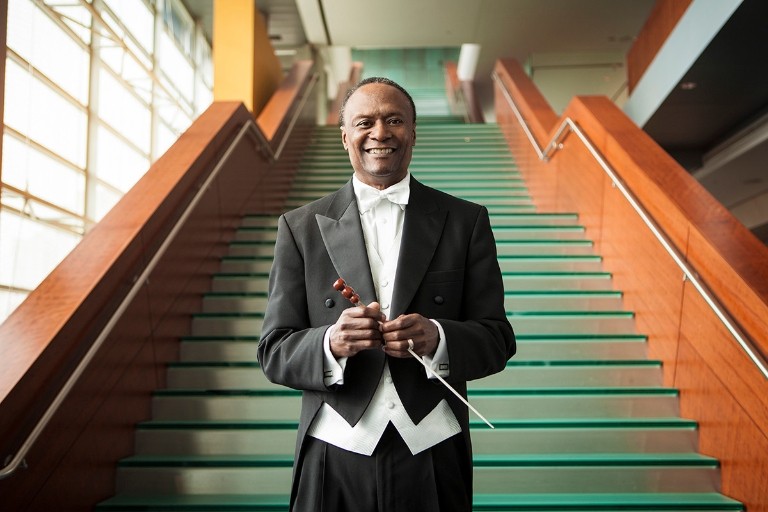 Thomas Wilkins, the Indiana University Jacobs School of Music's new conductor, will lead the IU Summer Philharmonic for the first time Saturday.
The philharmonic will perform at 8 p.m. July 15 in the Musical Arts Center. The evening's repertoire includes Beethoven's Piano Concerto No. 5 in E-Flat Major, Op. 73 and Dvořák's Symphony No. 9 in E Minor, Op. 95 ("From the New World").
The featured piano soloist is Arnaldo Cohen, a professor at the Royal Academy of Music in London and at the IU Jacobs School of Music. He has performed as soloist with orchestras including the Philadelphia Orchestra, Cleveland Orchestra, Los Angeles Philharmonic, Royal Philharmonic and Santa Cecilia Orchestra of Rome, under the baton of leading conductors such as Kurt Masur, Yehudi Menuhin and Wolfgang Sawallisch. He has also played numerous recitals all over the world.
Wilkins is the music director of the Omaha Symphony, a position he has held since 2005. He is also the principal conductor of the Hollywood Bowl Orchestra and holds the Germeshausen Family and Youth Concert Conductor Chair with the Boston Symphony. On Aug. 1, he will assume the Jacobs School's Henry A. Upper Chair of Orchestral Conducting, established by the late Barbara and David Jacobs as a part of Indiana University's "Matching the Promise Campaign."
He was named one of the "Best People and Ideas of 2011" after his first season conducting the Boston Symphony. At the Nebraska Governor's Arts Awards, Wilkins received the Outstanding Artist Award for his significant contribution to music in the state.
During his conducting career, he has led orchestras throughout the United States, including the Atlanta Symphony, the Baltimore Symphony, the Buffalo Philharmonic, the Cincinnati Symphony, the Cleveland Orchestra, the Dallas Symphony, the Houston Symphony, the National Symphony in Washington, D.C., the New York Philharmonic, the Philadelphia Orchestra, the Rochester Philharmonic, the San Diego Symphony and the Utah Symphony.
Recently, Wilkins answered several questions about music and his goals for his new position at the IU Jacobs School of Music.
Question: How did you get into music?
Answer: There are two different points of entry, because I got into music like a lot of kids get into music in my day: with a black melody flute. It had three holes in the top and the thumb hole and then four holes on the bottom – that was my first introduction to just making sound.
I remember I was so fascinated by sound that I would even figure out alternate fingerings. I didn't know they were called alternate fingerings, but I figured I could get notes that weren't on the instrument or that weren't in the book.
Then I had this habit of listening to music when I was watching television, and if I would hear a jingle or something, I would see if I could find it on that little black flute. So that was my first point of entry.
By third grade, I got on a bus with my class and went to hear – at that time it was the Norfolk Symphony, but now it's the Virginia Symphony Orchestra – and I fell in love with the orchestral sound. I knew at that moment that I wanted to be a conductor. Then the next year in fourth grade, everyone started an instrument, but it had to be violin. So I started violin but later switched to cello, which became my principal instrument, and then later I added the tuba and other instruments.
Q: So how many instruments do you play?
A: Cello, tuba and string bass were my three instruments through undergraduate school, and my graduate degree is in conducting. Primarily, I think I'm a better tuba player than I am a cellist, but only because I went to college as a tuba player, not as a cellist, so I could be the conductor of the brass choir.
Q: Every job has its challenges; what do you find most challenging about being a conductor?
A: Well, for me it's the schedule. Between Omaha, the Hollywood Bowl, the Boston Symphony, IU and the guest conducting, it's a little nutty trying to figure out which place you're going to. Right now I'm on week three of a four-week road trip, with an added fifth week for family business just for fun.
I mean I complain all the way to work, but once I get to work I'm in such a euphoric state at the notion of being able to have the privilege of making music that at that point all the frustrations go away. But getting to work sometimes can be really tiring and irritating.
Q: I know that you have conducted a multitude of different pieces. What is the one piece that you always wanted to conduct but haven't yet and why?
A: There are lots of pieces that we want to conduct but we haven't yet. So I could give you a long list.
It's funny that when you said that, the first thing that popped in my head was the final scene of Strauss' opera "Salomé," with just orchestra and soprano on stage. In the past, I have tried to program it in a place where I wasn't music director, so I didn't have the right to say "No, I'm doing this." And then when I had the chance to do it in a place where I was music director, there was all this other music in line in front of it that I preferred to do with a singer. So I thought, "Well, I hope one of these days it will come around"; either that or I might just have to sing it myself.
Q: There are two pieces that we're featuring in Saturday evening's repertoire. Is there anything you'd like to point out to the audience about either the Beethoven or Dvorák piece?
A: They're both iconic. That's the first thing. Beethoven only wrote five piano concertos; this is number five. Everything about it legitimizes its extra title of "Emperor." Everything about it is majestic and royal and sublime, I guess for lack of a better word; it is one of Beethoven's iconic piano concertos. Period.
Dvořák 9, which he wrote in America – simply, "From the New World" – it too is one of his iconic symphonies. I mean it's the kind of thing where you can't say the average Joe on the street has heard the phrase in general, but you can probably venture that someone has heard some part of the "New World Symphony" at some point in their lives; it's that well known.
Dvořák wrote it in America, and he relied on things that he absorbed while he was here running the National Conservatory and during his time spent with the African-American baritone Harry T. Burleigh. Many say Burleigh was the inspiration for the slow movement of the symphony because Harry would sing Negro spirituals to Dvořák. It is the only piece of American music from a Czech composer. It has this own sort of specialness about it.
Q: In your role now at IU, is there anything specific you're hoping to accomplish?
A: I think what I hope to accomplish is to help usher in a new generation of artists, especially conductors, who are capable of doing many different types of things really well. And what I mean by that is what we're finding in the 21st century is that you have to be able to play more than a Beethoven symphony or the Dvořák symphony in order to survive.
You have to be able to reconfigure your ensemble so that you can be a different kind of ensemble in a different kind of place. You have to be able to speak to an audience. You have to be able to relate to people who have never heard classical music before. In some cases, you have to play music that's not classical music, but you have to know how to play it with the same integrity and respect as Beethoven's Symphony.
You know when you asked me that earlier question about what piece I haven't done? If you had asked me what artist would I want to work with that I have never worked with, the answer would have been Willie Nelson.
It just so happens that I make my living in a different way each week. A few weeks ago, I directed Ziggy Marley. The week before that I had Beethoven on the program. I had Mahler 9 the week before that, and before that I had this Dvořák 9 in Germany. The week after that I had another rock 'n' roll group at the Hollywood Bowl. So no two weeks of mine are ever the same.
It's tremendous fun, but part of the reason I could do it is because I give each the same amount of respect. But the other thing that allows me to do it is on a very practical level, it allows me to make a living, and we want our musicians to be able to do that. Obviously, we're following our passion, and as I've said to my own children, if you don't make music as if your life depends on it, you shouldn't be doing it. So we stipulate that part, but we still need to get paid.