Why do Americans learn a foreign language? For college-bound high school students, it can be like taking calculus or organic chemistry: It looks good on a transcript. For a previous generation, perhaps, it was a mark of refinement.
And then there's Ken Dutch. He's not a high school student, and he wasn't worried about his pedigree.
"I felt really dumb not being able to say anything to the people that I was hauling rocks with," he said.
So the mathematician who has spent portions of the past seven years volunteering in Haiti enrolled in Haitian Creole at Indiana University's Summer Language Workshop, where it is being offered for the first time in 2017.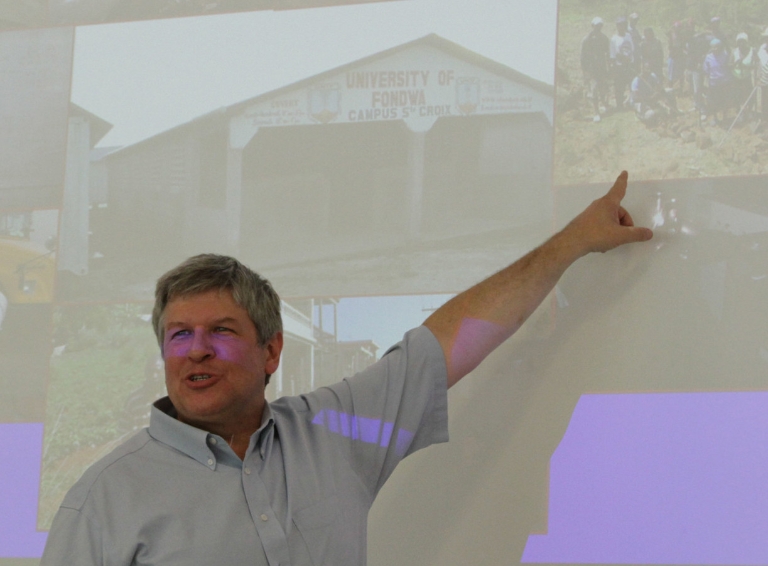 "Everything I needed to know about Haiti I only started to learn after I accepted that most of the things I already knew were false," he said. "Every time I've gone down there I have learned more about my fundamental ignorance of the place."
Dutch shared his experience of learning about Haiti in a slide presentation before leaving the course early for a teachers' symposium in Haiti. His talk was part of a series of films, lectures and events that are open to the public. The workshop, which is celebrating its 67th year and continues through July 28, is administered through the IU School of Global and International Studies. Altogether, 207 students are studying 16 languages, including Kurdish, Estonian and Chinese.
'Be careful what you choose for your year abroad'
Dutch was one of five students studying Haitian Creole. One of the most popular languages is Russian; 83 students are enrolled in nine levels of intensive Russian language study being offered this summer.
School of Global and International Studies Dean Lee Feinstein recalled his own Russian language study experience last month, recalling that it dated to a previous moment of heightened U.S.-Russia tension. Having studied Russian at Vassar College, Feinstein told an audience of workshop students, he arrived in Moscow for the spring semester of his junior year the same day the Soviet Union invaded Afghanistan.
En route to Moscow that last week of 1979, he stopped in Warsaw. He would return 30 years later as the U.S. ambassador to Poland.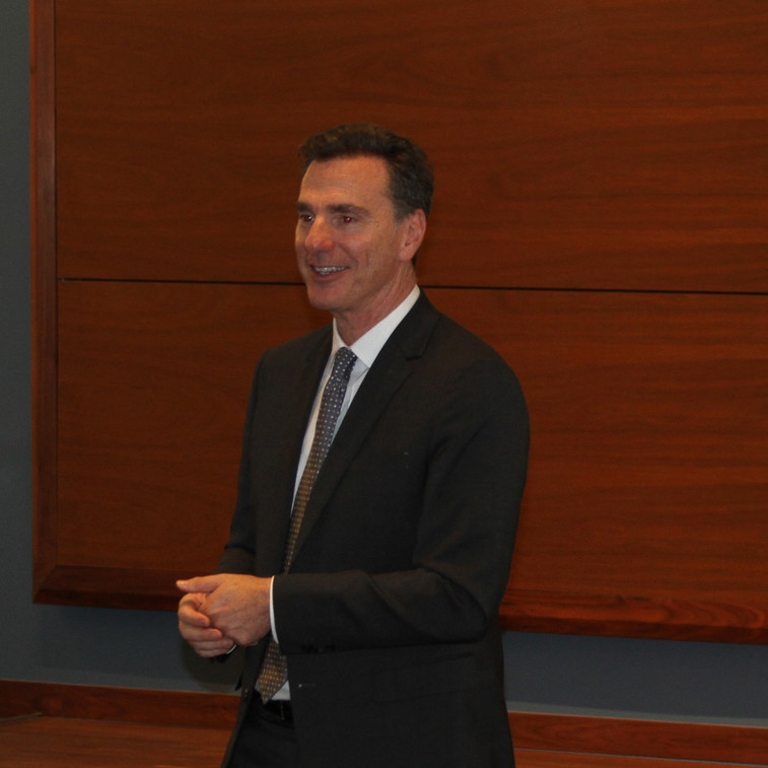 "Be careful what you choose for your year abroad," he warned, "because it could influence your career path."
Workshop students also heard from Patrick Michelson, associate professor of religious studies at IU, who examined the role religion plays in constructing "post-atheist" Russia's national identity. Documentary filmmaker Marty Pack spoke about domestic violence, a topic influenced by the church's role and the clash between "old and new ways of looking at family values" in Eastern Europe.
Dutch, a native of Omaha, Nebraska, grew up in a tight-knit yet insular community in which people pitched in to help one another during adversity.
"If there was stuff that needed to be done it should probably be you," he said.
That philosophy guided Dutch through years of service. While building his career in math and finance, he traveled from Baton Rouge to Appalachia to rebuild areas where natural disaster had struck. After the 2010 earthquake in Haiti, the minister of Dutch's mission-oriented church approached him, saying, "We need big guys. Can you come?" He did.
In Haiti, his first lesson was that most Haitians don't speak French. French is taught in high school and used in church, and it is still the "door-opening language for positions in government." But only a third of the population speaks it; the language everyone speaks is Creole.
The next lesson was to re-evaluate his role. Convinced he had come to fix things, Dutch wanted to get to work. The self-described introvert took to waking up at 5 a.m. to make his way to the job site without chit-chat.
After a while, "The word got around that this guy is a bit of a jerk and doesn't want to talk with any of us," he said. "I was no longer Ken; I was the white occupier who had disdain for everyone there."
'Piti a piti, zozo fait son nid'
The realization prompted a shift in his values but also required some practical steps. He could hardly communicate, and the French he had taken was of no use. So before his next trip, Dutch spent seven months learning Haitian Creole online. The Summer Language Workshop took his skills to a new level.
In Haiti, he said, "We were having conversations about complicated things. The spillway, for example. We were talking about technical information and philosophy in this pidgin. We could find enough words to make things be known to each other."
And when he would misspeak, his conversation partners would console him with a proverb: "Piti a piti, zozo fait son nid (Little by little the bird makes its nest)."
Learning Creole has enabled Dutch to communicate with his Haitian counterparts about technical issues, but it has also allowed for deep engagement with another culture that has prompted reflection about his own.
"Comparing the culture I live in and the thoughts I have about us being at the pinnacle of what a society should be," he said, "in the middle of Haiti I'm finding people who are able to care for each other in a way that we've forgotten how to."
Yael Ksander is a writer/editor with the School of Global and International Studies. A longer version of the story about Ken Dutch is on the school's website.